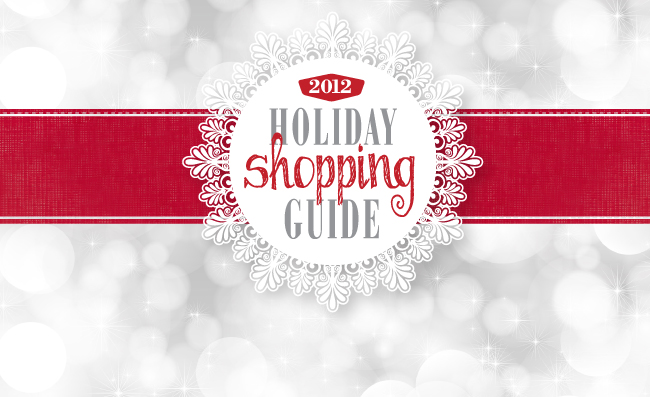 In the next few weeks many of us will head out to stores and shopping malls to find that special something for friends and loved ones on our gift list. Suwanee has a wide selection of shops, stores, salons and more that offers holiday shopping close to home. So why fight the crowds, jockey for a parking spot and waste time and energy going to the mall, when you can shop Suwanee!
Pooch N Paws Pet Boutique and Bakery

340 Town Center Avenue | Suwanee, GA 30024
PoochNPaws.com
Check out Pooch N Paws' wide selection of stocking stuffer ideas for your favorite pup…..most under $10
•    Boxed and Bagged Christmas Doggie Treats
•    Colorful Christmas Tennis Balls
•    Large Offering of Plush Christmas Toys
•    Personalized Ceramic Doggie Bones in an assortment of colors
CINCO

1500 Peachtree Industrial Blvd | Suwanee, GA 30024 | 678-541-0645
www.cincorestaurants.com
Receive 20% More This Holiday Season at Cinco. With every gift card purchase, get 20% in additional dollars – additional cards or add it to your own card. Ends 1/31/13
Applies to purchases in $25 increments. Cannot be combined with other promotions. Gift cards not valid towards private parties or catering
Panache
340 Town Center Ave | Suwanee, GA 30024 | 770-614-0807
$5.00 off $30.00 Full Price Sale Expires 12/31/12
Zarco Life Style Clothing Company

3333 Buford Drive | Buford, GA | 678-482-8933
zarcolifestyle.com
Zarco Life Style is a new store at the Mall of Georgia that provides a variety of high-end quality brands. Brands such as Bertigo, Afflicition, Remetee, and Envy. We also have a big selection of hand crafted and genuine leather boots by Cuadra and Bedstu. Come visit us today!
Jamie's Furniture Outlet

1000 McGinnis Park Court | Suwanee, GA 30024 | 678-804-6160
www.jamiesfurnitureoutlet.com
Gather your friends and family around the table this holiday season with furniture from Jamie's Furniture Outlet! Locally owned and operated, we offer sophisticated style at affordable prices with no nonsense, no pressure, and no gimmicks!
Hairllucinations
340 Town Center Avenue | Suwanee, GA 30024 | 770-932-9999
hairllucinations.com
UltraTress extensions are made with hand-selected 100% Human Remi hair. It gives you that natural look, adding length and/or volume without damaging hair. For a special occasion or to look special on every occasion, stop by Hairllucinations for the holiday hair you desire!
Patton's Meat Market

3931 Peachtree Industrial Blvd | Duluth, GA | 770-495-0077
pattonsmarket.com
Come have our butcher cut you the best of meats this holiday season! Try our Fresh Free Range Tanglewood Farms Turkeys, Cajun Turduckens, Prime Rib, Standing Rib Roast, Choice & Prime Beef Tenderloins, Crown Pork Roast, or Spiral Sliced Honey Ham. Don't disappoint with less than the best!
R Salon

345 Peachtree Industrial Blvd | Suwanee, GA 30024 | 678-546-6580
rsalonspa.com
Come experience a friendly environment and an assortment of professional products: Obagi skin care, Moroccan Oil products, Prive hair products, facial treatments and more! With our unique staff, we offer a variety of styles and color options. Stop by our Holiday Open House Nov. 15, 3pm – 7pm.
Parson's

1500 Peachtree Industrial Blvd | Suwanee, GA 30024 | 770-476-3327
parsonsduluth.com
Parsons is an Official North Pole Supply Post. We help Santa find good homes for Elves. Come see the NEW, FUN and EXCITING PARSONS!
Artful Living

340 Town Center Ave | Suwanee, GA 30024 | 770-614-0807
artfulliving.xbuild.com
Artful Living offers unique, hard to find, one of a kind items including greeting cards, books and jewelry. They have a line of customized signs and Black and White signs, which are are their post popular items.
The Fresh Market
1500 Peachtree Industrial Blvd | Suwanee, GA 30024 | 678-714-0976
thefreshmarket.com
Custom or premade gourmet gift baskets. Plus we do Holiday Shipping! Gift cards are always a good idea!
OshKosh B'Gosh
Mall of Georgia | 3333 Buford Drive | Buford,GA 30519
oshkoshbgosh.com
Experience a Genuine Holiday at OshKosh B'gosh
Moondance Restaurant & Lounge
300 Peachtree Industrial Blvd | Suwanee, GA 30024 | 770-831-9700
moondancelounge.com
Moondance gift cards make a great holiday gift. Call today to book your holiday party. Plus limited space still available for their Family New Year's and Adult New Year's parties.  See website for full details
The Perfect Piece Consignment Interiors, Inc.
1039 Peachtree Industrial Blvd. Suite A102 | 
Suwanee, GA 30024 | 
770-614-1411
www.theperfectpieceatlanta.com
Shop designer Quality for the holidays at the Perfest Piece, your personal showroom!
Voted Best Furniture Store of Gwinnett 2009-2012!
American Casual Living

1955 Mall of Georgia Blvd | Buford, GA 30519 | 770.325.0500
www.americancasualliving.com
American Casual Living creates comfortable, year round outdoor living areas for family fun, entertaining, or for quiet enjoyment and relaxation. Their spacious showroom brings to life the very finest outdoor/casual furnishings and accessories available.
S&S Ace Hardware & Mower

4300 Buford Drive | Buford, GA 30518 | 770-932-1458
ssacehardware.com
Quality gifts in all price ranges. From $10.00 Bird Feeders to $1,800 Weber Summit Grills & everything in between!
La Ti Da

425 Buford Highway | Suwanee, GA 30024 | 678-482-7777
latidaonline.com
Your Suwanee holiday headquarters since 2008
Holiday gifts, items to trim the tree, holiday photo cards, and more!