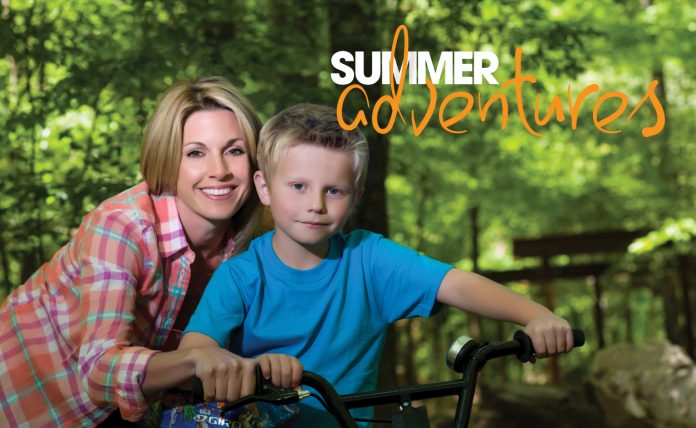 Summer is the perfect time for an adventure! Whether it's an imaginative art class, a train ride, a North Georgia Mountain getaway, some high jumping at an indoor trampoline park, a wildlife safari, or saddling up for a ride, there's something for everyone this summer. And to help you decide the perfect adventure for you and your family, we have compiled a list of places sure to make your summer fun and adventurous…
Wild Animal Safari
1300 Oak Grove Rd. • Pine Mountain, GA 31822
706-663-8744 AnimalSafari.com
Looking for a getaway for the day? Visit Wild Animal Safari! You will find animals from 6 continents roaming across the Georgia countryside. More than 'just a zoo', Wild Animal Safari is one of the only parks of its kind in the southeast. You can get up close with hundreds of animals in the Serengeti Adventure. Wild Animal Safari is home to some of the rarest animals in the world, such as Ligers, Gaur, Giraffes, and Siberian Tigers. Bring a picnic or dine at the Safari Grill. Check out Wild Animal Safari at www.animalsafari.com and on facebook. Get your wild life on!
Broad River Outpost

7911 Wildcat Bridge Rd. • Danielsville, GA 30633
706-795-3242 BroadRiverOutpost.com
The Broad River Outpost uses one of Georgia's best kayaking and canoeing rivers. SlowWater or beginner WhiteWater, the river is perfect for every group. $20 Weekends or Holidays – $15 weekdays per person boat rental. Camping for groups or individuals – $1 per person donation. Bring your Club, Class or Church Group for recreation, fellowship and or education. Groups of 10 plus, 10% discount. Two day rental, 10% discount. Hiking available at Broad River Natural Area. For info or reservations call 706.795.3242 or email info@broadriveroutpost.com. You can also connect to Broad River Outpost on Facebook and Google Map! Helping to protect the Broad River since 1980.
Forest Hills Resort
135 Forrest Hill S Rd. • Dahlonega, GA 30533
800-654-6313 ForrestHillsResort.com
The Perfect Georgia Mountain Getaway! From private hot tub cabins with fireplace for getaways and honeymoons to 8 or 16 room group lodges with meeting space for retreats and reunions. Walk from your cabin, suite or room to the Relaxing Spa, Restaurant, Outdoor Pool, Riding Stables, Fitness Center, Gift Shop or Walking Trails, all on the peaceful 140-acre resort. Forrest Hills Resort also offers affordable, all-inclusive elopements plus Wedding and Reception services for 25-200 guests with outdoor wedding gardens, chapel, horse-drawn carriage and more! In Dahlonega call 706-864-6456, visit the website, www.forresthillsresort.com or "Like" on Facebook today!
Southern Cross Ranch
1670 Bethany Church Rd. • Madison GA 30650
(Just an hour's drive from Atlanta)
706-342-8027 SouthCross.com
One of the top 20 guest ranches in the US (according to Travel + Leisure magazine) is a little more than an hour's drive from Suwanee! The Southern Cross Guest Ranch, just outside of historic Madison, welcomes guests from around the world to their 230-acre facility with 16 guest rooms and more than 200 horses. They offer horseback rides twice daily on their wooded trails, as well as delicious home-cooked meals. Come for the day, a few days, or a week (or more). It is truly a horse-lover's paradise… a place to ride, relax, experience nature, and make new friends.
Laser Voyage Cafe
1866 Buford Highway • Duluth, GA 30097
678-514-3430 LaserVoyage.com
Join with the marauding crew as you pillage and plunder or will you mutiny against the legendary pirate? Equipped with laser and vest, your adventure begins. Navigate fog filled passageways and make your way up to the main deck through a maze of plank board partitions, hidden rooms, around crate clusters and gunpowder barrels. Beware the skeleton pirate captain waiting for you at the top. Steady your feet aboard this mighty sailing vessel and prepare to experience a thrill that you can't find anywhere else…Call today for Birthday Parties, Fundraisers, Team Events and Corporate Parties! Like Laser Voyage Cafe on Facebook!
Anita's ArtsCool

4264 Sudderth Rd Suite B • Buford, GA 30518
678-230-4937 AnitasArtsCool.com
Looking for art adventure? Check out Anita's ArtsCool! Visit any of the ongoing classes for 1/2 price for your first day only! Offer good until August 1. Anita's ArtsCool teaches drawing, painting, clay, fashion design, cartooning, and enrichment and encouragement to expand your creativity while developing your own style. There are many classes set to meet your own goals within the group. There's experienced art instruction for children, teens and adults! They love to host art birthday parties, Ladies' Night Out, Step by Step Painting events for groups of mixed ages and scout groups, and summer art camps! Goal: Art fun while learning.
Georgia Gymnastics Academy
Suwanee: 145 Old Peachtree • Lawrenceville: 98 Patterson Rd
770-945-3424 | 770-962-5867 GGAcademy.com
Join Georgia Gymnastics Academy for a summer filled with fun, friends and fitness. Learn gymnastics skills, climb the giant cargo net, enjoy the trampoline and foam filled pit, indoor and outdoor play, open workout and more!
• Boys & Girls
• 4 yrs old- ½ day only
• 5 and up- ½ day or full day
• Open to 3 yr old during
select weeks
• Summer Classes also available!
Duramtown Plantation

2350 Randolph Church Rd. • Union Point, GA 30669
706-486-4603 Durhamtown.com
Durhamtown is America's largest Off Road Park. With over 6000 acres of adventure, there's something for everyone to enjoy. Explore over 150 miles of trails, race on 9 motocross tracks, practice your aim at the outdoor gun range, and MUCH more! ATVs, Dirt bikes, SxS, Jeeps, & 4x4s welcome. Rentals available. Come for the day, or stay for a week! Durhamtown has cabins, RV hookups, and campsites. Moonshiner's Festival and BBQ cook-off May 17th-19th. Meet the cast from Discovery Channel's Moonshiners! Enjoy moonshine, beer, barbecue samples, live music, games, FMX shows, and more. For info and tickets visit www.durhamtown.com
Treetop Quest
2020 Clean Water Drive • Buford, GA 30519
770-904-3547 TreetopQuest.com
Treetop Quest, Gwinnett's self-guided Treetop Obstacle Course and zip-lining.
This Outdoor Adventure will bring your Family together, right in your backyard. Starting at 4 years old, swing, crawl, zip, jump, soar through more than 70 obstacles divided in 6 levels for different age ranges! Bring your picnic and enjoy an afternoon in Nature! Better yet, plan your children's birthday party in the trees! For directions, hours and pricing, please call 770-904-3547, visit www.treetopquest.com, or email info@treetopquest.com
Southeastern Railway Museum

3595 Buford Highway, Duluth, Georgia 30096
770-476-2013 SoutheasternRailwayMuseum.org
Climb aboard for fun and adventure! The Southeastern Railway Museum is the place to be! You'll explore historic train cars and locomotives, plus vintage buses, fire engines, a restored 1871 passenger depot, and more. Want to ride a vintage caboose behind an antique locomotive? Take a trip on a miniature park train? Looking for a great summer camp, or want to hold your next birthday party in a restored railroad car? It's all here! Find out how much fun history can be at the Southeastern Railway Museum!  Open 10am-5pm. Days of operation are seasonal; check website for current schedule.
Lake Lanier Islands Resort
7000 Lanier Islands Parkway • Buford, GA 30518
1-800-840-LAKE LakeLanierIslands.com
9th Annual Summer Horse Camp
Come enjoy a week long horse camp at Lake Lanier Islands Resort including English and Western riding techniques, trail rides, riding to music, arts and crafts, horse body painting, horse grooming, and swimming at LanierWorld! Camp is recommended for beginner and intermediate riders, ages 7-13. Reserve your spot for June and July Summer Camps today by calling 1-800-840-LAKE, 678-318-7886 or emailing bpedaggi@lakelanierislands.com.
Sky Zone Indoor Trampoline Park

560 Old Peachtree Rd. NW • Suwanee, GA 30024
678-745-9900 skyzone.com/suwanee
SkyZone indoor trampoline park is a true adventure. Imagine a seemingly endless sea of trampolines, all connected to form one massive trampoline surface. Now, imagine that surface enclosed with angled trampolines that allow you to literally bounce off the walls! It's a playing court so original and unique! This is a brand new way to move, compete and get fit!! But beyond the unique courts, Sky Zone is the Ultimate 3-D Play Experience and unmatched high-flyin' FUN…and it's not just for kids either! Sky Zone is enjoyed by people of all ages, shapes and physical abilities. From open jump, 3-D Dodgeball and SkyRobics fitness classes, to birthday party packages, group events and corporate team building outings, there is truly something for everyone!
Gwinnett County County Parks and Recreation
75 Langley Drive • Lawrenceville, GA 30046
770-822-8866 GwinnettParks.com
The award-winning, Gwinnett County Parks and Recreation offers a never-ending source of fun activities any time of year. From a stroll on a trail, to playing a sport, to fitness or pottery classes, there is something for everyone!
Gwinnett boasts year-round recreation classes, special events, summer day camps, skate complexes, leisure activities, art classes, swimming pools, tennis courts, disc golf courses, sports fields, and much more!
Gwinnett County Parks and Recreation strives to meet the recreational needs of every resident, so come enjoy your parks and experience the best Gwinnett has to offer! Visit www.gwinnettparks.com for more information on locations, special events and recreational activities.
Cornelia School of Ballet

425 Buford Highway Ste. 208 • Suwanee, GA 30024
678-386-9429 CorneliaSchoolofBallet.com
Send your child on a one-week adventure that will open their eyes to the world of dance and drama! Cinderella Camp for ages 3-5, and Coppelia Camp for ages 6-8 will give your child an appreciation for the art of ballet and opportunity to express their creativity. Drama Camp for ages 5-10 includes dance and acting classes culminating in an end of camp performance. Enrollment for weekly classes and Intensive is also open. Please visit corneliaschoolofballet.com/summer-camps/ for more information or call 678-386-9429 to visit the school and register.
Skate County
2700 Buford Hwy • Buford, GA 30566
678 546-1547 Skate-Country.com
Roller skating is fun! It's exercise, it's great social interaction and most of all, fun for the whole family! Come Skate with your friends, classmates and family. Enjoy pizza, hotdogs, pretzels, popcorn, nachos and Pepsi products at the snack bar.
Skate Country is proud to serve the community by providing clean, modern facilities where parents can feel confident in bringing their children to skate. The summer schedule includes matinee skates Tuesdays, Wednesdays, and Thursdays from 11am to 4pm. Come to Skate Country and enjoy the cool air, great music and fun for everyone.
Eye Candy Studio

3127 Main Street • Duluth, GA 30096
678-714-LOVE (5683) EyeCandyArtStudio.net
Come on an adventure with Eye Candy Art Studio as they celebrate the 4th year of Art Camp! There are weeklong and daily drop-ins available that are full of fun artistic mediums for the whole family, ages 5+! Enjoy Glass Fusion, Pottery, Canvas Painting, Sculpture & More!
Need some Adult Art Therapy? Eye Candy Art Studio has evening events such as Wine & Paint classes!! Mention Suwanee Magazine for $5 off your purchase of $20 or more!