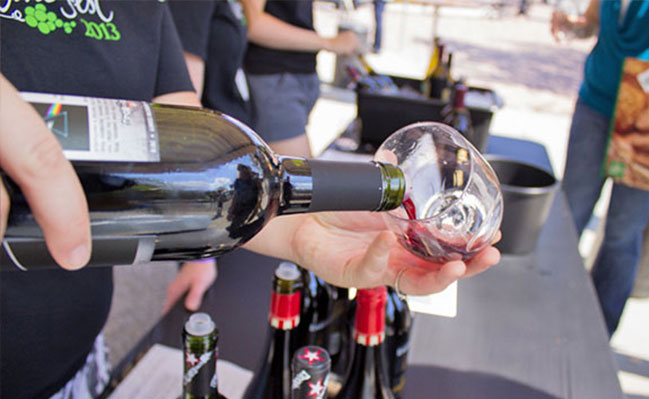 Inaugural festival brings a "world of wine" to Town Center Park, to benefit Annandale Village
BY: Rachel Fasig
Nearly a thousand wine lovers gathered on October 5th for the inaugural Suwanee Wine Festival, as Town Center Park was transformed into a "world of wine". With over 250 wines from around the world, attendees had the chance to sample many wines they might not otherwise have the opportunity to try.
Beverage Superstore's wine experts hand-selected wines of all varieties and flavors, to suit everyone's individual tastes and preferences. As people strolled around the park, they were given unlimited wine samples from Argentina, Spain, Austria, Germany, Australia, New Zealand, Chile, Italy, France, California, Oregon, Washington and of course, Georgia.
The Fresh Market provided complimentary food samples to pair specifically with wine, including: cheese and crackers, seared bay scallops with garlic parsley butter, grilled rib-eye with a red wine demi-glace and grilled pineapple with sake-marinated chicken.The Fresh Market also catered the VIP tent with gourmet selections of fine artisan cheeses and breads, fresh seafood, grilled meat and an elaborate dessert platter, complete with a chocolate fountain.
As presenting sponsor, Château Élan Winery & Resort, set up a magnificent tasting bar made entirely of rustic wood and oak barrels, where they provided samples of some exclusive, never-been-released wines as well as top-sellers from their winery. They also provided a grape-stomping center, where people had the opportunity to kick off their shoes and "make wine the old-fashioned way". But, don't worry – they didn't make anyone sample that unique blend!
Local, Georgia bluegrass bands: Pullin' Strings and The Fiddleheads entertained the crowd, as they plucked and sang away to their original songs, as well as some surprising hits, like Britney Spears' "Toxic" which had several people dancing by the stage. One festival attendee, Jamie Ray, said, "This is the first time I've heard live bluegrass music, it's awesome…. and, no, this isn't just the wine talking!"
Perhaps the most important element of the Suwanee Wine Festival was the fact that all of the wine drinking, eating, laughing and singing that day, was for a good cause! A portion of all proceeds benefited Annandale Village, an award-winning nonprofit organization in Suwanee dedicated to providing progressive life assistance to adults with developmental disabilities and traumatic brain injuries.Keith Fenton, Chief Development & Marketing Officer of Annandale Village expressed tremendous gratitude and stated that proceeds will go towards their Fee Assistance Program, which allows them to provide a comprehensive range of programs and services to individuals with financial need.
A good cause paired with wine, food and live music, provided the perfect backdrop to celebrate the first days of fall in Suwanee. ■