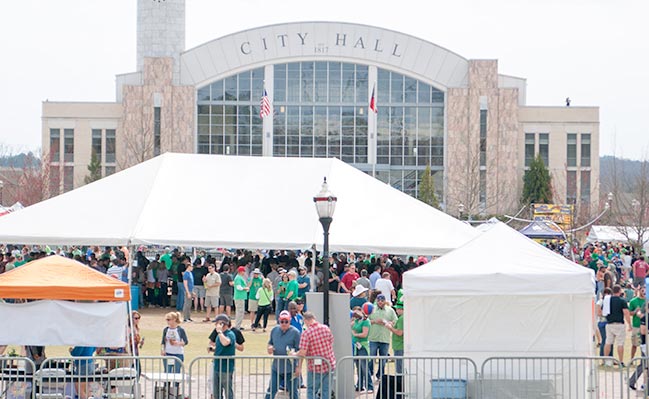 Fourth annual festival raises money for local charity Kingdom Kids
BY: Rachel Fasig
"This event just keeps getting better and better! You better watch it, the Suwanee Beer Fest is getting the reputation as the best festival in Georgia!" said master home-brewer and owner of Brew Depot in Alpharetta, Bob Carlton.
March 15th, 2014 marked the 4th anniversary of the Suwanee American Craft Beer Fest and it marked their biggest and most successful event to date. Even with a lingering forecast of rain, the event sold out several days before the festival, leaving many scrambling to purchase tickets and scouring Facebook for sales the day of.
Fortunately, the clouds cleared the morning of March 15th and the leprechauns emerged! That is, thousands of people decked out in green hats, beards, tutus, shirts, face paint, wigs and more to participate in a St. Patrick's party they will never forget! With over 300 different types of beer, over 100 breweries represented and food from the best vendors in Metro Atlanta, the Suwanee Beer Fest has become one of the largest craft beer festivals in the South. Beer-lovers traveled from as far away as California and Texas for the experience. A couple celebrities, including band members from Sevendust and Skid Row, were even spotted enjoying themselves in the park!
Presented by The Fresh Market in Suwanee, this year's Beer Fest aimed to support local Atlanta-area businesses, restaurants and breweries through sponsorships, vendor space and marketing. Jim Healy, manager of The Fresh Market said, "my most profitable non-holiday weeks of the year were the week before and the week after Beer Fest…and I attribute that success to the festival marketing." Local restaurant, Taco Mac also hosted a "Suwanee Beer Fest Week" dishing out double points to "Brewniversity" members who sampled a selection of beers that were being featured at the festival, such as Jekyll Brewing's IPA – Hop Dang Diggity.
Many local breweries debuted new beers or rare seasonals at the festival, and brewed exclusive casks for the VIP tent. The VIP Tent also offered a delicious spread of food including a wing bar, beer cheese fondue fountain, grilled kabobs and gourmet burgers – cooked on-site by The Fresh Market!
Live music from local bluegrass band – Pullin' Strings and Chicago's rock band– Fulkinetic had crowds of people moving, singing and dancing on the grass by Suwanee Town Center's main stage!
But, a huge selection of beer, delicious food and great music weren't the only items on Suwanee Beer Fest's agenda! The festival was packed full of activities by vendors & sponsors alike, and was also home to the largest home brew competition in the area – sponsored by Brew Depot. With 400 entries, the competition was stiff, but Paul Bushell and Mike Branam took home "Best in Show" with their American Barleywine "Doomsday". Suwanee Mayor, Jimmy Burnette even made an appearance to taste some beers and congratulate the winner!
Gwinnett Cornhole League hosted an exclusive tournament with a grand prize of Sweetwater & Terrapin brewery tour tickets, Suwanee Beer fest t-shirts and hats, a Samuel Adams prize bucket and a $50 Suwanee Pizza Tavern gift certificate – all won by Steve and Carol Black. Other highlights included: Harlem Legends Globetrotters performing basketball tricks and taking pictures with attendees, backyard basketball with the Atlanta Hawks, putt putt golf from Canongate Golf Club, belly dance performances from Roya Mediterranean Tapas, cooking with beer demos from The Fresh Market, beer pong with Mellow Mushroom, cornhole with The Beer Growler and giveaways and prizes from dozens of other sponsors & vendors.
The event, largely staffed by over 150 volunteers, gave a large portion of proceeds to local nonprofit Kingdom Kids – an organization that grants wishes to children with terminal illnesses. Justin Hutchinson, Co-Founder of Kingdom Kids said, "This is an incredible event that continues to grow each year, and we're very fortunate to be the benefiting charity."
It was a fantastic event that indeed continues to grow in size, popularity and appeal each year. The event organizers are constantly working to truly make the Suwanee Beer Fest the best beer festival in the US. We can't wait to see what's in store for 2015! ■