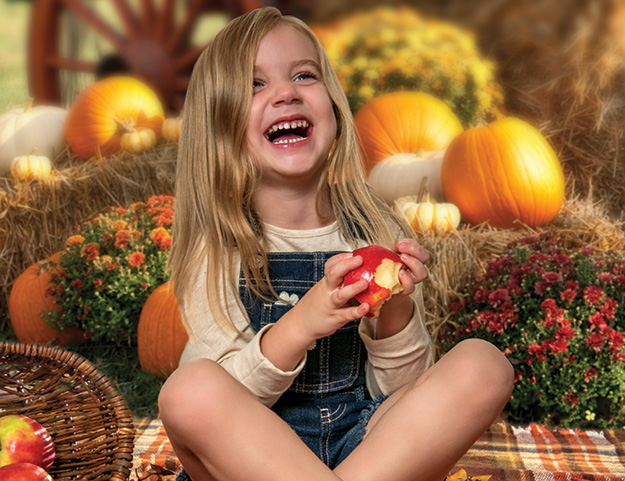 Believe it or not, fall is just around the corner. With the return of pumpkin spice lattes, cozy sweaters and cooler weather also comes pumpkin patches, apple picking, haunted houses and the much-anticipated festival season. Before your fall calendar fills up, we have compiled a guide of can't-miss fall activities for you and your family.
By: Alicia Carter and Lizzy Kidney
Pumpkin Patches/ Hayrides/ Corn Mazes
Buford Corn Maze|

September 1st – November 11th
For nearly 10 years, the Buford Corn Maze has provided a labyrinth of fun for families looking to ring in the season with good old-fashioned fall-time festivities. In addition to the eponymous 5-acre maze, Buford Corn Maze also boasts hayrides, a pumpkin patch, corn box (sandboxes are a thing of the past, y'all), haunted forest, pony rides, concessions, and an animal viewing area with goats, pigs, and chickens. Hours vary depending on day. 4470 Bennett Road, Buford bufordcornmaze.com
Burt's Farm |

September 1st-November 10th

The North Georgia mountains provide a picturesque backdrop for Burt's Farm, a family-run farm that dates back to the 1800s. In 1972, the Burt family started growing pumpkins, which they sold from a stand in their own front yard for 20 years before expanding in 1991 into the beloved destination it's known as today.

Although pumpkins (which range from tiny 1-pounders to massive gourds weighing in at more than 150 pounds!) are the star of the show, Burt's also provides hayrides for the kiddos and stocks an on-site country store with fresh-baked goodies and everything you need to decorate your home for the fall season. 9am – 6pm. Burt's Pumpkin Farm Road, Dawsonville shopburtsfarm.com
Warbington Farms |

September 1st

Nestled in Forsyth County since 1968, Warbington Farms is a third-generation family farm that has opened its doors to the community. Throughout the year, the farm serves as a wedding venue, you-pick strawberry patch, and fun fall destination for families of all ages. Visit the farm to explore the corn maze during the day or, for the more adventurous, challenge yourself to conquer the maze at night!

Once you find your way out, visit Warbington's pumpkin patch to pick out the perfect pumpkin or spend time at the Fun Park featuring a "hey" ride, petting zoo, giant inflatables, tire yard, corn crib, roller slides, swings and more! Friday and Saturday, 10am -10pm; Sunday, 10am – 5pm 5555 Crow Road, Cumming warbington farms.com
Washington Farms | September 23rd- November 4th
John and Donna Washington left their careers to begin farming in 1993. Then, in the fall of 1996, the family began growing pumpkins and offering hayrides to the community on Mars Hill Road. Today, Washington Farms still offers a variety of fun family activities for people of all ages.
After you pick out your perfect pumpkin, participate in cow train rides, pig races, hayrides, corn cannons, a petting farm, pumpkin launchers, and more! Check out their website for event times before visiting. Friday 4pm – dark; Saturday 10am – dark; Sunday, 1pm – 6pm. Special flashlight nights are also available. 5671 Hog Mountain Road (Hwy 53), Watkinsville washington farms.net
Uncle Shucks |

SEPTEMBER 8th

Located in Dawsonville, Uncle Shucks is best known for its elaborate corn mazes. This year's maze is sponsored by Northside Hospital and is sure to be bigger and better than ever.

If you conquer the corn maze and want more excitement, take a stroll through The Dark Rows for a scary good time. Uncle Shucks also features pumpkin picking, a towering goat walk (yes, it's exactly what it sounds like!), hayrides and bonfire fun. Hours vary by month. 4520 Highway 53 SE, Dawsonville uncleshucks.com
---
Festivals and Fairs
Duluth Fall Festival | September 29th- 30th / Downtown Duluth
The Best Festival in the Southeast (SFEA 2016) is the Duluth Fall Festival! Hosted the last weekend in September each year in Downtown Duluth, the festival begins with the carnival on Thursday and Friday evenings. It officially kicks off Saturday morning, September 29, with the community parade, which has more than 1,500 participants. There are more than 250 arts and crafts booths, plus about 50 food vendors, 60 sponsor booths, entertainment on two stages, Man's Corner, and an ongoing silent auction. Sunday starts with a 5K Road Race, then Worship on the Green, followed by booths and entertainment until closing at 5pm.
The Atlanta area expects big things each year, and the Duluth Fall Festival continues to deliver. It takes more than 400 dedicated volunteers to bring it all together. Proceeds benefit Downtown Duluth. 12 large busses shuttle visitors from three area schools. For details visit duluthfallfestival.org.

Sugar Rush | October 20th / Downtown Sugar Hill
The City of Sugar Hill will celebrate the community with their largest and SWEETEST event of the year on Saturday, October 20th from 10am-5pm. The annual Sugar Rush festival will feature live music, dance performances from All-Star Performing Arts, food trucks to please every palate, an art show full of talent, a delicious dessert party, a pumpkin patch, and plenty of activities for the kids including carnival rides, inflatables, a climbing wall, and lots of painting. With something to interest every member of the family, Sugar Rush is a can't miss on your list of fall fun this season!
Downtown Sugar Hill has expanded and continues to grow with more exciting plans in development! Come together to join the celebration at the 2018 Sugar Rush and be a part of this thriving community. For more information, visit cityofsugarhill.com.
SUWANEE MAGAZINE'S TOP 3 SUGAR RUSH PICKS:
1. Panning for Gold
You don't have to travel north into Dahlonega to pan for gold this year! With a panning station, Sugar Rush will offer the opportunity for everyone to channel their inner gold miner and dig their own fortune. Don't let your children miss out on learning the process of mining through this hands-on experience!
2. Painting… & More Painting
Not only does Sugar Rush host a juried art show where attendees are invited to vote for their favorite masterpieces and witness professional and inspiring artists in their own element, you can paint a CAR. What's a better canvas to release your artsy side? But, painting doesn't stop there… don't forget to have your face painted, roll your sleeves up and paint a fun piece of pottery, or get a caricature created to have a special keepsake of your family fun.
3. Food for Everyone
From King of Pops and Kona Ice to Cousins Maine Lobster, Sugar Rush has something for every appetite! Whether you're craving a salty treat or a sweet delight, this festival has you covered with freshly popped kettled corn, sugar-covered funnel cakes, Italian cuisine and perfectly smoked barbecue. Be sure to come hungry!
Alive! Festival | October 20th / Suwanee Town Center Park
Alive! Festival is a Suwanee annual event that will take place this year on Saturday, October 20th from 10am to 6pm. The Alive! Festival benefits Project Green, a non-profit in Atlanta whose mission is to invest in "A Green Tomorrow." The festival will be held in Suwanee Town Center and will include an artist market, local vendors, live music, food, a family zone and, of course, Taste of BBQ! Tickets for the Taste of BBQ will be sold on site and samples will cost one to five tickets. The Alive! Festival is free for all to attend and will have activities for all ages! For more information about Project Green and their eco-friendly mission, visit projectgreenusa.org.
SUWANEE MAGAZINE'S TOP 2 ALIVE! FESTIVAL PICKS:
1. Taste of BBQ (Saturday All Day)
Starting last year, Taste of BBQ has become a focal point of the Alive! Festival. Taste of BBQ sample tickets will be sold on site, or full plates will be available for purchase directly from all BBQ vendors.
2. Live Music (Saturday, 11am-5pm)
This year, the Alive! Festival has a very special line up of a variety of talented, entertaining bands. The line up will include favorites from Danny Mac & Co, Jedd Robinson Band and Vintage Vixens earlier in the day, followed by The Andrew Black Band, Whisky Run, Nic Sanders, and Echos of Imagination in the evening.
Georgia State Fair | September 28th – October 7th
This year, the Georgia State Fair will celebrate its 170th year at the Atlanta Motor Speedway. The fair offers fun for all ages like breathtaking carnival rides, mouth-watering foods, attractions and plenty of entertainment. The Banana Derby is a favorite attraction that features Capuchin monkeys riding dogs like jockeys in a one-of-a-kind race! From camel rides to Knockerball, the State Fair is a must-visit for fall family fun. Hours vary. 1500 Tara Place, Hampton georgiastatefair.org
Gwinnett County Fair| September 13th – September 23rd
The Gwinnett County Fair is back! This year the fair is packed with events, including pageants for all ages, concerts, and a "circus thrill show." All the fair food, carnival rides, and livestock shows you can imagine! Hours vary for the Exhibit Hall and Carnival. 2405 Sugarloaf Parkway, Lawrenceville gwinnettcountyfair.com
Cumming Fair and Festival| October 4th – October 14th
The Cumming Fairgrounds was established in 1995 and has increasingly grown over the years. Throughout the month of October, it becomes a sought-after destination for families looking for country fair and festival fun in North Georgia. The fair now spans a total of 11 days, and features free daily attractions, concerts, discount days and living history exhibits. Check the website for a complete list of events, free admission days, and discount nights. Hours vary. 235 Castleberry Road, Cumming cummingfair.net
Oktoberfest | September 6th – 9th, September 13th -16th, September 20th – 23rd, and then reopens daily beginning September 27th – October 28th
2018 marks the 48th annual Oktoberfest in Helen, the longest running Oktoberfest festival in the United States! Take the family on a fun getaway to Helen's biggest celebration and enjoy German music, food, drinks and dancing, including waltzes, polkas and the chicken dance. 1074 Edelweiss Strasse, Helen helenchamber.com
Stone Mountain Park Pumpkin Festival| September 22nd – October 28th
Stone Mountain's Pumpkin Festival has quickly become a family-favorite event. Take in the beautiful autumn scenery as you hike up the mountain, and then spend the rest of the day enjoying the kid's carnival, adventure tales story-telling, pie eating contests, and the dance-along party parade. This year the park also features a glowing family experience with thousands of jack-o-lanterns lighting up the park each night. 1000 Robert E Lee Blvd, Stone Mountain stonemountainpark.com
Yellow Daisy Festival| September 6th – September 9th
This year marks the 50th annual Yellow Daisy Festival at Stone Mountain Park. What started out as a small arts and crafts show has grown over the years and now lasts a total of four days. More than 400 artists and crafters come from 33 states and two countries to showcase their work. Spend the day shopping, enjoying live music, and witnessing craft demonstrations while your kiddos participate in the Children's Corner activities. 1000 Robert E Lee Blvd, Stone Mountain stonemountainpark.com
Suwanee Jazz Fest |October 13th
The North Gwinnett Arts Association (NGAA), alongside jazz radio station, WCLK, and partner, the City of Suwanee, is excited to bring back Suwanee Jazz Fest this fall. The festival will bring together five of the area's smoothest and most eclectic solo and group jazz artists for a night of sounds, tastes and experiences under the stars. Concert-goers are encouraged to bring chairs and a cooler (no glass, please!) and arrive ready to relax and enjoy some divine entertainment! 6pm – 10pm. Suwanee Town Center Park, Suwanee ngaa4arts.com/suwanee-jazz-fest
Happy Feat Carnival |September 29th
Happy Feat is transforming Suwanee Town Center into a fun-filled carnival for families of all ages. Featuring a Ferris wheel, rides and inflatables, clowns and balloon artists, food trucks and live music. Proceeds benefit Happy Feat, an organization that creates inclusive opportunities for the world to see that those with disabilities are beautiful, valuable, and capable. Hours are 5pm -10pm. Suwanee Town Center Park, Suwanee happyfeat.org

Taste of Atlanta |October 19th, 20th, & 21st
For three days, thousands of hungry food aficionados will descend upon Historic Fourth Ward Park to eat their way through the Taste of Atlanta Festival. Celebrating their 17th year, the festival will feature more than 90 local restaurants from all corners of the city, dishing up the best of the best with their sips and small plates. Food lovers of all ages are invited to join in celebrating the dynamic energy and variety of the local restaurant scene while savoring what makes Atlanta the food capital of the South!
From live music to amazing food, fun, workshops and much more, Taste of Atlanta is a one-of-a-kind experience not to be missed. So, be sure to come hungry and leave happy! For more information visit tasteofatlanta.com
SUWANEE MAGAZINE'S TOP 3 TASTE OF ATLANTA PICKS:
1. Kick
–
Off Party
(Friday, 6:30pm – 11pm)
The must-do "Eat and Greet" event of the year officially kicks off the weekend for Taste of Atlanta. Dance, drink and dine the night away with heavenly helpings from more than 20 of Atlanta's favorite chefs and restaurants, devastatingly delicious drinks and lively tunes. This all-inclusive block party is for 21 years or older, so be sure not to miss out on any of the fun!
2. Future Chef Food Fight
(Saturday, 4 pm)
What kid doesn't love a good food fight? Watch future chefs ranging in ages from 7 to 16 battle it out at the Home Plate Stage for their chance to win the champion title.
3. Barcraft Competition
(Sunday, 4:15 pm)
Friendly competition or bar brawl? This year's Barcraft Competition is sponsored by George Dickel and will feature mixologists and bartenders fighting for the title of "Atlanta's Best Bartender" at the Chef's Table.

Suwanee Wine Fest | November 3rd
November 3rd, 2018 marks the 6th Annual Suwanee Wine Festival, brought to you by organizers of the award-winning Suwanee American Craft Beer Fest. Recognized as one of the premier wine events in the state of Georgia, the Suwanee Wine Fest gets bigger and better year after year. With unlimited samples of over 150 wines from around the globe hand-selected by the wine experts at Beverage SuperStore, this wine festival truly boasts unique and exciting selections. With live music by Joe Hall, delicious wine and food samples from The Fresh Market Suwanee and a beer garden featuring local brews and J.R. Revelry Bourbon, this will be an event to remember! The Early Bird price starts at $49 per person for unlimited samples of beer and wine in the park from 1 – 4:30 pm with the price increasing to $55 on October 14th. Visit suwaneewinefest.com to purchase your tickets to one of the South's premier wine events!
SUWANEE MAGAZINE'S TOP 3 SUWANEE WINE FEST PICKS:
1. College Football
The fall isn't only the best time for festivals, it's also the best time for football! The Suwanee Wine Fest team has made sure that there is an opportunity for the beer lovers in the crowd to make their way over to the beer tent for some craft brews and to catch the live college football games on TV!
2. Shop Local Vendors, Food Trucks, & More!
As attendees drink their way through the park, they have the opportunity to shop from local vendors and artists, taste delicious food from some of the area's most popular food trucks, participate in backyard games like giant Jenga and listen to live music from local bands.
3.Georgia Wine Trail
New to the festival this year, participants can now visit local wineries throughout the festival to get their "passports" punched after trying exclusive wine samples brought just for pass holders! After visiting all the wineries, take your passport to the Suwanee Magazine tent for a special surprise!
Rock N' Ribville | September 22nd
What began as a small barbecue festival in 2007 as a way to create awareness for Georgia Gwinnett College now hosts more than 14,000 attendees. Rock N' Ribville lets participants chow down on the best barbecue, brisket, and ribs in Georgia. Enjoy live music featuring classic hits and country favorites while enjoying delicious Southern food and cold beer. The festival will also have activities for children in the Kid's Riblet Zone. Be sure to stick around to see who gets crowned Rock N' Ribville's Grand Champion. Noon – 8pm. 210 Luckie St., Lawrenceville rocknribville.com
The Atlanta Cheese Fest | September 28th
The Atlanta Cheese Fest is back for its 6th year! Spend the day sampling artisan cheeses and other specialty foods from all over the world. Festival attendees will have the opportunity to meet small producers, taste unlimited samples of fine cheeses and other delicacies, and enjoy live music and cash bars offering beer, wine, and non-alcoholic beverages. All event proceeds go toward The Giving Kitchen, a local nonprofit providing emergency assistance to restaurant workers through financial support and a network of community resources. 5pm – 10pm. Historic Fourth Ward Park, 680 Dallas St., Atlanta thecheesefest.com
Johnny & Xena Fall Fest & Concert | October 27th
The 4th Annual Jonny & Xena Spread the Words 5K/Fun Run/Walk Fall Fest & Concert takes place in Suwanee Town Center. The concert and larger festival atmosphere are new this year. The event, sponsored by Geico & Kroger, supports Autism programs as well as animal rescue. Free pet adoptions (to approved applicants) will be offered along with numerous pet-related vendors, two live bands, food trucks and more. Hours are 8 am – 4 pm. For more information, visit XenaTheWarriorPuppy.com.
Decatur Craft Beer Festival | October 20th
Enjoy an afternoon of beer tasting and live music on the square in Downtown Decatur. General admission tickets include unlimited samples from more than 80 breweries, a special tasting glass, and live music throughout the festival. Noon – 5pm. Downtown Decatur decaturbeerfestival.com
---
Apple Picking
B.J. Reece Orchards| August 25th- October 31st
B.J. Reece is a family-owned and operated orchard in Ellijay. The orchards have been rated as one of the top "Fun Getaway" destinations in Georgia. B.J. Reece offers "U-pick" apples, a country bakery, petting farm, pony rides and more! Take the family to explore more than 120 acres of apple orchards and finish the day off with cow milking demonstrations, wagon rides, and play time on the jumping pillow. Monday – Sunday, 9 am – 6 pm. 9131 Highway 52, Ellijay reeceorchards.com
Hillcrest Orchards| September 8th- November 1st
Hillcrest Orchards has been offering pick-your-own apples for families since 1946. During the week, stop by the Hillcrest bakery to pick up goodies such as fried apple pies, apple cider doughnuts, and their famous apple fritters. On the weekends, bring the family to the annual "Apple Pickin' Jubilee," where you can pick your own apples, milk a cow, witness "swimming pig races," and watch live bands and cloggers on the Hillcrest stage. New this year, the festival will feature the first (and only) Apple Tree Maze in the Southeast, as well as the introduction of duck races. 9696 GA-52, Ellijay hillcrestorchards.net
Mercier Orchards| Open Year-round
Bill and Adele Mercier have created a family-owned and operated business that is dedicated to providing customers with a wide variety of apples, baked goods, and ciders. Mercier Orchards opened in 1943 and is celebrating its 73rd anniversary of fruitful harvest this year. The orchard is the largest in Georgia and was even voted as Southern Living's favorite "roadside apple market." From pick-your-own apples and tractor tours to yummy tastings in the bakery, Mercier has lots of fun family events taking place year round. 7am – 6pm. 8660 Blue Ridge Drive, Blue Ridge mercier-orchards.com
Mountain View Orchards| Open July- December
Located in the North Georgia mountains, Mountain View Orchards will transport you back in time at its old-fashioned orchard. Bring the family to pick your own apples or choose from some already picked in nine varieties. Visitors can also enjoy wagon rides or make s'mores around one of the campfires. After a day filled with apple-picking, enjoy a home-cooked lunch or dinner at The Cider House Cafe. Thursday – Sunday, 11 am – 4 pm. 2984 Mobile Road, McCaysville blueridgemountains.com/directory/mountain-view-orchards
---
Family-Friendly Trick-or-Treating
Boo at the Zoo| October 2oth, 21st, 27th, and 28th
The Atlanta Zoo's Boo at the Zoo is fun for all ages. Visitors can sample treats throughout the zoo (don't forget to wear your costume!), spend time in the magical Zoo Boo Town, and find their way through inflatable corn mazes, all while surrounded by more than 1,000 animals from around the world. 9am – 3pm. 800 Cherokee Avenue S.E, Atlanta zooatlanta.org/event/boo-at-the-zoo
Haunted Halloween at the Atlanta History Center| October 19th
Are you a family full of history buffs? Be prepared to be thrilled as you take a stroll through the Atlanta History Center's foggy gardens and historic haunted houses. After dark, families of all ages can explore the 33-acre campus with fun kid-friendly activities and ghostly encounters. 6:30pm – 9:30pm. Atlanta History Center, 130 W. Paces Ferry Road N.W., Atlanta atlantahistorycenter.com
Suwanee Trek or Treat| October 28th
Suwanee's annual Trek or Treat offers a fun afternoon filled with Halloween-themed events and festivities for children. The event takes place in Sims Lake Park and is geared towards children ages 10 and younger. Families are encouraged to dress up in costumes and can participate in fall-themed games, contests, music, inflatables and more. Hours are 2pm – 4pm. 4600 Suwanee Dam Road, Suwanee suwanee.com/home/ components/calendar/ event/434/
Duluth Howl on the Green| October 26th
Bring the family out to the Duluth Town Green to enjoy food trucks, trick-or-treating, costume contests, crafts, live entertainment and music. Kids events take place from 6-9 pm, and the night takes a "scary" turn after 9 p.m. with spooky entertainment such as fire dancers, aerialists, and more. 6pm – 10pm. 3167 Main St., Duluth duluthga.net/community
Lawrenceville Spooktacular on the Square| October 26th
Spend the evening trick-or-treating at businesses located around Downtown Lawrenceville or grab a Spooktacular drink from one of the local restaurants. The city will also host ghost tours, family-friendly zombie walks, and other kid-friendly activities. All day. lawrencevillega.org