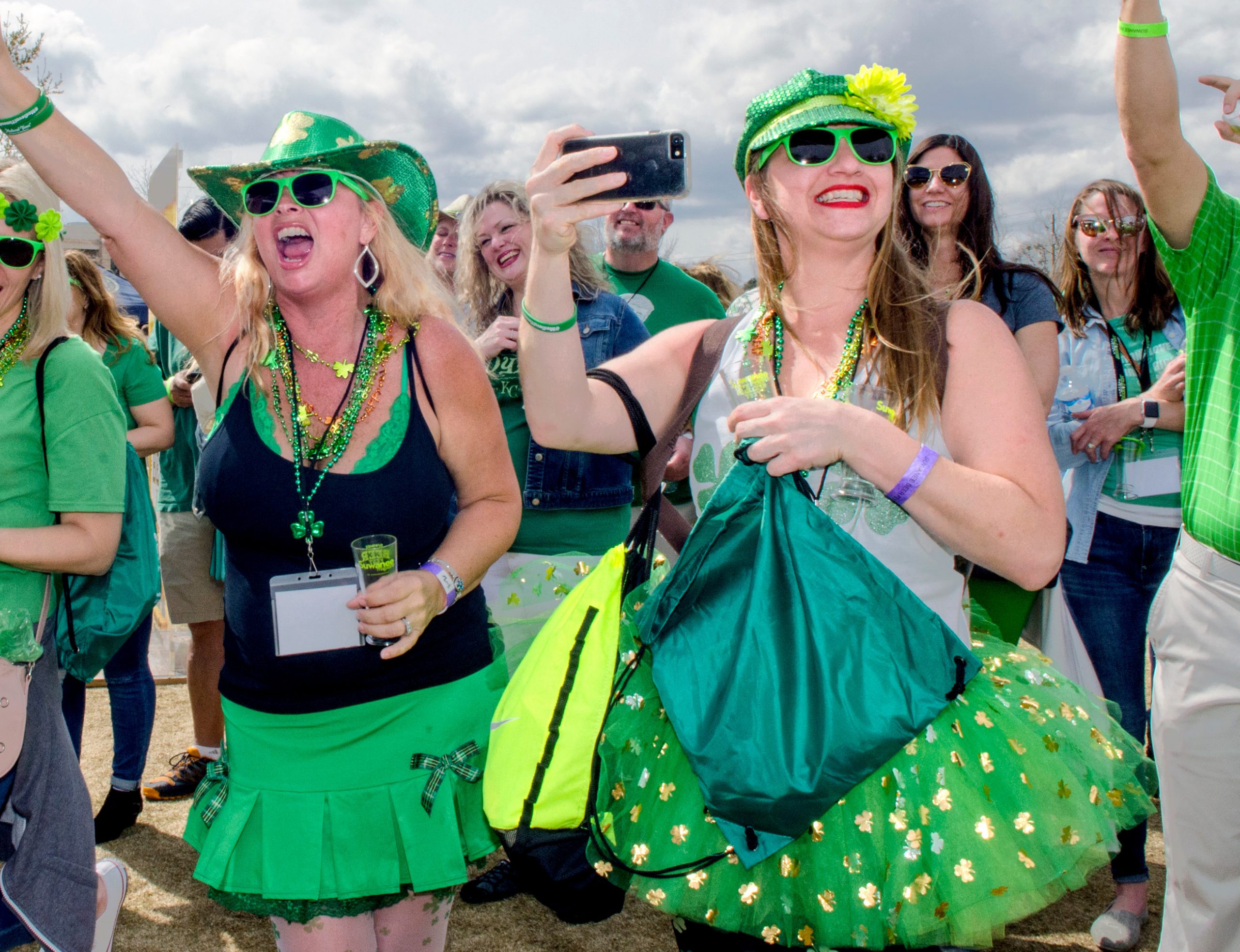 Beer lovers assemble! Solis Suwanee Town Center presents The Suwanee American Craft Beer Fest, the Southeast's premier festival celebrating all things craft beer.
By: Lizzy Kidney
The festival returns to Suwanee Town Center Park on Saturday, March 16th. Falling on St. Patrick's Day weekend, the annual event is known as much for serving up unlimited samples of more than 300 American craft beers as it is for throwing the best St. Patrick's Day party in metro Atlanta — from the sweet sounds of bagpipe players and Irish Dancers to revelers decked out in all things green, the luck of the beer-loving Irish will be on full display. And while it's one of the most anticipated days of the year for the people of Suwanee and the surrounding area, the award-winning festival also attracts hop heads from across the country who are on the hunt for a new favorite brew.
More than 100 national breweries will be represented at the festival, along with an exclusive Georgia Beer Garden featuring more than 30 Georgia breweries. Celebrated for highlighting exciting new breweries, Suwanee Beer Fest 2019 will mark the debut of Suwanee's new hometown brewery, StillFire Brewing, which will open its doors to the public near Town Center Park this Fall.
---
…..
…
…
…
---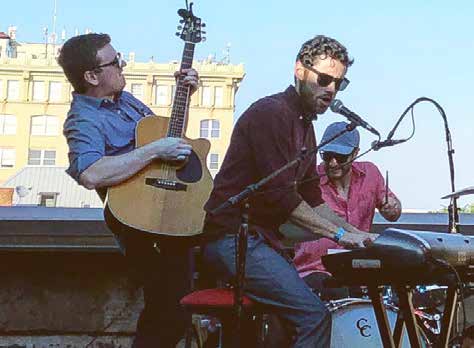 LIVE ENTERTAINMENT
When it's time to put down your beer and put on your dancing shoes, head over to the main stage where Suwanee natives, The Pony League Band, will be performing. The group has a knack for distilling real life moments into shimmering compositions stacked with a lush blend of piano and guitars, a skill they've put on display across the country. The group's notable performances include a recent concert on a moving plane for Southwest Airlines, and more recently at Red Rocks Amphitheater opening for The Fray.
Pony League draws a wealth of inspiration from their home state, though Billboard says their "warm, retro- acoustic sound feels more like California than Georgia." A fitting description of a band that's been likened to Jackson Browne and Dawes.
"We're an Americana band in that our songs are reflections of our surroundings and experiences," says lead guitarist, Charlie Mills. The group is excited to return to their hometown of Suwanee and will be sure to get the Beer Fest crowd up on their feet and dancing!
---
FUN AND GAMES
This year's festival will see the return of Giant Jenga and Peachstate Cornhole (both activities pair GREAT with beer). Plus, festival attendees can also partake in some friendly Xtreme Airball competition — think a large inflatable bubble suit designed to knock around your closest friends. A portion of the festival will be dedicated to all of the fun, so be sure to grab your drinking buddies for some friendly competition.
---

THE 2019 VIP EXPERIENCE
This year's VIP tent is designed with the true beer aficionado in mind. There will be an exclusive selection of more than 30 beers, and organizers have released a sneak peek of some of the VIP beers that will be offered, including: StillFire Brewing's Tropical Coconut Stout and Bourbon Scotch Ale, Left Nut Brewing's Magnifique Belgian Quad, Slow Pour's Lime Coconut Gose, Against the Grain's Watermelon Chiquen, and Highland Brewing's Imperium.
After drinking all that beer, VIP attendees can take a break to pad their belly with a delicious catered meal. Marlow's Tavern, known for being the "best of the best" in American Tavern fare, has designed a menu exclusively for the VIP tent. Marlow's has offered a sneak peek at a few of the VIP menu items: Shrimp and Grits, Herb Marinated Chicken, Artisan pretzels and Beer Cheese Fondue, and Chocolate Cake with Jack Daniel's Pecan Sauce.
Dimensional Design, a local design and branding firm, returns this year as a sponsor and has once again partnered with event organizers to create a one-of-a-kind VIP experience. With an hour early entry, a meal catered by Marlow's Tavern, exclusive beers and high-end finishings, the VIP experience is sure to set a standard for beer festivals everywhere.
---

HOME BREW COMPETITION
The 2019 Suwanee Beer Fest Homebrew Competition will see more than 300 unique home-brewed beers entered this year, with categories such as IPA, Stout, Light Lager, Pilsner, Light Hybrid and Specialty beer.
Home-brewed beers in this competition are judged based on a strict set of criteria, including mouthfeel, aroma, appearance, flavor, and overall impression. Final judging for this BJCP (Beer Judge Certification Program) begins on Saturday, March 9th, with the winners moving on to compete for Best in Show on the day of the festival. The "Best in Show" winner will be crowned on stage at the festival.
For those who are interested in learning more about home brewing and want to consider entering the competition next year, Brew Depot offers Homebrewing and Winemaking classes for those who want to give it a try.
---

2019 GEORGIA BREW BATTLE
After Slow Pour Brewing Company's big win last year, Suwanee Beer Fest organizers are once again giving the power to the people with their annual Georgia Brew Battle. Local attending breweries will pit their most popular beers against each other to compete for the title of Georgia's Best Beer. Each person attending the festival will be given the opportunity to cast their votes for their favorite Georgia brew.
Once you've made your way through the Georgia Beer Garden and have tried samples from more than 30 Georgia breweries, simply place your token that was given to you upon entry in the bucket of your favorite brew. All tokens must be in by 4 p.m. sharp, so the Beer Fest team can tally up the votes.
The winner will be announced before the end of the festival and will take home the highly coveted Golden Cup Trophy. May the best brew win!
---
ST. PATRICK'S DAY FESTIVITIES
What better way to kick-off St. Patrick's Day weekend than with unlimited samples of craft beer?! This year, there will be tons of holiday fun to be had, complete with costumes, kilts, Irish dancers, live music, and more. For those feeling extra festive, there will also be an Irish beer tent that will serve up nothing but green beer!
COSTUME CONTEST: For those of you coming decked out in your St. Paddy's gear, enter yourself and your friends into the 2019 Suwanee Beer Fest Costume Contest. In order to participate, sign up at the St. Paddy's Day stage by 2:30 p.m. the day of the event. The contests will begin at 3:00 p.m. and be based on the following categories: best beard, best costume (male and female), best kilt, and best-dressed couple. Winners will be announced at the Social Lounge Stage and will receive prizes from Marlow's Tavern, The Fresh Market, S&S Ace Hardware, J.R. Revelry, and Taco Mac.
BAGPIPE PLAYER: Everyone's favorite bagpipe player will return to welcome festival attendees to the park with the sweet sounds of bagpipes. Get into the festive spirit as you make your way to your beer destination.
DRAKE SCHOOL OF IRISH DANCE: What's a St. Patrick's Day party without a little Irish dance? Head over to the Social Lounge Stage at 3:45 p.m. to enjoy a live performance by The Drake School of Irish Dance. The Drake school is one of the most prestigious Irish Dance Schools in the United States, and its dancers hold competitive achievements including Regional and National Championships and are World Medal holders.
---
DRINK RESPONSIBLY
The Beer Fest team wants you to drink responsibly and is committed to providing everyone with a fun and safe experience. Because of this, organizers have partnered with local businesses to make sure your festival experience is a safe one.
LYFT
Festival attendees can use the promo code SUWANEEBEER19 for 20% off their ride or up to $5 off to or from the event. Just download the app and enter your information along with the promo code.
SHUTTLE: Tannery Row Ale House (554 W. Main St., Buford) From 11 a.m. to 6 p.m. the day of the festival, Tannery Row Ale House will be offering FREE shuttles to and from Town Center Park. After the festival, attendees can take the shuttle back to Tannery Row for an exclusive after party! Keep the fun going with a Creature Comforts tap takeover while also enjoying live music from Grand Paradies, a Styx cover band.

LODGING: Comfort Inn and Suites Suwanee is offering an exclusive rate of $89.99 for festival attendees! All you have to do is mention Suwanee Beer Fest when booking.
---
BENEFITING COOPER'S CREW
While there is much merriment to be had at Suwanee Beer Fest, the event organizers are also dedicated to giving back and supporting the community and will donate a large portion of proceeds to local charities. This year's benefiting organization is Cooper's Crew, a Suwanee-based organization created in honor of Cooper O'Brien, who lost his battle to a rare form of cancer at the young age of 14. Cooper's Crew provides funding for research and development to find a cure for childhood cancer as well as scholarships for young men and women facing challenging circumstances.
So while you're sipping samples of your new favorite craft brew or participating in a hopped-up version of an Irish jig, remember that your participation in the festival helps support the Cooper's Crew Fund and the Cooper O'Brien Scholarship Fund, which grants scholarships to three graduating seniors at North Gwinnett High School each year who have overcome unique hardships. Please join us in raising funds and awareness for childhood cancer and to celebrate Cooper's legacy. For more information on Cooper's Crew, visit CoopersCrew.org.
---
…..