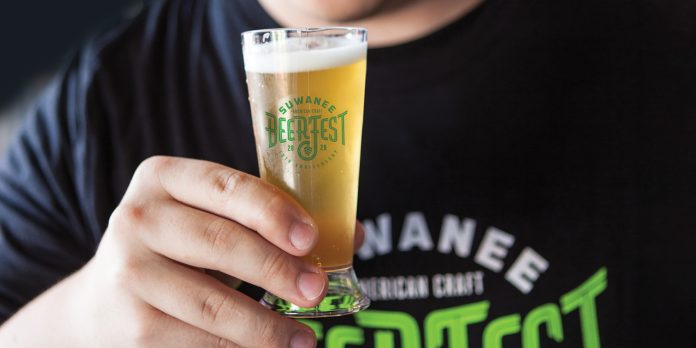 Originally scheduled for March, the 10th annual Suwanee American Craft Beer Fest is now set to take place at Suwanee Town Center on August 29th. Like many others, the festival has had to adapt and change its original plans, but for event organizers, their goal still remains the same.
By: Lizzy James
"Even in light of current circumstances, our mission is still to throw the best craft beer festival in the Southeast, while also giving back to the community who has supported us not only through the pandemic but by choosing to attend year after year," says Event Director Tiffany Belflower. "Now more than ever, we are excited to celebrate 10 years of bringing the Georgia craft beer community together."
Sessions, Belgians, IPAs and pilsners live in harmony at Suwanee Beer Fest. The highly anticipated event features unlimited samples of more than 350 craft beers from around the nation as well as over 40 Georgia breweries who come to compete in the annual Georgia Brew Battle competition. Each year festival organizers work to one-up the previous year's event, and as they celebrate 10 years, they're certain to have a few new surprises up their sleeve — from new breweries and ticket holder perks to exciting live entertainment. Keep reading for your exclusive update on everything set to happen at the 10th anniversary.
Suwanee Beer Fest Super Supporters
Festival organizers have come up with a special way to say thank you to ticket holders who have held onto their tickets since the original festival date. Dubbed "Super Supporters," these individuals will have a tent dedicated especially to them. The Super Supporter tent will feature:
• Exclusive beer tastings.
• Suwanee Beer Fest swag.
• Supporter "survival area" with sunscreen, bottled water and refreshing treats to beat the summer heat.
• Plus! Four lucky Super Supporters will win VIP tickets to the 2021 Suwanee Beer Fest!
Live Entertainment
Suwanee Beer Fest's music lineup has continued to set it apart from other festivals for over a decade, and this year's event is no exception. With a new date, organizers had to make some adjustments to the lineup, and are excited to welcome '90s tribute band Suckerpunch and Bon Jovi tribute band Slippery When Wet to the Suwanee Beer Fest main stage.
Slippery When Wet
Slippery When Wet has played more than 1,500 shows throughout the U.S., headlined more than 60 cruises on the Royal Caribbean cruise line, and even played the pre-game concert of Super Bowl 48. In 2019, Slippery When Wet was hand-picked to perform on the Runaway to Paradise Cruises with Jon Bon Jovi himself. Their drive, musical ability, showmanship and dedication to duplicating the Bon Jovi live experience simply cannot be outdone.
Sucker Punch
Founded in Dunwoody, Georgia, in 2017, Sucker Punch has quickly ascended to the top ranks of '90s tribute bands in the Atlanta area. While the band considers '90s rock hits as its "bread-and- butter," they will venture into any modern decade to pull hard-hitting rock tunes. From Zeppelin to Rage, Blink to Metallica and Green Day to 311, these fellas bring talent, energy and a rock-show mentality to every event they play.
Fun & Games
This year's festival will see the return of everyone's favorite beer drinking activities — Giant Jenga, Peach State Cornhole, and Xtreme AirBalls. However, festival organizers have also added Giant (and we mean GIANT) beer pong and mobile axe throwing to the mix! Axecessive Force will be on site with their mobile axe throwing cages, giving attendees a chance to (safely) test out their axe throwing skills. So grab a beer, your best pong partner, and maybe even an axe or two, and get ready for some friendly competition! Just don't spill your beer!
Staying Cool
Suwanee Beer Fest has partnered with some awesome sponsors to help make sure their attendees stay cool during the festival. Attendees can get out of the heat for a moment at the Margaritaville "License to Chill" Island or at the Classic Tents and Events misting station. Grab a sip of water, stand in front of the misting fans, and don't forget to reapply that sunscreen!
Volunteer
Did you know that it takes more than 200 volunteers to make Suwanee Beer Fest a success? Most volunteers will be assigned to a specific table and asked to help pour beer to festival attendees during the event while others may be asked to assist in helping with set-up and/or breakdown. Other volunteer opportunities include helping with ticketing and VIP check-in. A high level of professionalism is required and a basic knowledge of beers being served is welcomed. Volunteers will receive an awesome, limited edition Suwanee Beer Fest volunteer shirt, will have access to private bathrooms, receive lunch and complimentary waters in the Volunteer Zone, and have the opportunity to meet fellow beer enthusiasts in the community. The best part is that you are volunteering for a good cause! A portion of all Suwanee Beer Fest proceeds will be donated to local nonprofit Cooper's Crew.
Being safe!
The 2020 Beer Fest organizers are dedicated to the safety of all festival attendees, and want to ensure safe travel for everyone. Designated Driver tickets are available for purchase with a general admission ticket. These $10 add-ons make it so your friends can enjoy the games and vendors inside the festival, while also ensuring you have a safe ride home.
Lodging
Comfort Inn & Suites in Suwanee. Festival attendees receive an exclusive discounted rate of $89 per night. Just mention Suwanee Beer fest when booking!
The VIP Experience
Event coordinators continue to make The VIP Experience bigger and better each year — and this year might just be the biggest yet! Dimensional Design, a local design and branding firm, returns as a sponsor of the VIP tent and has partnered with festival organizers to bring a one-of-a-kind experience to the festival. From beautiful floral arrangements from Suwanee Towne Florist to Dimensional Design's high- end finishings, the VIP tent is the place to be if you're a true beer connoisseur. Featuring more than 30 beers, including one-offs, casks, specialty brews and more, this exclusive festival experience is not to be missed.
Marlow's Tavern
Marlow's Tavern, known for featuring the "best of the best" in American tavern fare, is returning once again with a unique menu designed just for VIP patrons:
Appetizers:
• Beer and cheese fondue
• Artisan pretzel bread
• Roasted garlic hummus
• Tuna Poke: Fried wonton chips, avocado, scallions, poke sauce
• Charcuterie platter
Entrees:
• Herb marinated chicken with a shitake and crimini mushroom cream sauce
• Shrimp and grits with a tomato beurre blanc
• Andouille sausage, peppers, onions with a creole sauce
• Marlow's Tavern Salad: Artisan lettuce blend, carrots, pumpkin and sunflower seeds & Maple Sherry Vinaigrette
• Dirty rice
• Smashed red potatoes with olive oil and herbs
• Fresh Seasonal Vegetable
Desserts:
• Homemade honey bourbon bread pudding with a Jack Daniel's cream sauce
• Classic cheesecake with berries
• Chocolate cake with fresh whipped cream