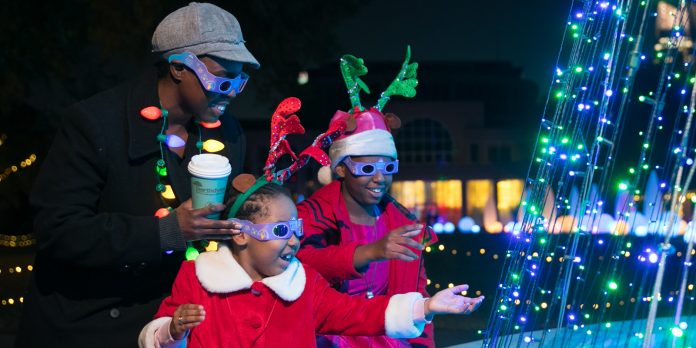 Christmas truly is the most wonderful time of the year. We wait for months in anticipation of everything that makes the holidays so special, from the twinkling lights and decorations to the Santa-themed movies and gift-giving. Then suddenly, it's over in the blink of an eye. In between the rush and busyness of the season, it can seem daunting to squeeze it all in. This year, let's simplify things a bit. In addition to all of the fun events and activities, let's take joy in some of the quieter moments of the season, such as mailing your Christmas cards on time or enjoying that first cup of hot chocolate. In that spirit, we've offered 25 suggestions to help get the most out of the upcoming holiday magic. But, don't feel pressure to complete them all. Just do the ones that work best for you and your family. Happy holidays!
By Alicia Carter
December 1: Make a holiday playlist.
The holidays are the perfect time to pull out all the cheesy, guilty-pleasure music we'd never listen to any other time of year. But, the secret to a great playlist is variety! So mix together the cheesy songs for the kids ("I Want a Hippopotamus for Christmas" by Gayla Peevey or "The Chipmunk Song" by Alvin & The Chipmunks) with the classics ("A Holly Jolly Christmas" by Burl Ives or "Rockin' Around the Christmas Tree" by Brenda Lee) and then throw in some nontraditional songs for fun, like Bob Dylan's rendition of "Must Be Santa" or "Let's Make This Christmas Mean Something This Year" by James Brown. A thoughtful playlist with songs you and your family love will make those car rides or evenings at home even more merry as you count down to Christmas!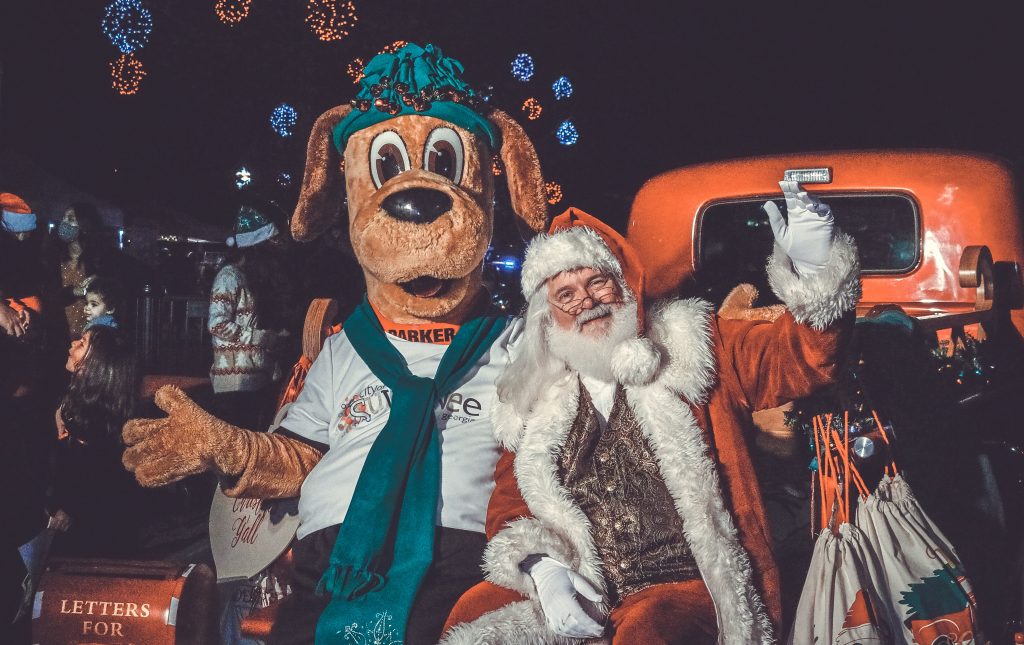 December 2: Visit Santa at Jolly Holly Day.
Jolly Holly Day is an annual tradition in Suwanee that features the big man himself: Santa! Kids can get their photo taken with Santa while enjoying carols sung by local school chorus groups. Afterward, jolly ol' Saint Nick will help light the big Christmas tree on the fountain in the park. There will be crafts, food trucks, hot chocolate and s'mores. Friday, Dec. 2, 6:30 p.m. Town Center Park, 330 Town Center Ave. in Suwanee. For more information, visit Suwanee.com.
December 3: Run in HappyFeat's Run Run Rudolph 5K.
If you've gotten a headstart on your "winter coat," HappyFeat's Run Run Rudolph 5K is the perfect way to get some exercise while embracing the fun of the holidays. Participants are encouraged to get in the spirit of the season and don holiday running attire or Christmas PJs, and even dress up their strollers, bikes or dogs with festive flair! Plus, the event helps to support HappyFeat, a local nonprofit whose mission is to create inclusive opportunities for people living with disabilities. Saturday, Dec. 3, 9 a.m. Town Center Park, 330 Town Center Ave. in Suwanee. For more information, visit HappyFeat.org.
December 4: Put up the Christmas tree.
Whether you're team real or team artificial, putting up the tree is an essential part of the Christmas season. From picking the perfect tree to stringing it with lights and decorating it with your favorite ornaments, a beautiful tree really sets the tone for all the fun to come. Are you classic and elegant with white lights or quirky and playful with multicolored lights? Either way, the family Christmas tree is a daily reminder that very soon there will be gifts underneath its limbs, and we can all get excited about that, right?
December 5: Write a letter to Santa.
There's nothing quite like experiencing the holidays through the eyes of a child. Christmastime really is magic to our little ones, and if your kiddos are anything like mine, they are constantly tweaking their (ever growing) Christmas list. Take a day to channel that energy into writing a letter to Santa and then drop it in the mail. The USPS even has a program where children can receive a letter back postmarked from the North Pole. Visit USPS.com and search for "Greetings from the North Pole Post Office" for more information.
December 6: Mail your Christmas cards.
Every year we have the best intentions to get our Christmas cards mailed off in time, and every year we end up cutting it a little too close. Or is that just me? (Dec. 27 is still technically the Christmas season, right?) Sometimes we forget to factor in the act of stuffing and addressing each envelope, along with purchasing stamps and a trip to the post office. But just think, if you get your cards mailed off in early December then your friends and family can enjoy them all month long — hopefully in a photo arch above a doorway or tacked to a push-board next to their work desk.
December 7: Make a holiday-themed cocktail.
De-stress from the holidays with a festive cocktail. A cranberry mimosa is a simple and refreshing drink to help get you into the holiday spirit. Simply grab your favorite chilled sparkling wine (Champagne or prosecco) and add your desired amount of cranberry juice, and voila! If you're feeling fancy, serve it in a Champagne flute with a sugar-dipped rim and garnish with a sprig of fresh rosemary.
December 8: Plan a Christmas date.
Every year my husband and I plan a special Christmas date while the kids stay with their grandparents. It's a time to enjoy each other's company as we wrap up our Christmas shopping (well, most of it…) and go out to dinner at one of our favorite local restaurants. It's important to slow down and have this time together since the holidays tend to go by in a blur. Some of our favorite places for our Christmas date night include Bare Bones Steakhouse in Buford, Bottles & Bones in Suwanee, and Falling Rabbit in Duluth. If you want something a little more low-key and extra festive, Over the Top Burger Bar in Buford is bringing back their Christmas-themed pop-up bar, Kringles, which is always a lot of fun.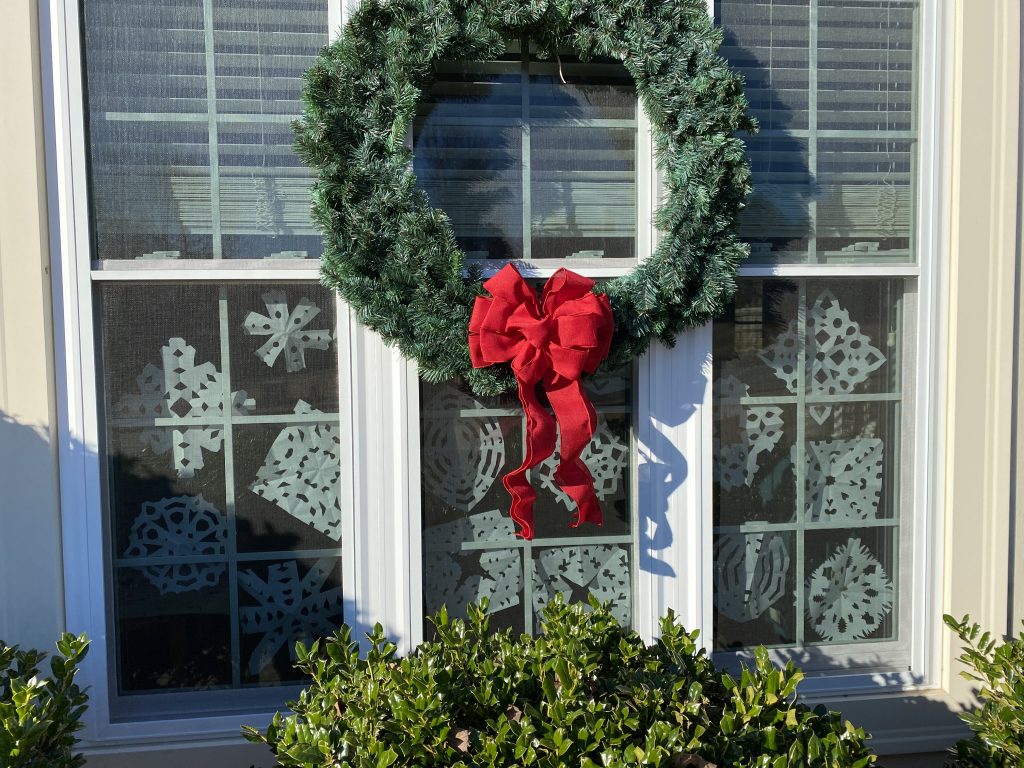 December 9: Make paper snowflakes to decorate your window.
This craft is a super easy and affordable addition to your Christmas decorations. Plus, it's one the kids will love because they get to help make them! Simply gather together white paper, scissors and tape and get creative with your snowflake designs — after all, no two snowflakes are alike! When you're finished, tape your designs to the inside of your front windows for a unique winter decoration that's made with love.
December 10: Tube down Snow Mountain.
After checking out Lakeside Lights, be sure to visit Snow Island, Margaritaville's Christmastime attraction that features tons of activities for the family, including winter-themed carnival rides, an ice-skating rink, snow play areas, fire pit s'mores, and more! The star of the island is the 575-foot-long, eight-story snow tubing hill, which is said to be the fastest in North America. Nov. 19-Feb. 26. For hours and more information, visit MargaritavilleResorts.com/margaritaville-at-lanier-islands.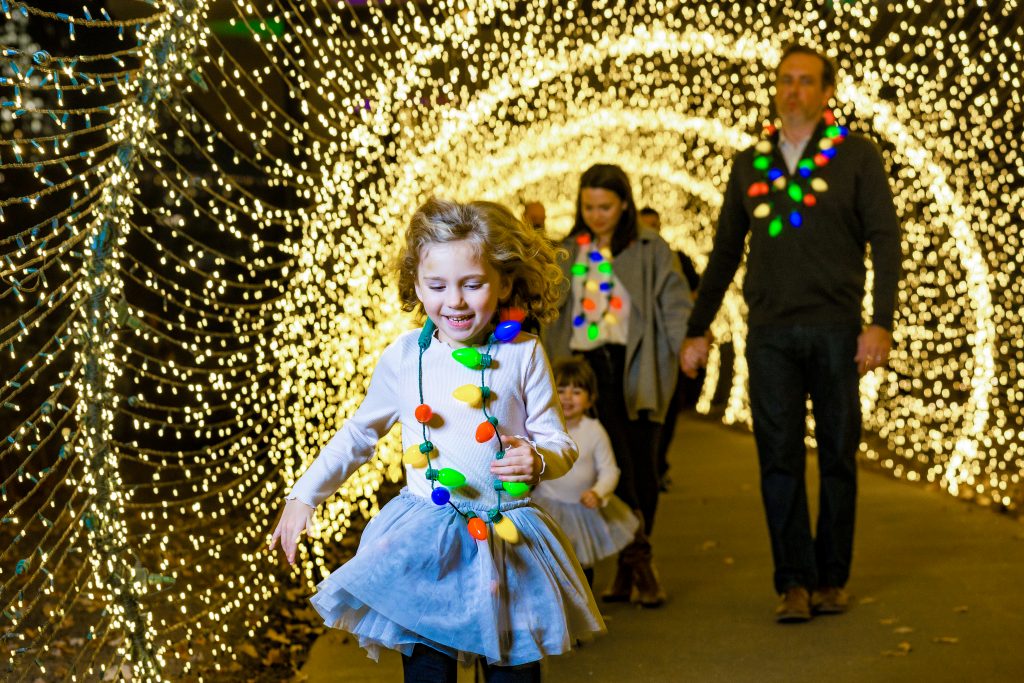 December 11: See the lights at the Botanical Garden.
Atlanta Botanical Garden's Garden Lights, Holiday Nights event is sure to brighten your family's holiday season. From November 12 to January 14, the Botanical Garden celebrates its 12th annual yuletide tradition when the garden is illuminated with more than 1 million light bulbs. This year, the exhibition will feature an installation of illuminated large metal sculptures of birds by French artist Cedric Le Borgne, including birds perched among the hardwoods and ones that range up to 10 feet wide and 16 feet long. Atlanta Botanical Garden is located at 1345 Piedmont Ave. For more information, call 404-876-5859 or visit AtlantaBG.org.
December 12: Host an ornament exchange.
This year, why not invite a group of family and friends to your house for an ornament exchange? It's a simple way to celebrate the season with your favorite people and a nice alternative to the usual cookie exchanges or Secret Santa gifts. Simply set a price limit and then have each person bring a wrapped ornament. Once everyone has arrived, assign a number to each ornament and then attendees can take turns drawing numbers and opening their gifts! For more fun, incorporate a theme such as "Characters of Christmas," "Blue Christmas," or "Countryside Christmas" to add some direction for the types of ornaments people will bring. But most important: Have fun!
December 13: Make a donation.
While the holiday season is filled with many fun events and activities, it's important to remember that there are people and families around us who may be in need this time of year. Take time to practice the true meaning of the season (and teach your kiddos in the process) and gather together food, clothing, toys or other types of donations for local organizations in your community.
December 14: Watch a Christmas movie marathon.
We all have our favorite Christmas movies that we love to watch year after year. For our family, we always watch Christmas Vacation on Thanksgiving evening to officially kick off the holiday season. Lucky for us, there are so many fun holiday movies to choose from, so pick an evening and a couple of your favorite films, then settle in with a comfy blanket and a large bowl of popcorn. Some of our favorites include A Christmas Story, Elf, The Santa Claus, Home Alone, Scrooged, A Charlie Brown Christmas, Four Christmases… and so many more.
December 15: Build a gingerbread house.
Admittedly this is not my favorite holiday activity, but my daughter loves it, so we make time each year to build a little gingerbread house to display for the season. Whether you opt for a boxed creation with all the materials included or go off the grid with an entirely unique build, be sure to come to the table with extra candies, extra frosting, and an extra dose of patience. Pro tip: Spray your creation with a craft varnish to help it last until Christmas! (Happen to build a masterpiece in the process? Enter it in Suwanee Performing Arts' Gingerbread House contest!)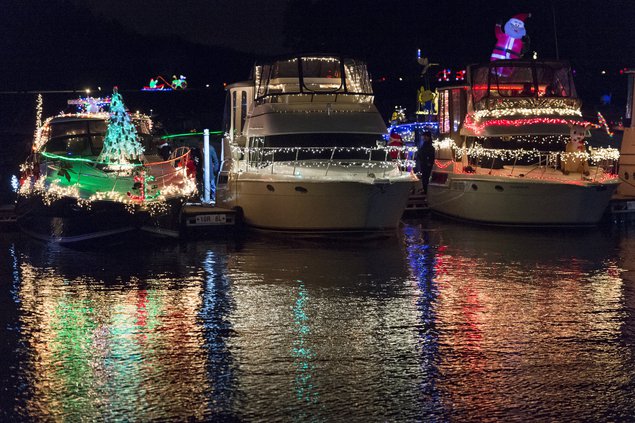 December 16: Watch the Lake Lanier Holiday Boat Parade.
The eighth annual Holiday Boat Parade returns to Lake Lanier on Friday, December 16. From 5-10:30 p.m., boats from all over Lake Lanier will gather to put on a dazzling display of decorated cruisers, houseboats, and sailboats to benefit the Lanier Partners Organization. For more information, visit DiscoverLakeLanier.com.
December 17: Celebrate Christmas at Stone Mountain.
Immerse yourself in holiday magic with an evening filled with festive music, millions of dazzling lights, spectacular shows, and visits from holiday characters at Stone Mountain Christmas! This year enjoy the new "World's Largest Christmas Light Show" and Christmas parade. Stone Mountain Christmas takes place November 12 through January 1. For more information, visit StoneMountainPark.com.
December 18: Get a holiday-themed manicure.
Why not embrace the holidays from head to toe — literally. Indulge your inner girly-girl and treat yourself to a holiday-themed mani/pedi. Maybe choose a simple red and green pattern, or doll it up with a fun nail art design featuring snow flakes or Santa hats or ornaments. Now is the perfect time for all the sparkle and glitz, so get creative and don't shy away from matching your nails to your holiday party dress.
December 19: Make "Reindeer Food" mix.
A good holiday-themed trail mix is an easy and quick way to get a hearty helping of snack food that pleases both kids and adults. "Reindeer Food," also known as "Christmas Puppy Chow," combines sweet and salty for the perfect nibbly food, and you probably already have most of the ingredients in your pantry. You'll need chocolate, peanut butter, Chex cereal, butter, powdered sugar, and vanilla. You can jazz it up with the addition of sprinkles, M&Ms, mini Reese's Peanut Butter Cups, or any other candy of your choice. You can also mix pretzels with the cereal to add an extra crunch. If you have kids, put some to the side to leave out with Santa's cookies for the reindeer.
Ingredients:
• 1 cup semi-sweet chocolate
• ¼ cup unsalted butter melted
• ½ cup smooth peanut butter
• 1 teaspoon vanilla
• 9 cups Chex cereal
• 1 ½ cups powdered sugar
• Candy of your choice.
Directions:
1. Add your chocolate and your butter in a microwave-safe container and heat for 30-second increments, stirring well between each increment until fully melted.
2. Stir in the peanut butter and vanilla.
3. Pour the mixture over the cereal and stir well to combine.
4. Pour the powdered sugar into a large bag and add the cereal. Shake until well-combined.
5. Allow cereal to set in the fridge or freezer for a minute or two. This is when you can add any of your favorite candies (we suggest holiday colored M&Ms.)
December 20: Take a Christmas lights drive.
This was hands down my favorite Christmas tradition as a child. Each year, my parents would load us into the car, pop in our favorite Christmas CD (remember those?), and cruise through local neighborhoods on the lookout for the best Christmas decorations. I've always been drawn to the ultra-colorful, overdone, Clark Griswold level of decorating — the bigger the better. Lucky for us there are many great neighborhoods around town who go above and beyond with their decorating.
December 21: Celebrate the first day of winter with hot chocolate.
Hopefully by now it's coat weather in Georgia, which means it's time to break out the hot chocolate. At our house, we usually whip up a batch to enjoy while making holiday crafts or lounging in front of the TV for another Christmas movie marathon. Just be sure to add extra marshmallows.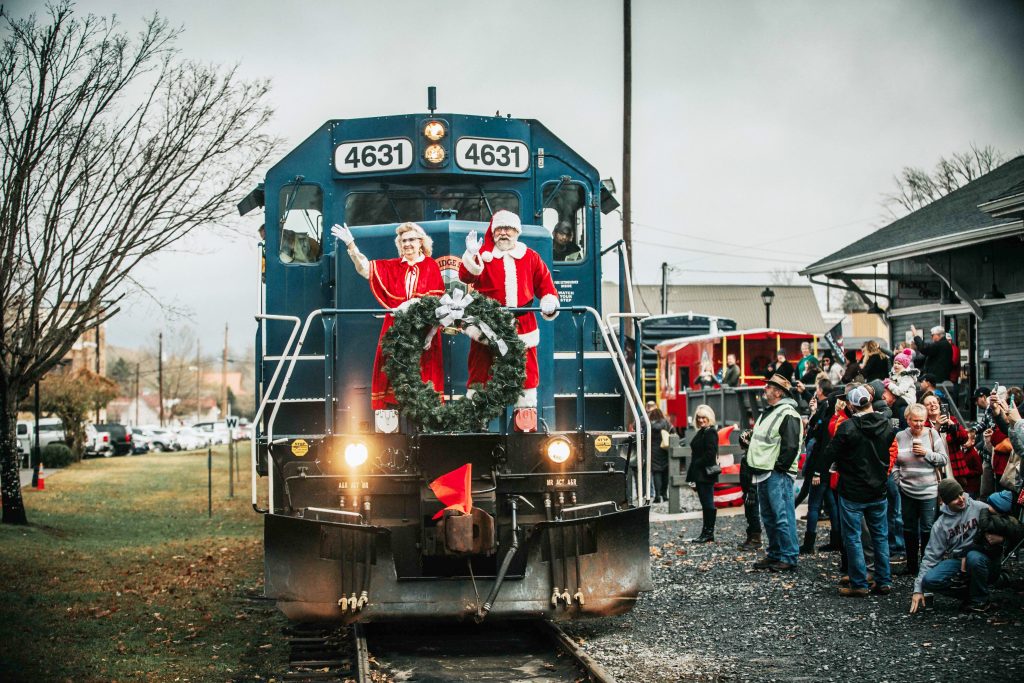 December 22: Book a train ride on the Holiday Express.
Each year, the Blue Ridge Scenic Railway hosts a festive hour-long train ride throughout December called the Holiday Express. It's a wonderful opportunity for the young ones to take a real train ride through North Georgia made all the more special with holiday music and a live reading of Twas the Night Before Christmas. There's also hot chocolate! In addition, children receive a jingle bell, candy cane, and activity packet while on board. I took my daughter when she was three years old and I still cherish the photo of her perched in the seat looking out the window in awe! The Holiday Express runs November 25 through December 23. For more information, visit BRScenic.com.
December 23: Bake cookies for Santa.
For us, Christmas Eve is a busy day, so we bake our Christmas cookies on Christmas Eve Eve. We make a batch of chocolate chip for munching and then a batch of sugar cookies that the kiddos decorate for Santa. While my baking skills aren't the best, it really doesn't matter. The kids will love helping to stir and pour, and of course they'll love making a mess with the frosting and sprinkles. And when the holidays are over, these will be the memories you'll cherish.
December 24: Read'Twas the Night Before Christmas.
After you set out the cookies and milk for Santa, and before you tuck the little ones into bed (with visions of sugarplums dancing in their heads), take time to read the most magical Christmas story of all: 'Twas the Night Before Christmas. It's a great holiday tradition that will get them even more excited for Santa — if that's possible.
December 25: Remember the reason for the season.
After the presents are opened and the rush of anticipation has subsided, gather together as a family to remember the true reason for the season. Whether that's taking time to be thankful for this time of togetherness or reading the Nativity story about the true Christmas miracle, the season really is much more than gifts and cookies and decorations and it's important to remember that throughout all of the commotion.