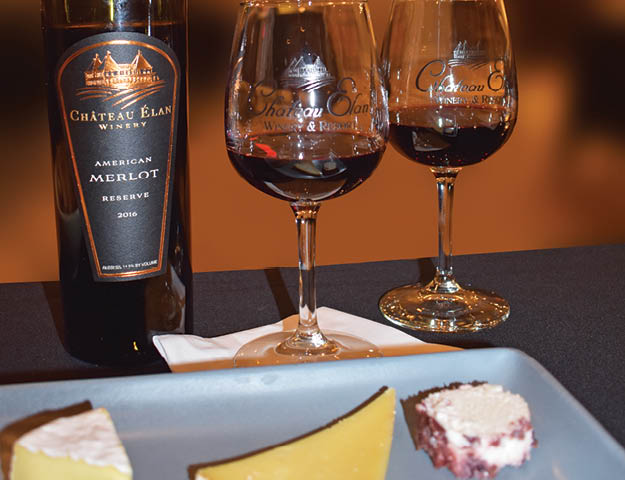 We had the opportunity to attend Château Élan's "Wine Tasting Experience" – an evening of wine-tasting led by Level 2 Sommelier, Matias Henriquez, who recently joined the Braselton winery after being recruited from a winery in his home-country of Chile.
By: Rachel Pillow | Photos by Natalie Stubb
Henriquez' personable approach and witty sense of humor coupled with his vast experience and knowledge, lent itself to a fun, entertaining, educational, and most importantly, wine-fueled event. It was evident that the group consisted of both wine enthusiasts and novice drinkers, but by the end of the night we all shared a newfound, common appreciation for Château Élan's intensive wine-making process, as well as expert tips for properly tasting and enjoying all wines. Below are five tasting tips to help you on your way to becoming a wine connoisseur yourself…
1. SET YOUR LINEUP
We tasted Château Élan wines in this order: Sauvignon Blanc Reserve, Zinfandel Rosé Reserve, Pinot Noir Reserve, Merlot Reserve, Cabernet Sauvignon Reserve, Mameli Signature (Italian red), El Tempranillo (Spanish red) and finished with Château Élan's sweetest offerings – their Muscadine wines. "Start with dry (not sweet) whites that do not have much residual sugar and low tannin levels, and always finish with the sweetest wines," advised Henriquez. Muscadine grapes are the only grapes grown on the Château Élan property because they are the only vines that can thrive in the hot, humid temperatures of the south and Georgia's red clay soil. All other grapes are grown in California before being shipped to Château Élan's award-winning winemaker.
2. LIFT & LOOK
Place a white napkin behind your wine glass and hold it up to see the color and if there are sediments. "You don't want sediment," said Henriquez. Sediments are solid matter that have settled to the bottom of the fermentation tanks, such as grape skin, dead yeast cells or stems. Gently tip the glass as you look through it. If it's a heavy, full-bodied red such as a Cabernet Sauvignon, you shouldn't really be able to "see through it."
3. SWIRL & SNIFF
"We aren't swirling to look like snobs," laughed Henriquez. "Each wine has a unique volatile structure and swirling it releases its aromas." Aroma is a major component of the wine-tasting process. Swirling brings oxygen into the glass, helping the wine to open up. It allows you to get a sense of the wine's bouquet and appreciate its aroma. One of the most unique aromas we experienced was in Château Élan's Reserve Merlot. "It smells like sausage," said one participant. Henriquez informed us that the description was accurate – as it had a very herbaceous, "salami or charcuterie-like" aroma. (Editor's note: this was my favorite wine of the night and I never thought I was a fan of Merlot.)
4. SIP & SLURP
Have you ever noticed someone "slurping" his wine? "I don't recommend doing this at a dinner party," said Henriquez. But if you can do it inconspicuously and in the right setting it helps to "open the structure of the wine because some of the wines are tight," he continued. Without "slurping" you can still experience the wine's essence by taking a small sip and letting it linger on your tongue, passing across all of your tastebuds. "Heavy tannins fill your mouth. If you feel yourself salivating, then you know it's a wine with higher acidity, such as Sauvignon Blanc," said Henriquez.
5. PAIR WITH CHEESE
We were served a variety of cheeses to pair with each wine. "A bad wine-cheese combo can ruin the experience, but a great combination can transform it," advised Henriquez. Bold cheeses like aged cheddar or Gouda are best paired with fullbodied wines that have heavier tannins, such as Cabernet Sauvignon. Acidic white wines such as Sauvignon Blanc pair well with something tangier, like goat cheese; whereas fuller-bodied whites, such as Chardonnay go best with a creamy, buttery Brie cheese. Sweet and salty always make a good combination – for a unique dessert offering, try Muscadine with blue cheese.
We hope you found these tips as helpful as we did. The world of wine can seem intimidating at first, but Château Élan Winery & Resort is making wine-tasting an approachable, enjoyable experience. For more information on their upcoming events, visit ChateauElan.com.