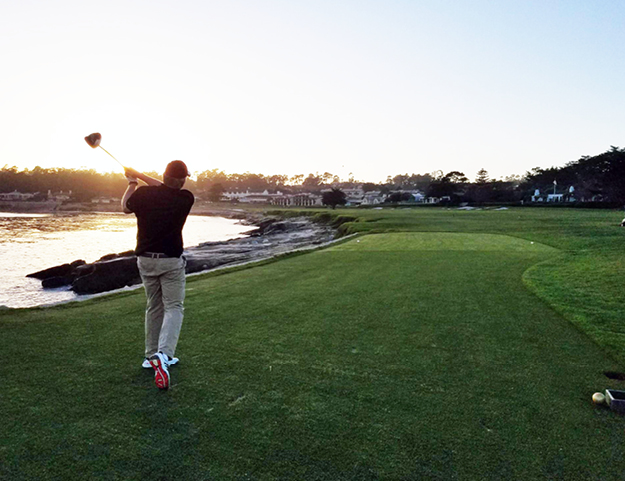 Many people dream of visiting all 50 United States in their lifetime, but Suwanee resident and avid golfer, Scott Freed, took it one step further with a personal life goal of golfing in every state by the age of 50. Scott has been golfing since high school, but it was about ten years ago when he decided to tackle his personal mission. His first round of golf ever was in Michigan and his final will take place in November at the Princeville Makai Golf Club in Kauai, to celebrate his 50th birthday.
Some of the most notable (and most difficult) courses he has played include Whistling Straits in Wisconsin, Pebble Beach in Monterey and Torrey Pines in San Scott Freed at Moose Run Alaska with kids, Troy & Erica. Diego. With a job that allows for a lot of travel, Scott has been able to take advantage of many business trips by taking an extra day to golf. There were several times when he would knock off two states in one day, which required a tremendous amount of commitment. "I played two courses in one day, in Idaho and Montana, and they were three hours apart…that was a long day, but it was worth it," he said.
"Sometimes I'll take golf trips with friends but if I'm alone I like to get paired up with local players and meet people from each state," he said. "My family, friends and girlfriend have all been extremely supportive. Some of the courses haven't been in typical vacation destinations but they've been great about coming along anyway or encouraging me to take the trips so that I could achieve my goal. My kids don't play golf, but they still have fun tagging along, especially when we all went to Alaska – they loved seeing the moose walking on the greens and the bald eagles flying over the course."
In 2016 alone, Scott golfed in 15 states. Over time, his game has admittedly improved a bit, but really it's about the experience and having fun while doing it. Scott has had the opportunity to see some of America's most amazing landscapes, from a stunning sunset over the rocky shoreline of Monterey to breathtaking views of windswept dunes along Lake Michigan.
So, what's next? "I think now I need to get the U.S. Territories and then start on countries or continents," he said, with no plans of putting up the clubs anytime soon.