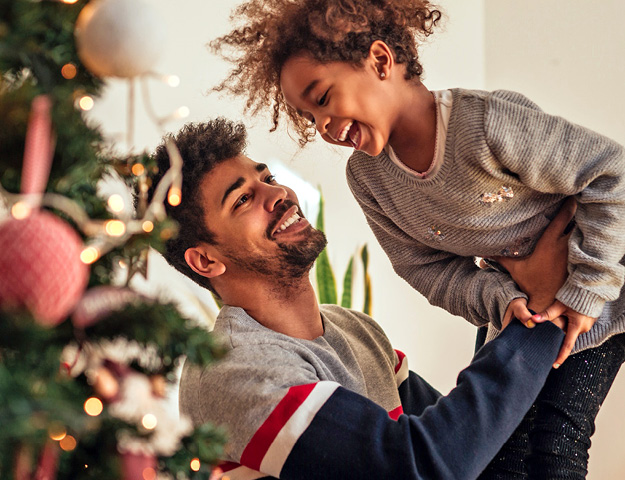 Is there anything you can do to put a ho-ho-hold on seasonal stressors? Hira Kohli, MD, a primary care provider at the GMC Primary Care & Specialty Center-Suwanee, shares six easy things you can do to stay feeling holiday obsessed instead of seasonally stressed.
By: Hira Kohli, MD.
With the holidays just around the corner, you know the drill — holiday songs on every radio station, festive parties to attend, and special gifts to find. Heck, just reading this article you can probably feel the stress starting to grow, right along with your to-do list. And if miraculously getting everything done wasn't enough, you're expected to be merry and jolly all season long or risk being called a Scrooge.
1. Get organized.
Oftentimes, trying to keep track of everything you need to do by memory alone can be anxiety-inducing on its own, let alone during the holidays. We tend to overthink things, going over them again and again, which only amplifies things and makes them feel more stressful.
TAKEAWAY TIP: The next time you have a few minutes to spare, sit down, think through everything you need to do and write it down.
2. Stick to your routines.
Whenever you're stressed out and tight on time, healthy habits tend to fall by the wayside, but the holidays are no time to change up your schedule as this may only worsen stress.
TAKEAWAY TIP: Whether it's sticking to your diet and going to your usual exercise class or simply brushing your teeth before bed, these habits will help you — and your body — handle stress.
3. Give your presence instead of presents.
With so much to do and so little time, it's easy to develop a just-get-it-done mindset instead of actually enjoying the moment.
TAKEAWAY TIP: Try to focus on one thing at a time and be mindful about what you are doing while you are doing it. You'll enjoy the time you spend with your friends and family more and so will they.
4. Give back.
It isn't just gifts that you should be giving this holiday season. Whether it's your time, energy or money, giving back to your community can make a big difference — and not just for those you're helping. In fact, studies have shown that generosity and compassion can support overall health and longevity.
TAKEAWAY TIP: If you feel like time is just too tight, remember that even one small random act of kindness can go a long way.
5. Don't overdo it.
We've all been guilty of getting caught up in the moment and spending more than we planned on. After all, you can't find the perfect gift just anywhere — right? Unfortunately, though, overspending can be a major stressor that sticks with you even after the holidays have long gone.
TAKEAWAY TIP: Don't be afraid to be honest. Try recommending an amount or price limit so no one feels like they are overspending or being out-gifted. You can also plan to exchange gifts after the holidays are over when there is no shortage of sales, specials, and deals.
6. Don't go it alone.
No matter how hard you try, there's simply no way you can do everything on your own this holiday season — something has to give. But it doesn't have to be your health.
TAKEAWAY TIP: Work with your primary care provider to address all of your unique health needs. As the expert who knows you best, they can help you navigate this stressful time of year and overcome the season's biggest health hazards.
Find your healthy holiday at the GMC Primary Care & Specialty Center-Suwanee. With extensive services, helpful resources and personal support, you'll be able to make the most of this special season. Peace of mind is possible with expert healthcare you can always count on. To learn more about the wide range of services, or to schedule an appointment, visit gwinnettmedicalcenter.org/Suwanee.