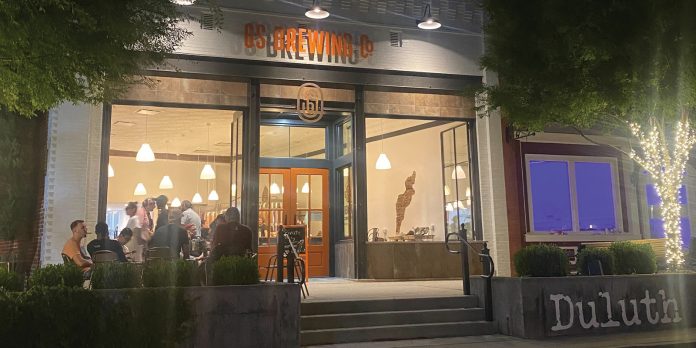 Duluth's 6S Brewing Company has crafted a culture where friends, family, and neighbors can come together to enjoy a unique craft beer experience.
By Jaya Lord | Photos Courtesy 6S Brewing Company
Located in the buzzing center of downtown Duluth, 6S Brewing Company serves a little bit of everything for everybody. The brewery's impressive tap list includes IPAs, Sours, Ciders, Hefeweizens — you name it, they've probably got it! 6S is passionate about creating a welcoming and entertaining place for people to kick back, relax, and enjoy fantastic beer. We recently had the chance to enjoy a cold one with Founder and Owner of 6S Brewing Company, Robb Watson, and hear more about their success story.
HOW DID YOU GET INVOLVED IN THE CRAFT BEER INDUSTRY?
I was a home brewer for over 20 years, and I traveled for a living so everywhere I went I toured different breweries. About seven years ago, I was in Colorado with a friend of mine who got married and we did a beer tour where we visited seven breweries — small ones up to Oskar Blues. When I came back, I realized that it was something I wanted to do. I started interviewing different cities and learning the culture to see where the best place would be to put it. I decided I want to be connected to the downtown area and the City of Duluth was 110% behind us.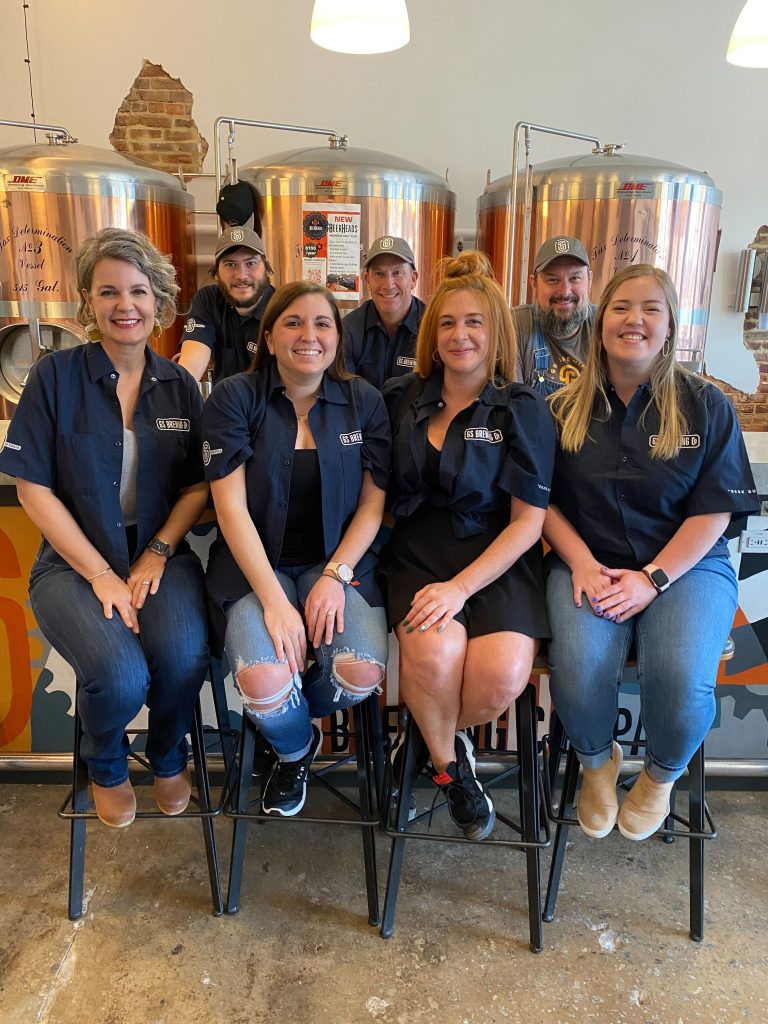 WHAT ARE SOME PERKS ABOUT BEING IN THE HEART OF DOWNTOWN DULUTH?
There are multiple reasons! Not a lot of people realize that the City of Duluth has a diverse population similar to Manhattan, New York, and has people from all ages and different backgrounds. The city and community are great and downtown Duluth has a true town square. Every weekend there are live band performances and different activities happening. To put things in perspective, the city has 128 days a year with events so there's always an opportunity to have some fun. We have dozens of restaurants around us and it's all within walking distance. Downtown Duluth has the open container law, so people come in here, get a beer, and walk across the street to tacos or next door to great pizza. We have several different types of eateries around us serving barbecue, steaks, seafood, and more. 6S only serves beer, but people are more than welcome to bring their meals here. In fact, we have a great tap list with plenty of different types of beer to pair with all cuisines.
HOW HAS THE RESPONSE BEEN SINCE OPENING?
We opened our doors in July of 2021 and were very openly received. We've gotten a lot of positive reviews and we continue to ramp up each month.
TELL US MORE ABOUT YOUR HEAD BREWER.
Jason Ford is our Head Brewer and he's been in the industry for more than 13 years. Jason has worked with SweetWater Brewing, Monday Night Brewing, he spent some time with Oskar Blues, and before joining 6S, he helped Left Nut Brewing get started. I interviewed many, many brewers. Being a home brewer, I'm knowledgeable about the craft but not the production side and Jason has a lot of respect from his peers and came highly recommended. Jason and I just click! It takes a unique person to understand not only how to make beer, but also be entrepreneurial. When we were getting the brewery ready, we both rolled up our sleeves to get things done — from piping, electrical, and all the other stuff that you have to oversee. We would go to my home and use my home brewing craft system to refine recipes I already had and to develop new recipes that he or I had come up with. We just gel. Jason is a great guy and is a true artist.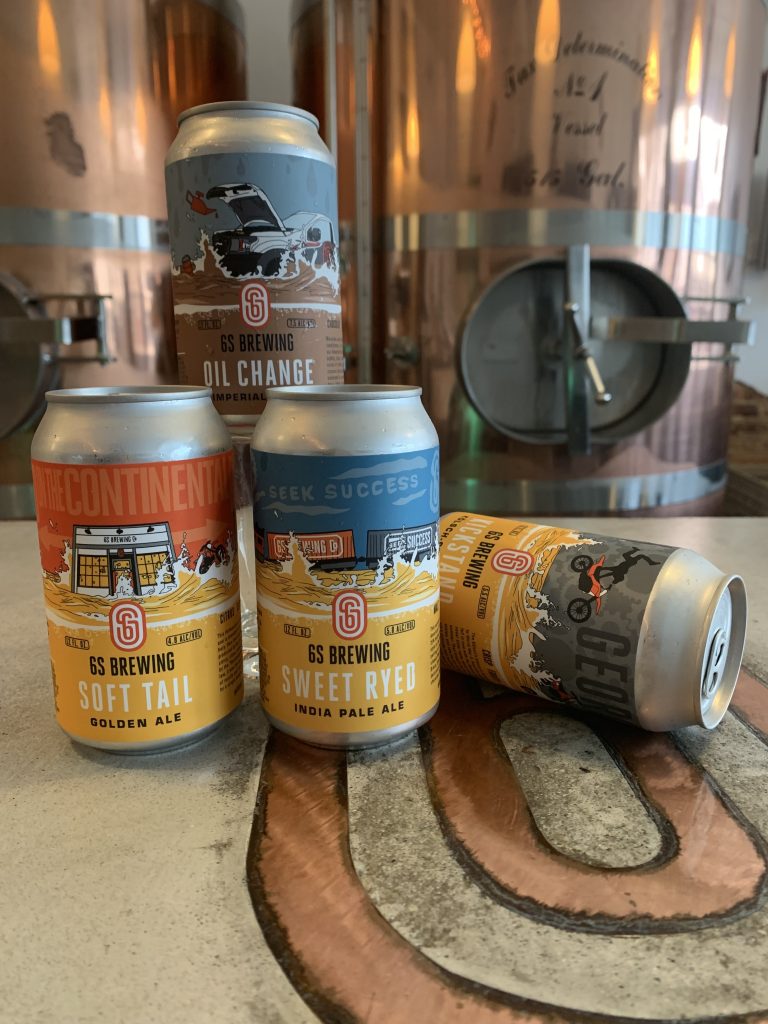 WHAT INSPIRED THE INTERIOR DESIGN AND OVERALL THEME OF 6S?
I grew up building and racing cars and motorcycles but when I started 6S, I found passion in not only the art of making our beer but also the mechanics and elements that go into it. So all our little details are inspired by that. We have a beautiful gears mural under the bar, the stainless-steel foot rail is made from pistons and rods, our tap towers are headers off a Chevy 350, and all our beer names and can labels are car or riding inspired.
WHAT SETS YOU APART FROM OTHER BREWERIES AND BREWPUBS?
I would say our beer, we are true to the flavors and styles. We believe the beer should be a beer first, meaning that when you drink beer, you should want and be able to drink the whole thing. We like to say that we have a little something for everyone. We brew many different beer styles and aren't limited to just IPAs and sours. We have ciders, stouts, Kölsches, Weizenbock, lagers and a lot more. Another thing that sets us apart is our team. With the pandemic, it was hard for businesses to hire and retain employees but through it all we've been able to retain all of our employees and our employees have done a lot of recruiting for us. I think that says a lot about a workplace if the employees are encouraging others to join our team. We have a real passionate team with a lot of drive. Also, my wife and two daughters help out too. My wife painted our gears mural, my oldest daughter designed all our can labels, and my youngest daughter helps with our posters — it's a real family affair.
CAN YOU EXPLAIN THE STORY BEHIND THE NAME 6S?
That's what built this place. I asked my wife what we should call this place and she asked me, "Well, how did this idea come about?" and I answered by saying, it was driven by success and she said, "Well, then call it that." I have been in sales my entire career so to open this place up I had to save money and focus on creating a successful business plan. To make it stand out, we decided to use the number 6 and the letter S.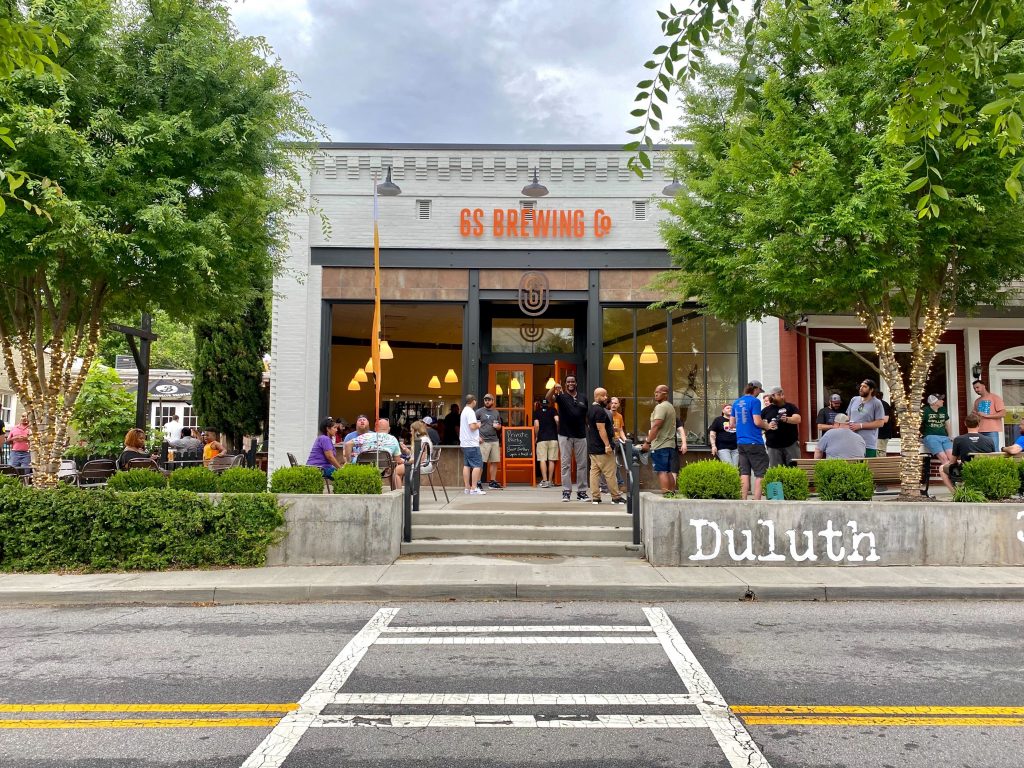 WHAT IS YOUR TOP SELLER?
Our top seller is our KickStand Kölsch, which is a German-style ale. This crisp, never bitter ale is brewed for summertime! It is straw in color, has notes of fruity yeast esters, delicate malt and hops, with a dry finish. We like to tell people, "KickStands up and go for a smooth ride!" We receive a lot of high marks on our beer and have had patrons tell us our beers remind them of their home in Germany, which to us is the best compliment ever.
DO YOU HOST ANY COMMUNITY EVENTS?
In addition to what the City of Duluth has planned out, we have Adult Trivia on Wednesday nights, Jackbox on Thursday nights, and live music on Friday and Saturday. We have a room full of flat-screen TVs to watch any sporting events, outdoor seating, and a wide-open beer garden that has its own sales window overlooking the main stage!
6S Brewing Company is located at 3111 Main St. in downtown Duluth. You can find more information by visiting their website, 6SBeer.com.