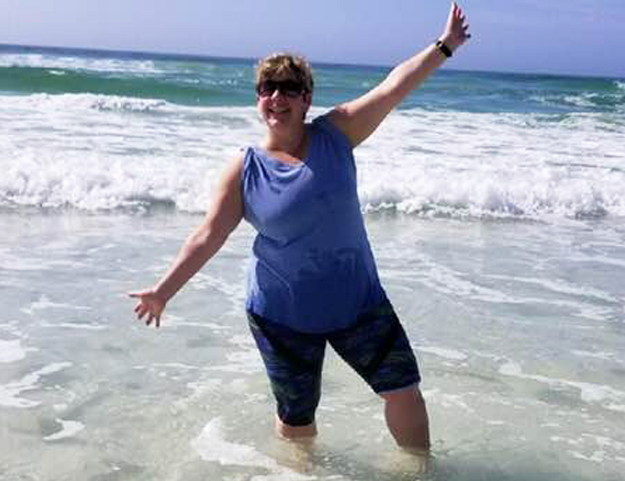 We just got back tonight from a quick trip to the beach (Miramar Beach, Florida). I needed that badly! Thank you Mom, Dad, and Keith! The beach is my happy place and the perfect place to destress. We enjoyed the sun, sand, Gulf, seafood, playing cards, and watching Michigan State basketball clinch the Big10 Championship. (Go Green!)
I was proud of myself. I did a workout in the condo's gym that Coach Anthony loaded on the Alloy Personal Training for Women app, I walked 3 miles each day, ate grilled seafood, and only had one adult beverage. I felt great and happy and even asked my husband to take a picture of me (that has not happened in a long time!). I still don't really see results but I sure feel better.
Since I am still struggling with fighting the frustration of not seeing results, I decided to look for motivational and inspirational quotes. The rest of this blog entry will be sharing some of my favorites (it was hard to narrow them down as I found over 50 that I liked!) Which one is your favorite? I would love to hear from you!
I already know what giving up feels like. I want to see what happens if I don't.
Change is in you. Just keep going.
I never regret going to work out, but I regret when I don't.
Doubt kills more dreams than failure ever will.
When everything feels like an uphill struggle, just think of the view from the top!
If you're tired of starting over, stop giving up.
When you feel like quitting, think about why you started.
Progress, not perfection.
All great achievements require time.
We cannot start over. But we can begin now and make a new ending.
Tell your mind to get out of your body's way.
Even if you can't physically see the results in front of you, every single effort is changing your body from the inside. Never get discouraged!
Broccoli might get stuck in your teeth, but French fries will get stuck on your hips.
If the saying is true that we are what we eat, I need to eat a thin person.
You won't get the (rear end) you want by sitting on it.
More fit. Less quit.
Fit is not a destination, it is a way of life.
A little progress each day adds up to big results.
A change may be just around the corner.
Be stronger than your excuses.
Exercise not only changes your body, it changes your mind, your attitude, and yourmood.
Living a healthier life is more than losing weight, it's about losing the mindset that got you there in the first place.
It does not matter how slowly you go as long as you do not stop.
We are what we repeatedly do. Excellence, then, is not an act, but a habit.
One reason people resist change is because they focus on what they have to give up, instead of what they have to gain.