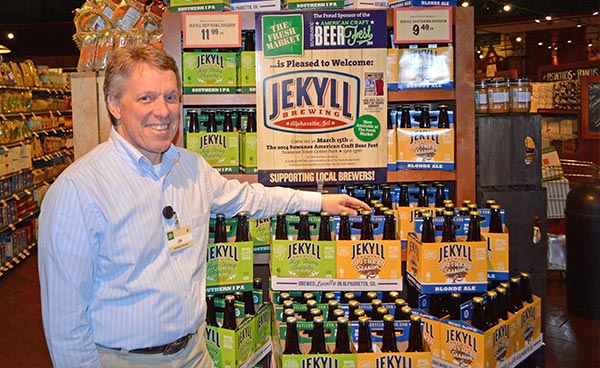 "The Fresh Market gives back to Suwanee through their support of non-profit organizations and community events"
BY: Rachel Fasig
The 2014 4th Annual Suwanee American Craft Beer Fest is brought to you by, The Fresh Market! No matter what event that The Fresh Market plays a role in, their presence is always well known and a big hit. A sponsor and VIP caterer of the 1st Annual Suwanee Wine Festival last October, people could not stop raving about The Fresh Market's food samples and VIP catering. So, it comes as no surprise that they were asked to also cater the Suwanee Beer Fest VIP Tent.
On the menu for the March 15, 2014 Suwanee Beer Fest VIP Tent, is: gourmet hors d'oeuvres, barbecue of burgers brats and ribs, a wing bar, beef, chicken and shrimp kabobs, deli salads, dips and a special beer cheese fondue fountain, to name a few. The Fresh Market also plans to host "cooking with beer" demos in the VIP tent as well, which will pair nicely with the specialty-brewed casks and exclusive tastings.
Jim Healy, The Fresh Market store manager, says, "We always enjoy participating in events at Town Center…It's another opportunity to get out into the town and meet some of the people that have been so supportive of us over the last few years. These events are some of the hardest work we do all year and [are also] the most fun you can have at work!"
It's apparent upon first encounter, that The Fresh Market in Suwanee is more than a typical grocery store. From their delicious and wholesome food options to their sensational staff, exceptional customer service and their commitment in supporting local businesses, The Fresh Market has become an iconic business in the Suwanee community.
Healy sums up his business model this way: "I have always felt that it is extremely important to give back to the communities in which we do business. I want the people of Suwanee to think of The Fresh Market when they think of great food, but also when they think of how we are there to support non-profit organizations and community events. Whether it is through a simple donation of a gift basket, food for a fundraiser, or support of larger events like The Suwanee Beer Fest – we enjoy being part of the community."
And an integral part of the community they continue to be. The Fresh Market has been highly instrumental in bringing local products to the Suwanee market, such as Dirt Road BBQ Sauce, High Road Ice Cream, NaturAlmond Butter, Rev Coffee Roasters and Jekyll Brewery beers, to name a few. Jekyll Brewery got its start after Founder Mike Lundmark partnered with 2012's Suwanee Beer Fest Home Brew Competition winner and Brew Master, Josh Rachel, to create beer "inspired by the South".
Local products, inspired by our roots and the community we live in, epitomize the heart of The Fresh Market and what they stand for. Healy understands the importance of supporting local businesses and "knowing that the money we spend on their products comes back to our cities and helps support our local economy."
The Suwanee American Craft Beer Fest is especially proud to partner with The Fresh Market in facilitating the growth of local breweries and the world of craft beer in Georgia. Through events like the Suwanee Beer Fest, we are able to work together as a community to help each other grow and thrive; which is really what it all boils down to and what the City of Suwanee stands for. ■