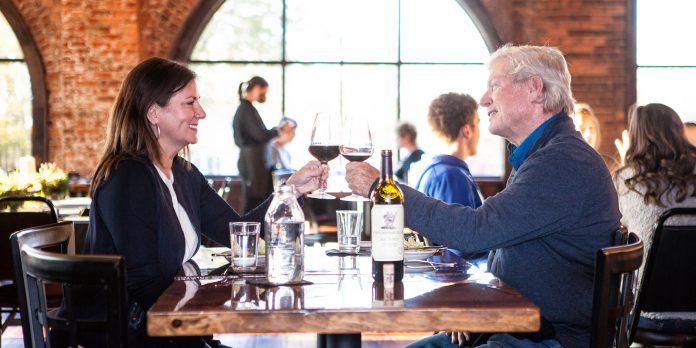 Buford's favorite steakhouse reopens in a brand-new location complete with a private vault, two-story elevator and patio dining.
By: Lizzy Kidney | Photos by Gary Dowd
Although Bare Bones Steakhouse was designed as what owners Buddy and Gaye Maughon call a "common man steakhouse," their new location in historic downtown Buford is anything but ordinary. The original location was a 40-year dream of Buddy's, and with the support of his wife, Gigi (Gaye), his dream came to fruition when they opened Bare Bones in December of 2015. As the restaurant began to grow, additional space was needed, and the couple decided to purchase a new location just a few storefronts down in February of 2020. Tapping into the building's rich history, the new two- story restaurant was restored to its original 1901 appearance and showcases artifacts, photos and pieces from the Shadburn Bank that used to call the building home. From private vault dining to a two- story elevator, we had a chance to catch up with the Maughons and learn more about the incredible dining experience they are once again bringing to downtown Buford.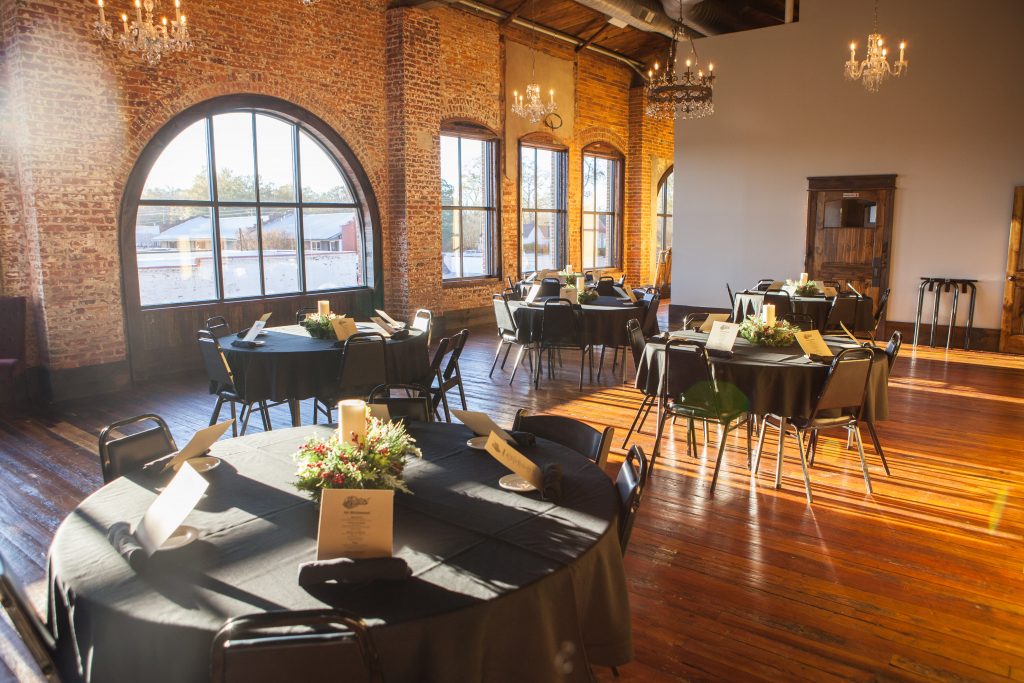 WHAT MADE YOU WANT TO OPEN BARE BONES STEAKHOUSE?
Buddy has been in the meat business for 62 years. It had been a dream of his for 40 years to own a casual steakhouse that the whole family can enjoy.
HOW LONG HAVE YOU BEEN LOCATED IN BUFORD?
We opened the first Bare Bones location in downtown Buford in 2015. Our family, however, has been living in Buford since 1987.
WHAT MADE YOU WANT TO OPEN A NEW LOCATION?
We had been looking for a larger space, a space of our own, for a year or so and knew we didn't want to leave the historic part of Buford. When the Shadburn Banking building became available, we went to take a look at it and fell in love! Our goal all along was to bring the building's exterior back to its original look. We are excited to have an outdoor patio for dining. And as an added bonus, the new City of Buford parking deck is just across the street.
CAN YOU TELL US THE HISTORY OF THE NEW LOCATION? WHAT MADE YOU WANT TO RESTORE IT TO ITS ORIGINAL APPEARANCE?
The building was built in 1901 by Burel and Kate Allen Shadburn — Bona Allen's only daughter — and the building has had an intriguing and ever-changing past. Although the building began as a bank, it has also been the home to the first indoor basketball court in Gwinnett County, a piano repair shop, an appliance store, the local post office, city court and a ladies' boutique. We did our best to preserve anything original to the building during the renovation. The build- out was made so easy for us because we had the best contractors, Greg Thigpen and Ricky Waycaster, handling the job. All of the people who worked on the project helped to bring Bare Bones to her current splendor and uniqueness.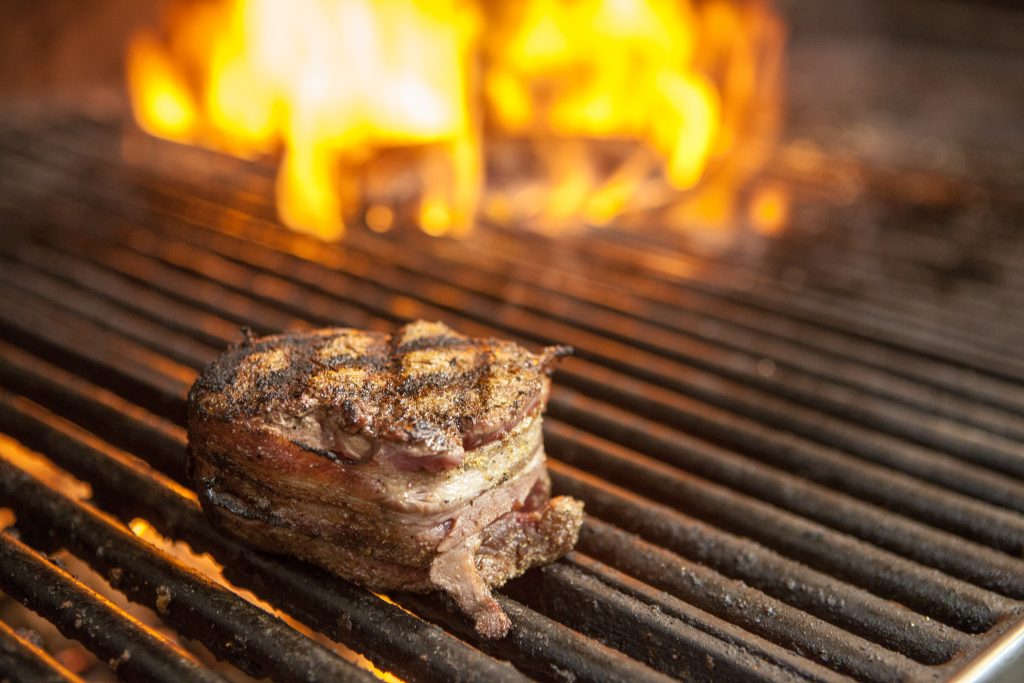 WHAT IS YOUR FAVORITE PART OF THE NEW LOCATION?
For Buddy, it's the vault. For Gigi, it's the tin ceiling and all things old. When the original floors downstairs were in too bad of shape to leave, some of that wood was used to trim out the windows and doors.
WHY DID YOU DECIDE TO STAY IN BUFORD?
We love Buford! It's a wonderful place to live and work. This community has been so supportive and kind to us. Many of our customers have become good friends and we truly value them. The City of Buford officials have always been very supportive of Bare Bones as well, and we are grateful for that.
WHAT CAN PEOPLE EXPECT TO EXPERIENCE WHEN DINING AT THE NEW RESTAURANT?
We think we have the best staff in the world! From the front of house to the kitchen, we have the hardest working, most dedicated people you could ever hope for. They are professional and skilled and you experience that when you are a guest in our house. Our steaks are USDA Prime and Choice aged Midwestern beef. Buddy and his son Rhett hand-cut all of our steaks every day. We make all of our desserts, our bread, sauces and dressings in-house using the freshest ingredients.
WHAT ARE SOME OF YOUR MOST POPULAR MENU ITEMS?
Our onion rings continue to be one of the most popular items on our menu. Most of our recipes were created by our son, Capers. The steaks, from the Filet Mignon and the Chateaubriand to the bone-in ribeyes and the 48 ounce Tomahawk, are superb. Folks also enjoy our fish, lamb, King crab legs and lobster tails. And the Bananas Foster is a must try!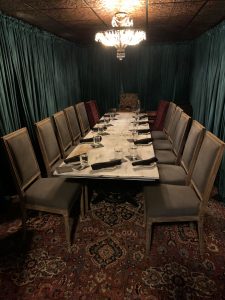 CAN YOU RECOMMEND SOMETHING ON THE MENU THAT PEOPLE MAY NOT HAVE TRIED BEFORE?
Our chocolate ganache cake with homemade strawberry ice cream is really good. Also our pimento cheese with house crackers is delicious. For Gigi, it's Alice's fried okra!
DO YOU HAVE ANY PRIVATE EVENT SPACE THAT IS AVAILABLE TO BE RENTED OUT?
We have three rooms that can be reserved for private events. There are two rooms upstairs — one can accommodate parties up to 40 and the other up to 80 people.The Bank Vault can be reserved for parties up to 12.
IF YOU COULD DESCRIBE BARE BONES IN ONE SENTENCE WHAT WOULD IT BE?
Bare Bones is a place to go for great food and drinks, to gather with family and friends for celebrations, and a place to feel comfortable — to just kick back and relax. We want you to feel like you've come to our home for dinner.
Bare Bones Steakhouse is located at 115 E. Main St., Buford. Call 470-266-1890 for reservations. BareBonesSteakhouse.com.