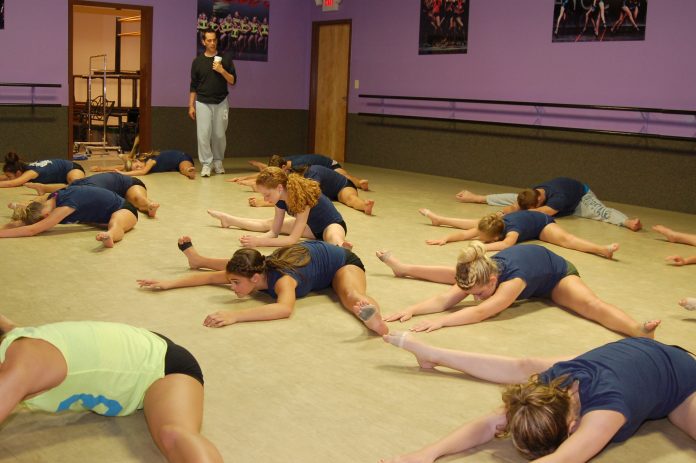 When 2011 America's Got Talent competitors, the Rocky Mountain Silhouettes came to the Atlanta area, they stopped by Dance Arts Centre in Suwanee for practice and a few lessons.
The visit came about because Jeff Boss and Jamie Wardrop, owners and artistic directors at Dance Arts Centre and Lynne Waggoner-Patton, the director for Rocky Mountain Silhouettes have all known each other for years, so when the group had a corporate event in Atlanta, Waggoner-Patton called on Boss and Wardrop for use of their studio in Suwanee.
In early May the group spent a day at the studio where they spent three hours rehearsing for the performance for a corporate event in Atlanta.
Boss and Wardrop also held a two hour technique workshop with the members of Silhouettes, and then Waggoner-Patton held a two hour workshop with the students at the Dance Centre and Silhouette members.
Boss said he thought the best part of the day was the second class led by Waggoner-Patton where students from the Dance Arts Centre and members of the Silhouettes both attended making it a special time for the students at the Dance Arts Centre to mix and mingle with the group from Denver.
Wardrop said he liked teaching the Silhouettes in class.
"You see them and they are amazing on the T.V.," Wardrop said. "And when you actually get them in class as a teacher, you still have corrections."
And another dancer seen on television will be visiting the studio this summer. Missy Morelli from "So You Think You Can Dance" will be at the Dance Arts Centre giving instruction during a summer camp session.
In the area for about 13 years now, Dance Arts Centre has been recognized as a top 50 dance studio in the U.S. for the past four years teaching a variety of dance disciplines to students ages 3 to 18. For more information, visit danceartscentreatl.com.