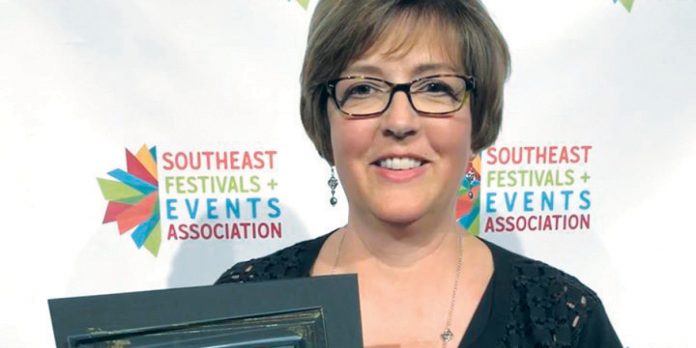 In March, the City of Suwanee announced that Event & Outreach Manager Amy Doherty was named Event Director of the Year by the Southeast Festivals and Events Association (SFEA). Doherty has produced nearly 500 events in the last 14 years for the City of Suwanee.
"Amy has been responsible for ensuring the success of 40-plus events in the near- flawless manner that the citizens have come to expect from Suwanee's events department," said Suwanee City Manager Marty Allen. "In all, we estimate over 250,000 people enjoy Suwanee events annually — not including those who frequent the weekly farmers market stalls year-round."
The best and brightest of the event industry were spotlighted at the 17th annual SFEA Kaleidoscope Awards in Muscle Shoals, Alabama, held in conjunction with the SFEA Annual Conference. Top festivals and events throughout the Southeast were recognized for their outstanding contribution to the events industry, including multiple Suwanee events such as Silver Awards for Best Poster Design for Suwanee Fest 2019 and Best Creative Idea for Parker's Passport, among others.
"Our event team spends hours upon hours behind the scenes planning memory-making events for our citizens," said Doherty. "It's nice to be recognized as being among the best in the Southeast for producing some amazing events that make Suwanee a great place to live and play."