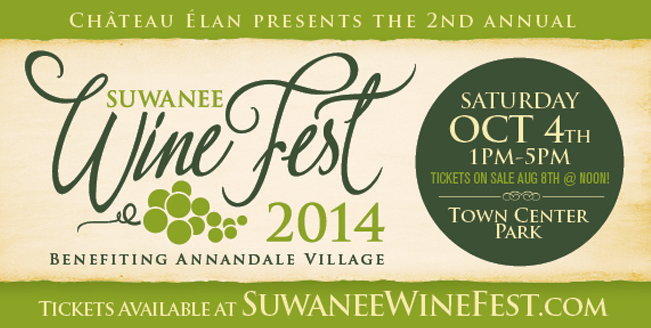 BY: Rachel Fasig
Presented by award-winning Château Élan Winery & Resort, The 2nd Annual Suwanee Wine Festival is set to take place on Saturday, October 4th, 2014 from 1-5pm in Suwanee Town Center Park. Brought to you by the organizers of The Suwanee American Craft Beer Fest and winners of Best Festival in Gwinnett 2014, festival attendees can also expect a sampling of Georgia craft beers at this year's Wine Fest. The craft beer garden will play host to Draftserv's self-serve technology, which is making its first Gwinnett festival debut at the event. See page 50 for more information about Draftserv.
Local sponsor, Beverage Superstore, has recruited three of their wine experts to prepare a tasting list with over 100 wines of every variety, that are sure to please all types of palates. As guests travel around the park, tasting wines from every region of the world, they will also enjoy freshly prepared food samples and free cooking demonstrations from food sponsor, The Fresh Market in Suwanee. The festival experience will be enhanced as local bluegrass band Pullin' Strings takes the main stage along with other live entertainment, yet to be announced.
General Admission tickets are $55 per person and include: unlimited samples of premium wine and craft beer, complimentary food samples, food for purchase from some of the area's best food vendors, live entertainment, artisanal products for sale from local artists and craft-makers, backyard games such as cornhole, and putt putt golf!
The Fresh Market has also planned a gourmet menu that will be exclusively provided throughout the
day, in the VIP dining and tasting tent. Sponsored by Atlanta Classic Cars, the VIP experience is limited and at $110 per person, includes everything in General Admission, plus: one hour early access To the festival, higher- end wines to taste, sommelier insight during tastings, an exclusive Suwanee Wine Fest t-shirt, goody bag, and live entertainment.
To encourage safe driving, Designated Driver tickets are also available for $10 and include access to the festival with live entertainment and food samples, but no wine or beer tasting. Suwanee Wine Fest tickets are available for purchase at suwaneewinefest.com and at all Metro Atlanta Fresh Market stores, and Beverage Superstore's two Suwanee locations.
As festival attendees enjoy a day full of wine, craft beer and delicious food, they can also rest assured knowing that a significant portion of proceeds is benefiting a local nonprofit – Annandale Village. Annandale is a Suwanee organization that provides care and life assistance to adults with developmental disabilities and traumatic brain injuries, and enables them to maintain their independence in the least restrictive environment possible.
The event organizers, alongside their sponsors, are working hard to create the best wine-tasting experience available and are sure to come up with even more surprises by October 4th! Tickets are selling fast and this event may sell out. Please purchase tickets in advance at suwaneewinefest.com.