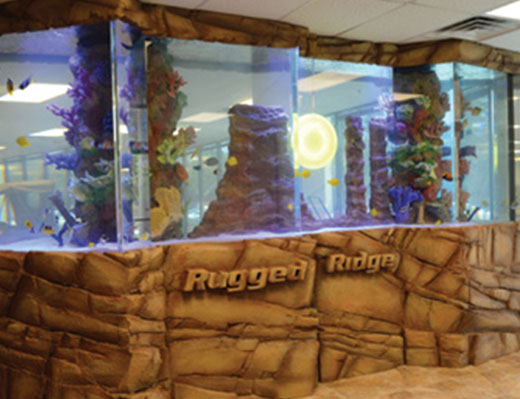 Animal Planet's "Tanked" is a hit reality TV show that follows Wayde King and Brett Raymer, brothers-in-law and co-owners of Acrylic Tank Manufacturing in Vegas, as they build some of the world's most enormous and awe-inspiring, custom aquariums. The Tanked crew traveled to Suwanee this summer, when King and Raymer tackled a request from Rugged Ridge to create a "rugged aquarium" that matches their brand. While most aquariums are designed to be peaceful and tranquil, this job presented them with a unique opportunity to "feature a tank like no one's ever seen," they said.
Rugged Ridge is a division of Omix-ADA, leading manufacturer of Jeep parts and accessories, headquartered in Suwanee, GA. After meeting with Al Azadi, President of Omix-ADA and Henk Van Dongen, Director of Marketing – the Tanked team set out to design a unique, jagged–edge aquarium and "the most angled tank they've ever built."
The 5th season premiere of "Tanked" airs Friday, September 18th at 10pm EST on Animal Planet. The "Rugged Ridge" episode number has not yet been disclosed, but should be one of the first few. Stay tuned to see your hometown featured on TV and how King and Raymer handle the rugged tank challenge.