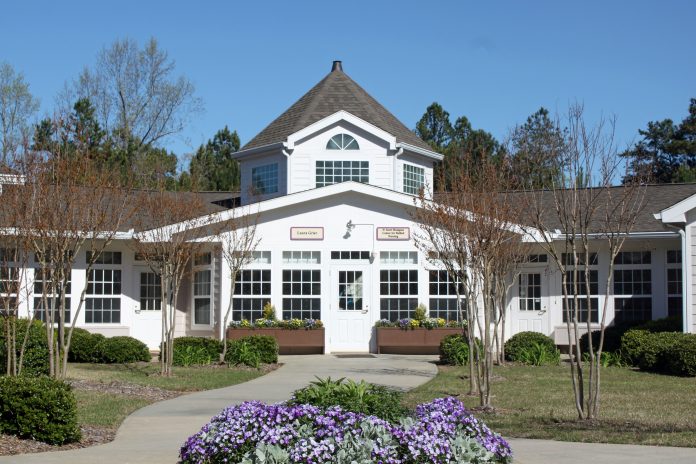 All parents want their children to lead active, productive, well-balanced happy lives. Will he or she have the opportunity for education, join a peer group,
enjoy and benefit from leisure activities? Will your child continue to discover and develop interests and talents, take pride in accomplishments, gain purpose and direction and lead a more adult, responsible life? All young adults and their families are faced with these decisions about life after high school. But when a young adult has a developmental disability, exploring options and making decisions can be more difficult.
Annandale Village has options that caring parents want for their children, options that are not always available or even considered realistic, for many adults with developmental disabilities.
It all began in 1969 as a dream for Dr. and Mrs. Maxwell Berry, a dedicated father and mother, who wanted their developmentally disabled daughter to have an opportunity to lead a life that reflected quality, value, self worth, independence, and achievement.
The Berrys traveled the world to discover the program design of the Canfield Villages in Europe was closest to their ideal vision. Annandale Village became a reality when Berry purchased 100 acres of land, in what was then, rural Gwinnett County. Soon thereafter, adults with development disabilities came to call Annandale Village home, one of them being the Berry's daughter, Libba.
Since its beginning in 1969, Annandale Village with its 54-acre campus, has become an award-winning, nationally recognized leader among nonprofit organizations, and is the only nonprofit in the state of Georgia to offer men and women with developmental disabilities a continuum of service and care.
Characteristically, individuals served at Annandale Village are 18 years of age or older with a primary diagnosis of an intellectual disability, down syndrome, autism, cerebral palsy, other developmental disability, or have experienced a traumatic brain injury.
Annandale Village offers residential and non-residential programs and services that provide a balance of structure, freedom, encouragement, instruction and fulfillment designed to improve the quality of life of each individual served, according to his or her own unique needs and abilities. Annandale's focus on individual development and personal care includes: residential living services, assisted living, a skilled nursing center, on-campus health services, counseling services, occupational therapy, vocational training and job placement, and a vast array of community inclusion activities. Most importantly, each person served is given the opportunity to acquire new skills, resulting in a sense of accomplishment and pride that many feel for the first time.
"Being a nationally recognized leader among nonprofit organizations requires vision, outstanding professional talent, volunteers, and leaders, and we are very fortunate to have all these resources in place," said Adam Pomeranz, Chief Executive Officer of Annandale Village. "Annandale staff members embrace a culture of caring that starts the moment someone walks through our doors, and throughout a resident's individual continuum of care. "
For more information, go to annandale.org.