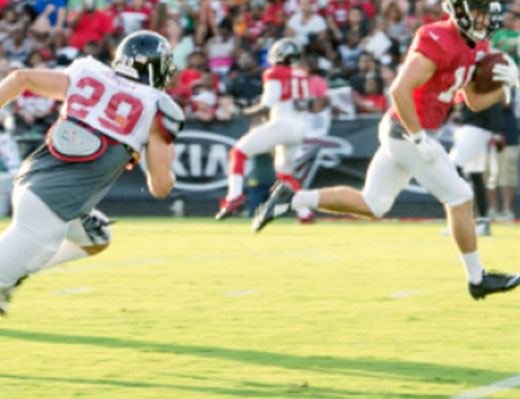 Each year the Atlanta Falcons kick off their training season with an intrasquad scrimmage event called Friday Night Lights. Presented by KIA Motors, the 8th annual event took place on August 7th, 2015 at Buford High School's Tom Riden Stadium. The free, family-friendly event, followed by autograph sessions and a fireworks show, is just one way that the Atlanta Falcons encourage the community to "rise up" and get pumped for the upcoming season.
And rise up they did! Falcons fans flocked to Buford in droves and the stadium was blanketed in black and red. The scrimmage showcased the team's newfound and returning strength this year with rookie WR Justin Hardy's winning touchdown catch from QB Matt Ryan; and unsurprisingly, a performance of incredible speed by RB Antone Smith. Recent predictions have pegged Desmond Trufant as one of the top Cornerbacks in the NFL this season, and in true Trufant fashion, he proved them right with an incredible interception that brought the stadium to their feet and chanting "Truuuuu!"
Atlanta Falcons new Head Coach, Dan Quinn, is confident they're headed into – not just a great season – but a new era that fans can look forward to!