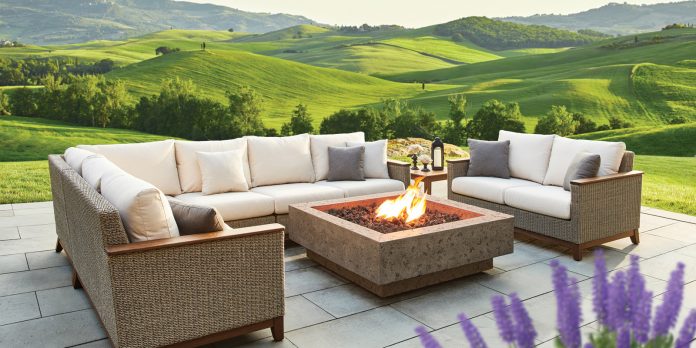 Local businesses offer tips to help upgrade your outdoor living space just in time for spring.
By: Alicia Carter
It's hard to believe but in March we will have reached one year since the first stay-at-home orders were given following the beginning of the COVID-19 pandemic. Since then, there's been a massive shift toward spending time at home. In order to quell the fight or flight feelings of cabin fever, many of us are getting handy around the house, taking advantage of the extra downtime by making improvements to our home. As we approach spring, it only makes sense that we should refocus that home improvement energy outside. As we leave winter behind and emerge from our homes for fresh air and warm weather, it's time to turn our outdoor living spaces into the oasis of our dreams. From tackling lawn maintenance and installing a calming water feature to creating an outdoor area perfect for a springtime barbecue, local businesses have come together to offer tips and tricks on ways to upgrade our backyards.
Get your lawn in tip-top shape
When creating the yard of your dreams, it's important to take care of the basics first. Investing in the bells and whistles won't help hide a lawn that is suffering from weed overgrowth, insect infestation and unruly shrubs. Creating a clean — and green! — backdrop is the first step toward creating a beautiful yard. This year, consider investing in a professional lawn care provider who can help establish a strong foundation for your yard.
Since 1997, Magnolia Lawn has provided all facets of lawn maintenance to help local residents maintain picturesque lawns free from unsightly weeds and harmful pests. Licensed by the Georgia Department of Agriculture for the application of its materials, the Suwanee business specializes in fertilization, weed control, disease control and insect control, as well as offers tree and shrub treatments, mowing and cleanup services, and pine straw and mulch installation.
"Spring trends in 2021 seem to weigh heavily toward homeowners wanting to make the most of their home environment," says owner Chuck LeBar. "If you don't want to spend time caring for your property and would rather spend your time enjoying it — by all means hire a professional. If you are a hobbyist and enjoy doing your own yard work, get all the advice you can. In the case of fertilization and weed control particularly, it is very easy to make extremely costly mistakes. I am always available to give advice to homeowners who prefer to do their own treatments and yard work, so I welcome anyone who needs any advice."
Magnolia Lawn doesn't just stop at lawn treatments and lawn care services. In the fall and winter, Magnolia Lawn morphs into Christmas Décor by Magnolia Lawn, and installs lights and decorations on commercial buildings, subdivision entrances, and homes. As Nite Time Décor by Magnolia Lawn, they design and install landscape lighting systems to help create a beautiful yard in both the day and nighttime all year long.
Contact Magnolia Lawn today for a free estimate at 770-831-6404. For more information, visit MagnoliaLawn.com.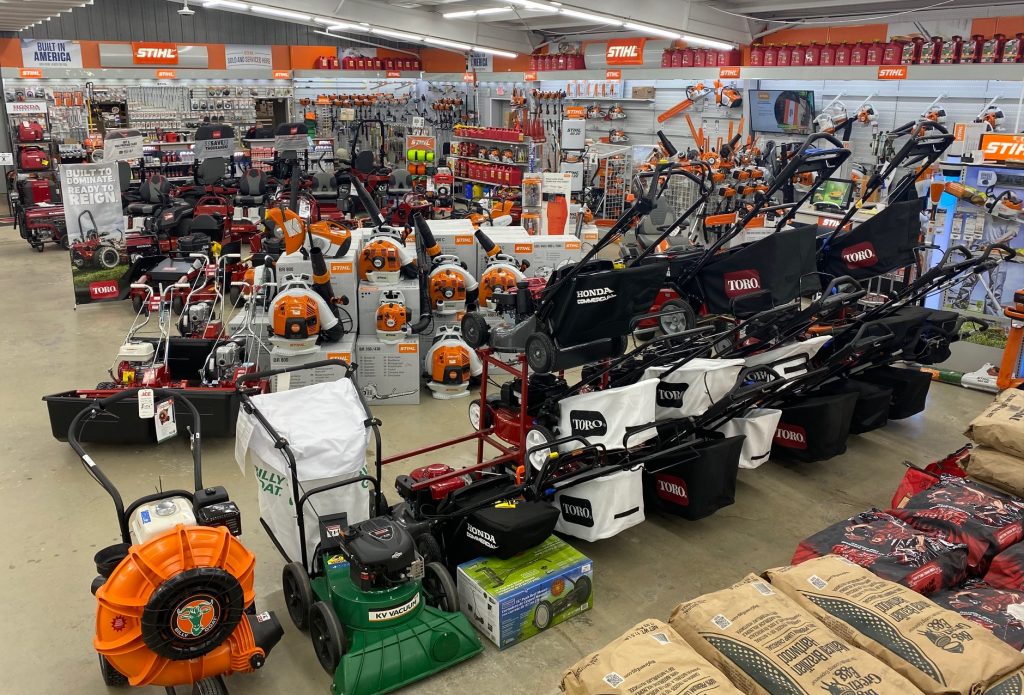 Invest in Quality Products for Lawn Maintenance
In order to properly maintain your yard, it's important to invest in quality lawn equipment. For years, Buford's S&S ACE Hardware has worked toward making its store a complete destination for home repair, painting projects, lawn equipment and outdoor barbecues. "Last year with the pandemic we really saw folks getting outside in their yards," says owner Scott Snedecor. "From upgrading lawn equipment to getting a new grill, longtime customers and many new customers found that ACE is the Place for great quality products for the home and yard." When recommending high-quality products, Scott says Stihl powered lawn tools, which are made in the U.S., have had great sales increases. "Besides some of the better quality gas tools, many folks have chosen to step up to the Stihl battery-powered products," he says. For those with larger yards, Scott recommends Toro mower models that have added comfort and performance features that make mowing more pleasurable than ever before. "The Toro Myride system has a floating driver platform that is more comfortable than most easy chairs," he says.
S&S ACE Hardware is located at 4160 Buford Drive in Buford. For more information call 770-932-1458 or visit SSAceHardware.com.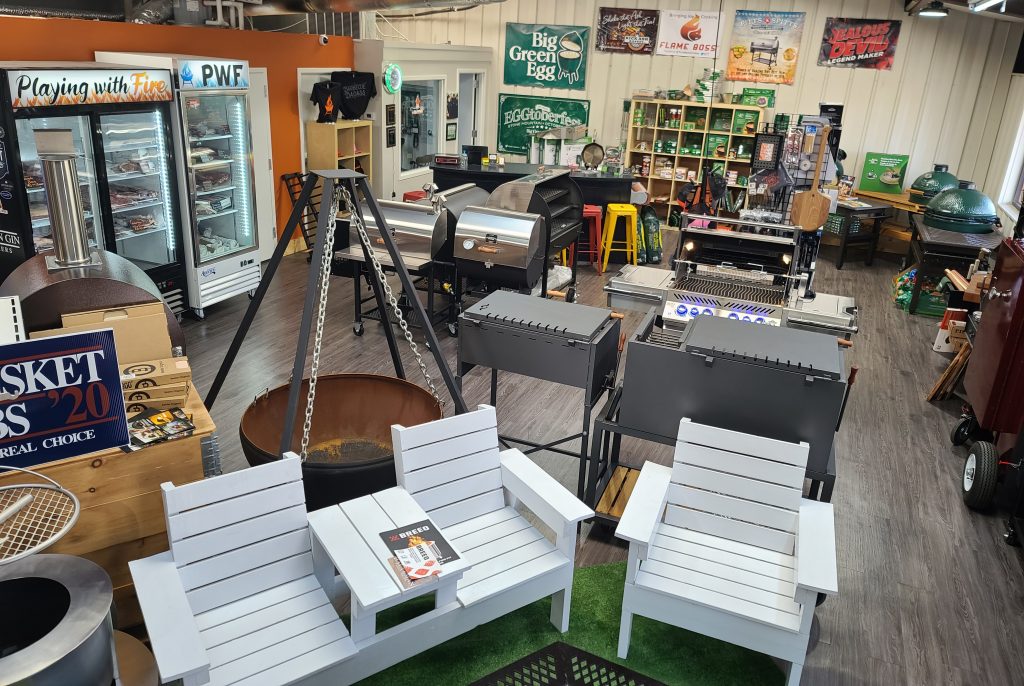 Upgrade Your Barbecue Game
There's no outdoor activity more well-suited for the backyard than home grilling. Manifest your inner Steven Raichlen by upgrading your barbecue game with the help of Suwanee's newest barbecue headquarters and grilling authority, Playing with Fire BBQ Emporium. Owners Craig and Elise Tabor have been in the barbecue world for a long time and offer their seasoned experience to their customers. They are experts on all of the products they offer because they have been using the items they sell for years. Only the highest of quality grills, smokers and fire pits will be found at Playing with Fire. Let their expertise guide you toward the right cooker that fits your needs.
"The hottest trend in BBQ right now has to be pellet smokers," says Craig. "The ease of push button temperature control, monitoring through a Wi-Fi enabled app, and lots of fuel and smoking capacity make a pellet smoker a fantastic BBQ tool! PWF's pellet smokers are hand-built right here in the U.S." Craig also offers a grill master tip for those looking to improve their barbecue skills: "Proper food temperatures are key to ensure your food is safe as well as cooked to perfection. Wired and instant-read thermometers are a necessity for any grill master."
Playing with Fire BBQ Emporium is located at 4092 Suite A Suwanee Dam Road in Suwanee. For more information call 470-439-7969 or visit PlayingWithFireBBQEmporium.com.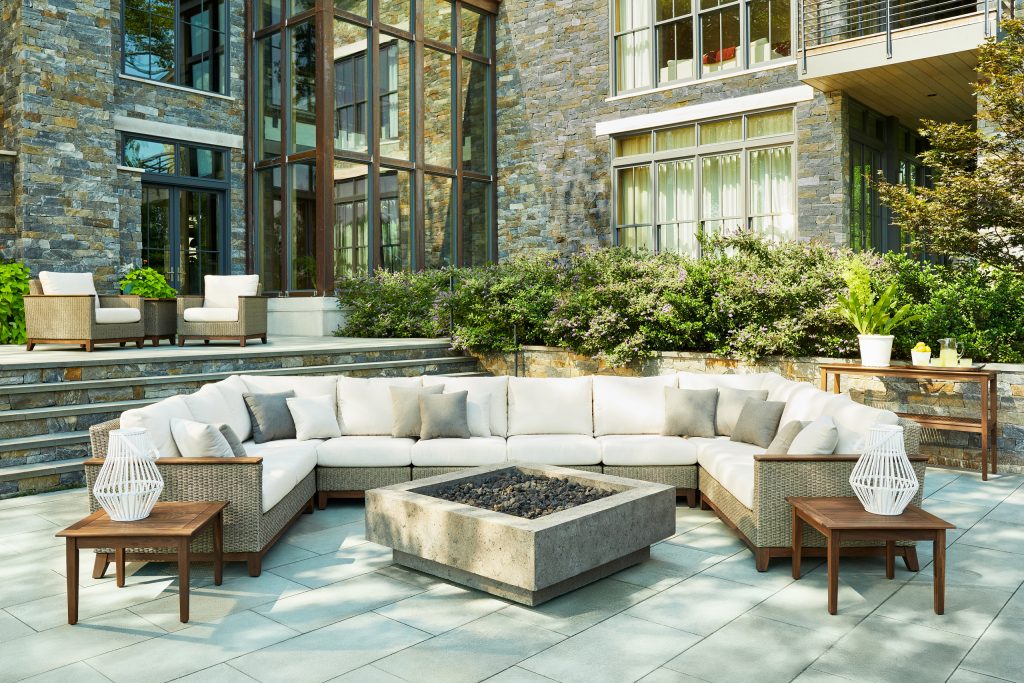 Give Your Outdoor Space a Furniture Makeover
As more people are spending the majority of their time at home, the springtime shift to better weather and blooming flowers provides the perfect backdrop to enjoying time outdoors. Updating your outdoor living space will allow you to gather and socialize more safely with family and friends surrounded by the comforts of indoor living in your own backyard.
According to Lee Recchia of American Casual Living, an outdoor furniture showroom in Buford, people tend to gather where they are most comfortable. "The current trend has been away from traditional outdoor dining in favor of a more relaxed, casual environment," he says. Advancements in materials and fabrics make it possible for outdoor living areas to mirror the comfort and functionality of your favorite indoor settings. Current customers are gravitating toward sectionals, deep seating options, cushioned and upholstered furniture, outdoor fire features, shade products, awnings, pavilions and other structures. "Not just more usable, but more livable," Recchia says. "Not just more functional, but more comfortable and more personalized." For those on a tighter budget, Recchia suggests freshening existing furniture with new cushions and throw pillows. "We have cushions made for us locally and we can customize virtually any cushion size and design," he says.
According to Recchia, COVID has slowed the supply chain and orders are taking longer to arrive regardless of origin. "We are fortunate in that we prepared in advance and we have plenty of exciting, quality products available for immediate enjoyment," he says. However, he still advises to shop early and shop local, and says to begin by imagining your space as you intend to use it. "Scale is important," he says. "Envision the space with everything you desire so that it is sized appropriately, and navigability is accounted for. It's easier to scale back than to add on once everything is installed. Outdoor spaces are often created without considering the furniture or accessories, and compromises on configuration, design or size result because space is lacking."
If you are able, make a trip to American Casual Living's 25,000-square-foot showroom to peruse its selection of quality outdoor furniture, grills, gas logs and a large selection of outdoor accessories. The locally owned business's team of design specialists can offer guidance and personalized in-store consultations to help customers plan and build an outdoor space that works with their vision and budget.
American Casual Living is located at 1955 Mall of GA Blvd. in Buford. For more information visit AmericanCasualLiving.com.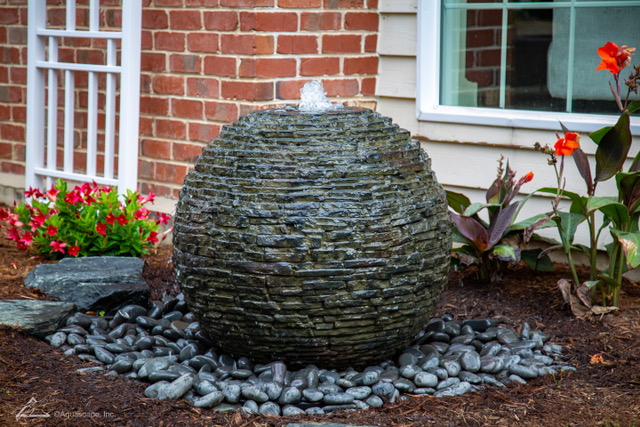 Install a Calming Outdoor Water Feature
Adding an outdoor water feature, such as a pond or waterfall, can have a major impact, essentially transforming your outdoor space overnight into a calming sanctuary you'll enjoy for years to come. When deciding on which water feature will work best in your space, Jeff Krenner from Paradise Ponds and Waterfalls in Buford says that the current trends are gravitating toward fountains such as spillway bowls and bubbling urns. "There are a lot of new styles and some that even include a fire option," he says. "This is the simplest way to add the sounds of water into a small courtyard or front yard."
Water features can be installed year round and a professional can work with you to design one that will enhance your outdoor space and help determine the best location and size for your new water feature. "One of the most important tips I can give to anyone about installing a water feature such as a koi pond, disappearing waterfall, or bubbling fountain is to have it installed by a certified Aquascape pond contractor," Jeff says. "This is someone that specializes in only water feature installations and maintenance."
Visit ParadisePondsAndWaterfalls.com for more information or call 404-519-8870.