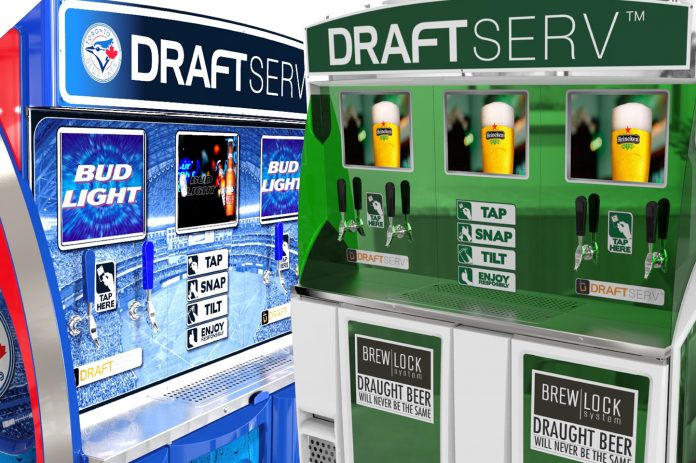 BY: Rachel Fasig
It all started here in Suwanee," said Jose Hevia, Owner of DraftServ Technology and Cheeky Mexican Taqueria, as we settled into a beer table at Cheeky. "Actually, it started right here," he explained pointing at the tap handle protruding from the high-top table. "DraftServ came from a beer table in Suwanee. In fact, everything we are doing and have done is coming out of Suwanee," he continued. And, now, determined to thank the community who helped DraftServ come so far, he has agreed to exclusively utilize the DraftServ systems in both the craft beer tent at the October 4th Suwanee Wine Festival and at next year's Suwanee American Craft Beer Fest.
That's giving Suwanee a lot of credit for the success of a company who has recently garnered the attention of ESPN, CBS, FOX, Live with Kelly & Michael, Good Morning America and Jimmy Fallon, to name a few. "The evolution of this company, by and large, came from the input of customers," Hevia reiterated.
So, what exactly does that evolution look like?
In 2006, Hevia traveled to Madrid where his cousins took him to a self-serve beer bar. "I thought it
was so cool! I took a picture of it, and on the plane ride back I drew out the idea for a beer table on the back of a napkin," he recalled. Then from that crude napkin drawing, he literally built the first beer table to go public in North America, right out of his Suwanee garage.
"I didn't know until after we opened Cheeky Suwanee in 2007, that we were the first in North America to offer self-serve beer tables," Hevia confessed. He initially only put one tap on each table because he didn't know how receptive customers would be to the novel concept. But, they were very receptive! "When we opened the second Cheeky in Forsyth, customers started asking about a larger variety…so we would do big community beer tables with 5-6 taps on them," he explained. With the success of larger beer tables, they then decided to also create the first self-serve beer-dispensing wall in the world at the Forsyth location. By 2010, other restaurant owners around Atlanta took note and began asking Hevia to build their beer tables and walls.
At that point – DraftServ was born. A self-serve, mobile, beverage- dispensing machine that allows customers to only pay for what they pour – whether it is one ounce or twenty.
Before opening Cheeky, Hevia was one of the original owners of Taco Mac. "I'm a beer guy – I never saw myself running an international technology company," Hevia admitted. But, fundamentally that is what DraftServ is: a technology company. Hevia describes it as "big data meets beer."
The data he is referring to is coveted information in the beverage industry and includes everything from: what time of day a certain style of beer is most popular to average ounces poured. It even captures key demographic information when room keys are used for purchase on cruise ships and in hotels and casinos. "We call it 'The Draft Cloud' – we get the information in real-time from any Draftserv machine in the world…I can tell you what beer is being poured in Mumbai or Bangkok right now," Hevia explained.
In May of 2013, through the introduction from a Suwanee neighbor, Hevia landed a deal with Carnival Cruise Lines where passengers are given the ability to make beer purchases from their room keys. And, although, the technology is "self-serve" it is not a free-for-all. "The word self-serve isn't the right way to look at it…yes, you get to experience serving your own beer, but its still a full-service experience," Hevia explained. The machines are roped off and employees must check ID's before anyone can enter the area. In fact, there is even more control through this technology. Draftserv has the ability to moderate and control exactly how much beer is dispensed per card over a certain amount of time.
"We are changing the experience," Hevia said, and that is what ultimately led them to make a stadium debut at the 2014 Major League Baseball All Star Game in Minneapolis. "In hindsight maybe that wasn't such a great idea, because we had never done concession space…it was definitely trial by fire," he said with a laugh. But a true entrepreneur at heart, he saw that the risk outweighed the potential outcome. And as for the outcome…"It went great! We ended up selling about five times more than Anheuser Busch even predicted."
And the reasoning behind those skyrocketed sales is the fact that "Draftserv customers have control, selection and convenience", according to Hevia. Not only do they pay for what they pour, it's also a unique sensory and tactile experience.
Draftserv's appearance at the All Star Games sparked an ongoing media frenzy. "I went into the office on a normal Monday to get ready for the All Star Game and knew something had changed when I got a call from CBS Sports asking to interview me… they had heard about us because we were currently trending on ESPN," Hevia said. In the month of July 2014 alone, Draftserv's website views went up from an average of 300 unique page views per month to 50,000!
But, Hevia is not allowing the newfound attention to get the best of him or his team. "We are cognizant of how important it is that we execute now and execute properly," he stated. And, they have no plans of leaving their roots either. Draftserv started in Suwanee and will remain in Suwanee. "I've been in Suwanee for 18 years," Hevia said, "it's an awesome community…I love how everyone will come together and rally around a cause," he continued.
It is clear that this is just the beginning for Draftserv, who is also adding wine and soda options to their equipment. Hevia said, "I realize that my world has changed, but I also realize this is just an audition, an opportunity, and that the hard work has just begun!"