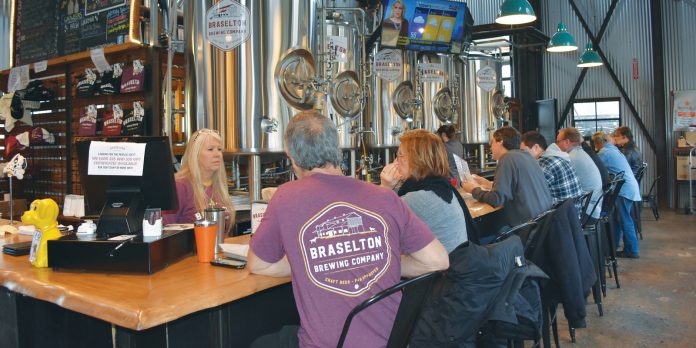 What was once a historic cotton gin built in the early 1900s has been repurposed into a brewpub in the heart of downtown Braselton. With 15 craft beers on tap and a focus on tavern cuisine, Braselton Brewing Company's founders strive to provide a true brewpub experience. We recently had the chance to sit down with founder Chip Dale to learn more about the experience their team brings to the local craft beer scene.
By: Lizzy James | Photos courtesy Braselton Brewing Company
WHAT MADE YOU DECIDE TO OPEN A BREWPUB?
I really liked the idea of being able to serve food to people along with their beer. In this area, there wasn't a middle ground for people to come and hang out — it was either fast-food restaurants or nicer sit-down restaurants. A brewpub allows us to provide the community with a local hangout spot where they can come and enjoy a more relaxed meal with their craft beer. My wife and I love to travel and we had visited Colorado and the Pacific Northwest, and my last job had me in Seattle a lot. While we were out there we got to visit the craft brewpubs, and we loved their vibe and family-friendly environment. I decided this is something the Braselton community needed, so I approached my wife with the idea and she said, "Go for it!"
HOW DID YOU DEVELOP A PASSION FOR CRAFT BEER?
I am an accountant by trade and I was working for a pharmaceutical company back in the '90s. One of my co-workers there was Belgian and he showed me how to brew my own beer. I've been homebrewing ever since, and it has become a hobby and passion of mine.
WHY DID YOU CHOOSE THIS BRASELTON LOCATION?
When we began talking to the city about opening a brewpub, we kept driving by this location. It is a historic cotton mill that was built and owned by the Braselton family back in 1905. A portion of it was damaged by storms in the 1940s, and it hadn't really been touched in years. The town put me in touch with the owner of the building and it turned out he also wanted to open a brewery or distillery. Our dream became a reality after that and we worked to maintain as much of the feel of the old building as possible during renovations.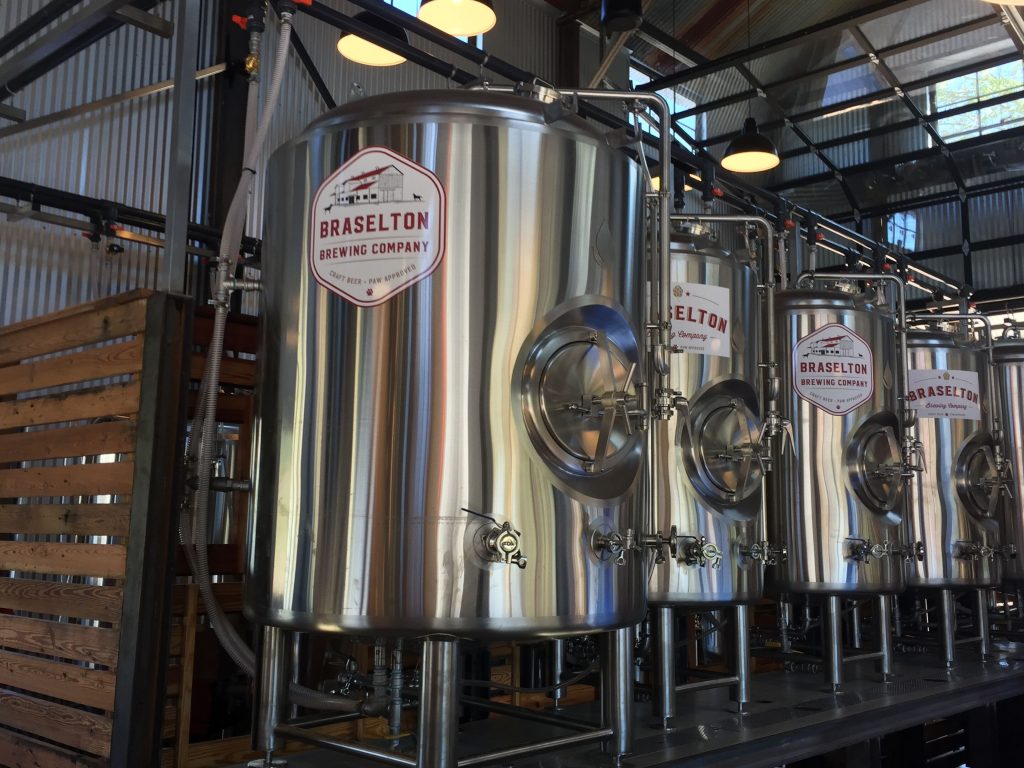 HOW HAS THE COMMUNITY RESPONSE BEEN SINCE OPENING?
The community response has been great! I've been surprised by the wide range of age groups that come in. We get crowds of younger kids as well as crowds of the older generations. It has turned into a community gathering place, and people really love it.
WHAT SETS YOU APART FROM OTHER LOCAL BREWERIES AND BREWPUBS?
In the immediate area what sets us apart is the fact that we serve food. Within a 20-mile radius, there's nothing really like us in that aspect. We are also in a very unique building that ties into the local aspect of the town. For example, we ended up keeping the old roof underneath the new roof, so the ceiling you see inside the restaurant is actually the original roof from the 1900s.
TELL US A LITTLE BIT ABOUT YOUR BREWMASTER.
We actually have two brewmasters. Our first, Harrison Clark, is in the Georgia Guard and is currently deployed. He had originally interned with Left Nut Brewing Company, and Jason Ford the head brewer there recommended him to our team. When Harrison got deployed, we brought in current brewmaster John Lane. He came to us after brewing at Terrapin in Athens and has been running the brewing operation since late February 2019.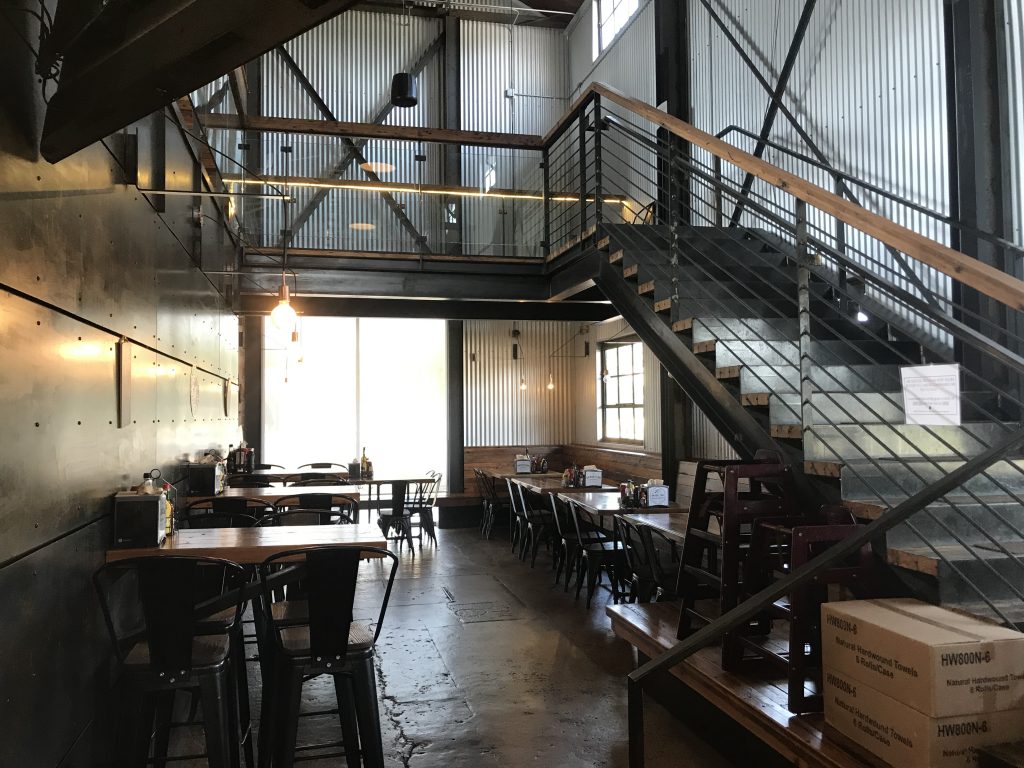 HOW MANY BEERS DO YOU HAVE ON TAP AT ONE TIME?
We typically have 15 beers on tap at a time. We like to offer a variety of different beers both style-wise and in alcohol content. We have six or seven beers that are year-round staples, and we also rotate in seasonal beers.
WHAT IS YOUR BIGGEST SELLER IN THE TAPROOM?
Our Fast Flyer Cream Ale is definitely one of our lighter beers, but it has been the most popular since day one. The name comes from one of the brand names for flour that the Braselton brothers produced in their mill. Another popular seller is our Jederzeit Lager, which is clean and refreshing with a nice moderate malt backbone.
TELL US A LITTLE BIT ABOUT YOUR OTHER DRINK OFFERINGS.
We purposefully made the choice not to do hard liquor when we opened. Instead, our operations manager is very skilled at blending beers with other ingredients, so we decided to offer beer cocktails. We can create beer cocktails that resemble Bloody Marys, margaritas, screwdrivers and more. We also have a wine menu featuring wines from Georgia wineries.
WHAT ARE SOME OF YOUR MOST POPULAR FOOD MENU ITEMS?
Our hamburgers are by far our No. 1 seller. Our All American Burger, which features an all-beef patty, bacon, lettuce, tomato, onion and your choice of cheese, is definitely a crowd favorite. Our house-brined chicken tenders are also very popular and are served with remoulade dipping sauce and your choice of a side. We like to describe our menu as tavern- type food that is meant to pair perfectly with craft beer.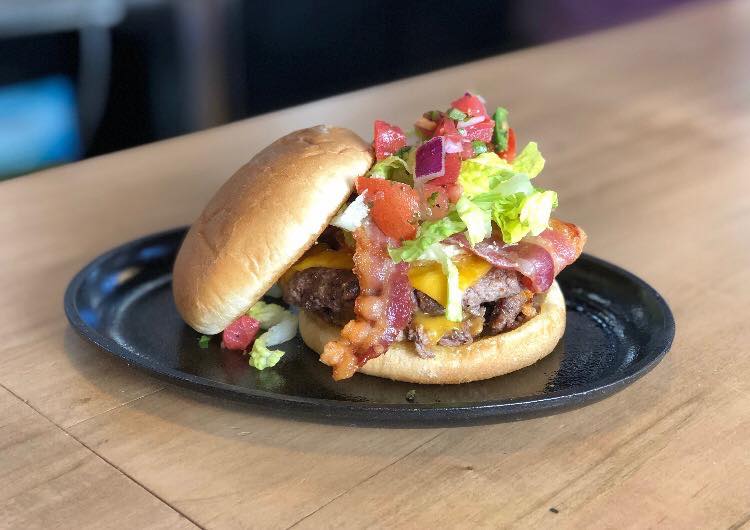 DO YOU OFFER PRIVATE PARTIES AND EVENTS?
The second floor of the taproom and the outside patio are prime spots for parties and events. When the weather is bad we can fit 30-35 people up top, and on nicer days we can fit about 50 on the outdoor patio. We have a dedicated event director who helps coordinate events from Christmas parties to birthdays and even rehearsal dinners.
DO YOU HOST ANY OTHER COMMUNITY EVENTS?
We host trivia on Tuesdays, and when the weather is nice we host it up on our patio. We also host a brewski day on Thursdays, offer 10% discounts to military and first responders, and have even hosted toy drives for an organization called Off the Chain. We are currently running a charity event for Frankie and Andy's Place, which is an organization in Winder that rescues senior dogs from shelters and takes them to visit senior homes. We are big dog people and we encourage people to bring their pups and hang out with us on the outside patio.
Braselton Brewing Company is located at 9859 Davis St. in Braselton and is open Tuesday- Wednesday, 4:30-9 p.m.; Thursday, 11:30 a.m.-9 p.m.; Friday-Saturday, 11:30 a.m.-10 p.m.; and Sunday, 11:30 a.m.-8 p.m. For more information visit BraseltonBrewing.com.