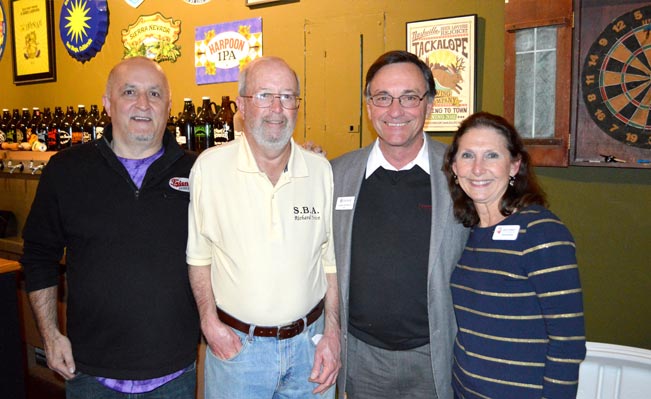 SBA is the ORIGINAL Beer Fest!
BY: Ed Szczesniak
DEAR READER – It has recently come to our attention that the 5th Annual Suwanee Beer Fest will be taking place on Saturday, March 14th. Now we're sure that the good folks who sponsor this event are wonderful people, and we know that they donate a portion of the proceeds to Kingdom Kids, and that they help to gather folks from near and far for an afternoon of fun, festivity, and generous samplings of over 300 of the best beers known to mankind right here in Suwanee… but they are not the first Beer Fest in Suwanee!
We, the SBA, really started this tradition – SIXTEEN YEARS AGO! If you ever attended an SBA meeting – you probably noticed that we too have shared a few beers with our local friends. A few brews… along with some wine, soda, water, great food, occasional live music, and a LOT of camaraderie – not to mention the ability to gain some additional business for our members! And we pretty much do it for FREE!
Now to us – who do this one evening EVERY MONTH – (not just a paltry one time a year) – this is a real "FEST"!
Those copycats who run the Suwanee Beer Fest should have learned something from us by now. 5 years of running a one day event just ain't gonna cut it in this town my friends! If you want to keep this town happy and growing you need to follow our lead and do this at least once a month. Sure, you guys may get over 5,000 attendees, and have lots of live entertainment, and lots of food vendors and and a craft beer brewing contest, and a lot of beautiful people…
Aw heck – we know when we've been outdone. The only thing I can say is that if you haven't been to the Suwanee Beer Fest you're missing out on a great time, and if you haven't been to an SBA event, ditto.
We may be smaller, we may not have all the glitz, we may be focused more on growing your business than tasting craft brews, but we've been around for a LONG time – so we must be doing something right too!
Come visit us – 12 times a year! You hear that Suwanee Beer Fest Folks – 12x a year!!