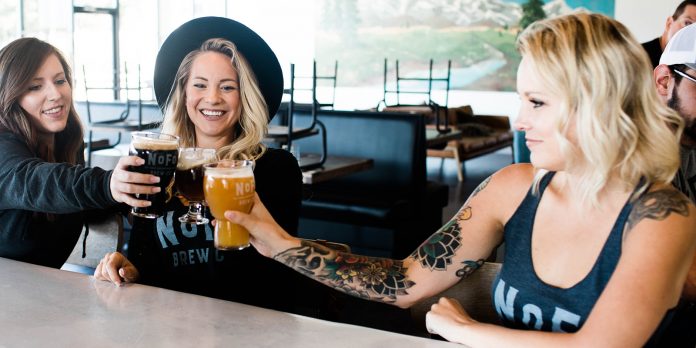 NoFo Brew Co. brings Western vibes (and great beer) to North Forsyth.
By: Lizzy James | Photos by OneNine Images and Lydia Kerr
We recently had the chance to catch up with NoFo Brew Co Co-Owner Joe Garcia to learn more about the experience the brewery is bringing to the local craft beer scene.
How did you get involved in the craft beer industry?
I have been a huge craft beer fan for over 15 years. Some of the first beers I ever drank were Sierra Nevada and Fat Tire. I had a few friends that owned breweries in Georgia and South Carolina and seeing their love for what they did helped my attraction to the industry grow.
What made you decide to open a brewery in North Forsyth?
My partners and I all live in Forsyth and this is where we raised our families. The north side of the county is a little less developed than the south side, so we wanted to create more of a local destination up here. We want people who live in the community to be able to enjoy a beer on their way home or hang out with friends and family on the weekends. We felt that hyper-locality was really important.
Tell us the story behind the name NoFo.
When we decided we were going to open the brewery, we had a brainstorming session to figure out the name. We realized a sort of hyperlocal trend with other breweries, so we came up with the idea of "NoFo" for North Forsyth. We wanted something that represented a figurative stake in the ground that said this is created for the community.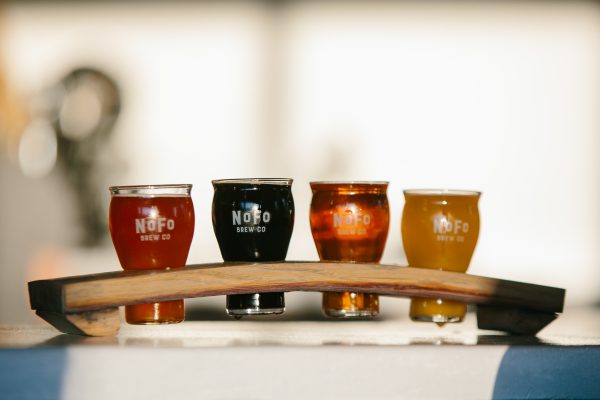 What sets NoFo apart from other local breweries?
Certainly the environment we've created sets us apart. My partners and I love adventure and we have spent a lot of time out West, especially in Wyoming and Montana. We wanted to bring the essence of the West into the taproom and created our tagline "Tap your adventurous side" that is present throughout the brewery, while also maintaining a family- and dog-friendly space. In terms of our beers, we keep introducing a really diverse lineup of craft beer to Forsyth that has been really well received.
How has the response been since opening?
It has been amazing. Our first month in business exceeded our expectations, and we even had to close for two days because we ran out of beer. We started with as few as two beers on tap and now we have seven to eight beers on tap. Members of the community have been so supportive and one word we keep hearing is "finally!" They are excited that there is finally a place that people can enjoy themselves with their family or their dog. The county really needed this.
Tell us a little bit about your head brewer.
Our head brewer's name is Johnny Bradley. He has an extensive brewing background as a homebrewer for over 10 years and has spent time at Cherry Street Brewing and did a short stint at Etowah Meadery in Dahlonega. He really has a passion for brewing and bringing delicious beers to the taproom, and we are very fortunate to have him. We also have two assistant brewers, Justin Kendrick and Emily Carr. Emily was a part of our taproom staff and had aspirations to learn more about the brewing process. We recently brought her in as an assistant brewer and she really provides a new and diverse outlook back there.
What are some of your top sellers in the taproom?
Our Snow Ghost, which is a New England IPA, has been by far our best seller. Another super popular beer has been our My Porter Boy Porter that features hints of coffee, vanilla and hazelnut.
Since this is our health and fitness issue, could you recommend a beer to drink after a workout?
I'd say either our Diversion Vienna Style Lager, our India pale lager, or our Belgian Blonde Ale because they are all super light and refreshing.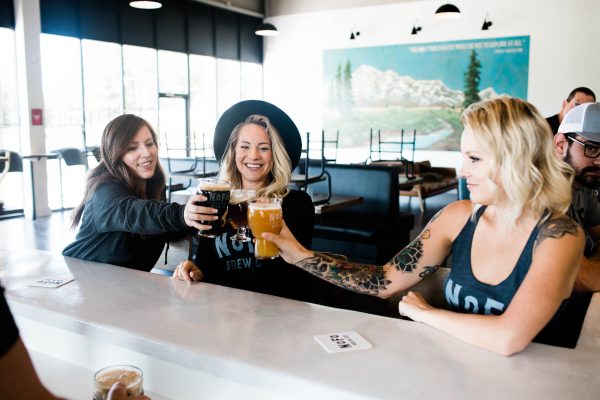 Where else can residents find your beer other than the brewery?
December was our official distribution launch with our team at Modern Hops. We plan to distribute pretty locally with options to purchase four-packs of 16-ounce cans in stores near us as well as sending kegs to other key locations in the area.
What exciting things do you have planned to kick off the new year?
Starting in January we will have trivia and comedy nights, live music, and we are also launching a cornhole league. The brewery is also a great starting and ending point for local running clubs, and we hope to also serve as a meet-up point for mountain bikers looking to take advantage of the trails in the Forsyth area.
NoFo Brew Co. is located at 6150 GA-400 Suite A/B in Cumming. For a complete beer list and to stay up to date on everything NoFo, visit NoFoBrew.co or follow them on social media.