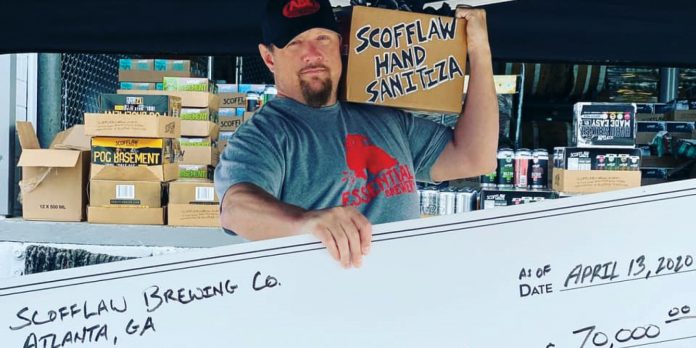 Local breweries stepped up to offer support during the pandemic.
By: Tiffany Belflower and Alicia Carter | Photos Courtesy the Breweries
It's no secret that the spread of COVID-19 has had a detrimental impact on local businesses, leaving the restaurants, shops, and other businesses we typically frequent facing uncertainty. During quarantine, many were forced to either close down completely or remain open with limited staff for to-go orders only. Among the deluge of stressful news that we've encountered daily for the last few months, our local breweries emerged as unexpected beacons of hope and rallied around their communities. Here, we've highlighted a number of our favorite Georgia breweries and how they went above and beyond for their staff and community during this pandemic.
SCOFFLAW BREWING CO.
Scofflaw made and sold hand sanitizer ($7/ bottle) with 100% of the proceeds going to service industry workers in the form of grocery store gift cards. The brewery also partnered with Bottleshare, The Giving Kitchen, Kulture City, and the South Carolina Lodging and Restaurant Association to raise funds for craft brewery employees in Georgia and South Carolina.
WILD HEAVEN BEER
Wild Heaven Beer, located in Avondale Estates and West Atlanta, created a special case deal to raise money for its furloughed staff. The brewery set aside nearly 200 cases of beer sold at $30 each. Wild Heaven employees received 50% of the sales.
OCONEE BREWING CO.
Oconee created a "send a six-pack" campaign in which people could go online and purchase a postcard for someone. Oconee then mailed the postcard which the receiver could turn in for a six-pack at the brewery. Local residents jumped on the bandwagon and purchased postcards for frontline workers.
NOFO BREW CO.
NoFo is supporting the local community by giving away gift cards to local restaurants and has launched a campaign to benefit Meals By Grace in Forsyth County with a $25,000 matching gift.
FIRE MAKER BREWING COMPANY
Fire Maker gave free beer to all first responders with ID. Also, first responders receive 15% off everything at Fire Maker. A portion of all to-go beer proceeds were donated to local charities Bottleshare and the Giving Kitchen.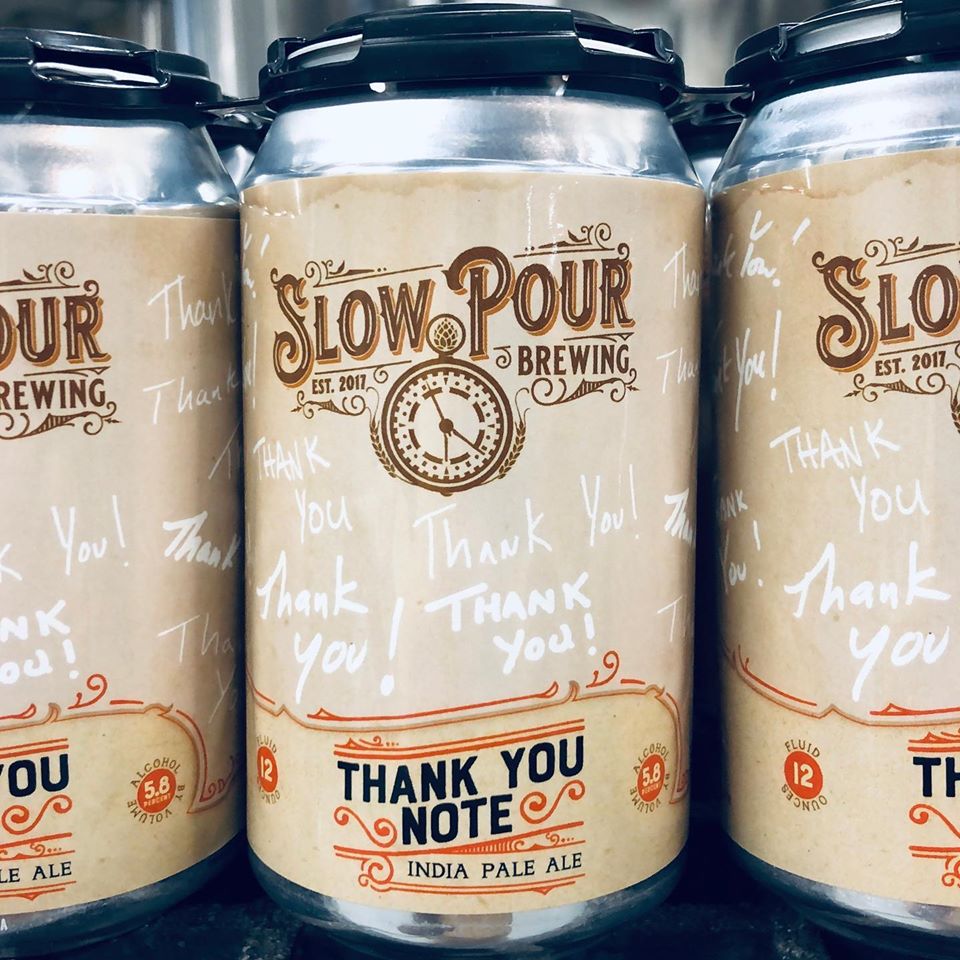 SLOW POUR BREWING
Lawrenceville brewery Slow Pour produced Thank You Note, a beer to say "thank you" to front line workers, who receive a free six-pack of the special beer when they show their badge at purchasing. Slow Pour also hosted virtual bingo nights raising money for the Giving Kitchen and the service industry.
CREATURE COMFORTS
During a worldwide hand sanitizer shortage, the Athens-based Creature Comforts produced "Clean Creature" hand sanitizer and sold refillable bottles ($8.49/bottle) through their drive-through at the brewery. Purchases of Clean Creature helped the brewery keep 100% of its staff employed at full pay and helped them to provide free hand sanitizer to partners of its flagship community outreach program, Get Comfortable, including shelters, food co-ops and more.
PRETORIA FIELDS COLLECTIVE
To aid the community in the fight against COVID-19, Pretoria Fields Collective, a farm brewery out of Albany, has repurposed its operations to mass-produce hand sanitizer. The product follows the U.S. Food and Drug Administration's guidelines and was overseen by the Georgia Department of Agriculture, according to an article by the Albany Herald. The brewery distributed the hand sanitizer among first responders, those in the health care field and others in Albany.
DALTON BREWING
Dalton Brewing increased bartender pay by 50% to help make up for lost pay and hours and has partnered with a local coffee shop that did not have to-go capabilities. The coffee shop used Dalton's canner for its cold brew coffee to-go orders, which helped keep the coffee shop in business.
SIX BRIDGES BREWING
Six Bridges hosted a blood drive that maxed out on donations. The brewery also provided their spent grain to a local nature preserve, Autrey Mill Nature Preserve in Johns Creek, to help feed their animals.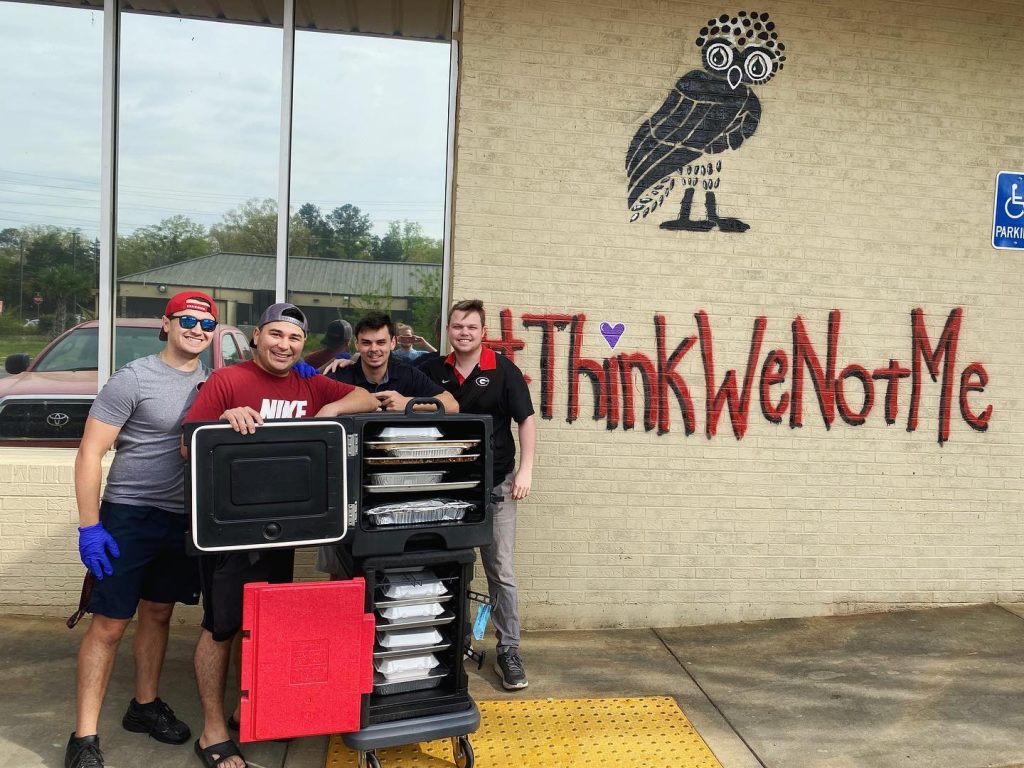 AKADEMIA BREWING CO.
To feed those less fortunate, Akademia Brewing Co. teamed up with the nonprofit BottleShare to form the outreach program Think We Not Me, which aims to feed the needy in the Athens area. In March, the brewery kicked off its efforts by donating 150 hot meals to Our Daily Bread, a local community kitchen. Since then, Akademia Brewing has contributed more food through partnerships with Family Promise of Athens and The Salvation Army.
MONDAY NIGHT BREWING
Monday Night Brewing in Atlanta launched a to-go program to help support its employees. The brewery donated 25% of all sales and 100% of tips to its nearly 50 furloughed staff members. The brewery even made "quarantine kits," which included a pack of beer, roll of toilet paper and a Monday Night glass.
RED HARE BREWING
The Marietta, Georgia-based brewery partnered with a local T-shirt company to create a Red Hare T-shirt design with all proceeds benefiting both Red Hare Brewing and the T-shirt company employees.
GOOD WORD BREWING
Good Word Brewing & Public House in Duluth temporarily closed its usual operations and transformed its business into a makeshift soup kitchen and made soup to serve for free to those who are hungry or in the restaurant industry. If people are interested in offering support to Good Word, the brewery recommends purchasing a gift card, giving funds to its GoFundMe that supports its hourly staff, or donating to The Giving Kitchen, a local organization that aids Georgia restaurant workers in need.
STILLFIRE BREWING
StillFire Brewing released a Quarantine Survival Beer in which a portion of all proceeds went to support local restaurants and provide meals to hospital workers in Gwinnett County. Since its release, the brewery has been able to provide hundreds of meals to nurses, doctors, and medical staff at Gwinnett Medical and Northside Gwinnett hospitals. Four-packs of Quarantine Survival Beer are available at the brewery's to-go window as well as in package and grocery stores across the state.