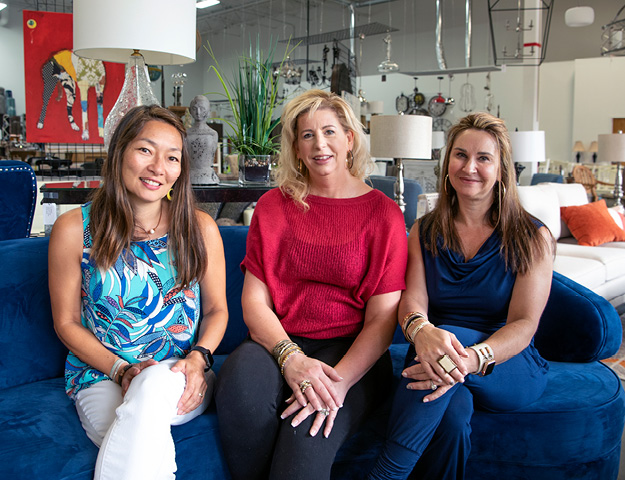 This premier discount furniture shop just might be Suwanee's best kept secret — until now.
By: Alicia Carter | Photos by Karl Lamb
If you haven't been to C.C. Liquidations Home Furnishings & More, then you better run, not walk, to perhaps one of Suwanee's best kept shopping secrets. The discount home furnishings store, opened by Kim and Skip Douglass in 2017, has quietly grown into a shopping destination for in-the-know, local homeowners, movie set designers, multi-family communities and more. In fact, the shop's inventory is so popular, C.C. Liquidations outgrew its first location after less than two years in business, and celebrated the grand opening of its new, larger location on Satellite Boulevard this past July. Even though it measures in at more than 17,000 square feet, the new location is already bursting at the seams with an impressive selection of couches, tables, chairs, lighting, area rugs, artwork, bedding, and pretty much everything else you can imagine, including the kitchen sink — literally. "We actually sell kitchen sinks," Kim says with a laugh. "We get a lot of kitchen sinks — the big farmhouse sinks. We also get faucets, ceiling fans. I don't get to pick and choose what is coming, but I do know it's coming by the truckload."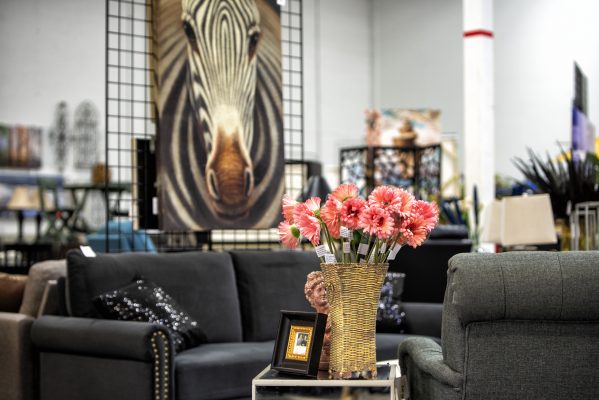 Before opening C.C. Liquidations, Kim enjoyed a successful career in corporate America, but decided to leave it behind to pursue her passion for interior design and home furnishings. The corporate contacts she picked up along the way, however, afforded her a first-line connection to many popular online furniture retailers. Through these connections, she is able to stock (and restock time and again) the floors of C.C. Liquidations with modern, beautiful home decor.
"I have a connection with famous online furniture retailers, which gives me access to the pieces that I have in my shop," Kim says. "My passion for unique interiors and beautiful homes has made me want to help give people better access to that. Here I can get ahold of beautiful online pieces that are sometimes out of reach for individuals — the prices would be pretty expensive and they would have to wait weeks and weeks for something that I get in directly."
MAJOR DISCOUNTS
That inside connection not only gives Kim direct access to an array of fashionable items, but she also gets those items at a major discount, and in turn passes the savings along to customers. The deals are so good that the inventory tends to turnover quickly. In fact, Kim says one of the big reasons they decided to move is because they sold out the former location nine different times in less than two years — quite a feat for a relatively new business. "It's unique and there is nothing like it around," Kim says. "It's fabulous furniture pieces, decor, rugs and more at 20% to 70% off retail prices. Our inventory is always changing, and new selections are delivered weekly."
ON-STAFF INTERIOR DESIGNER
In addition to the vast and ever-changing selection of home furnishings and accessories, C.C. Liquidations also boasts an on-staff interior designer to help customers choose the right pieces for their home. Maria Fair of Interior Innovations takes the time to help customers design the living spaces of their dreams while keeping budget top of mind.
"Maria is really good at using your existing home and helping you to update and refresh it without spending a fortune," Kim says. "She's down to earth and can help you find what you're looking for without intimidating you or pushing you to purchase things that may be out of your price range. She can help put the pieces in the store together with existing pieces in your home, freshen your room, or update a room without starting from scratch."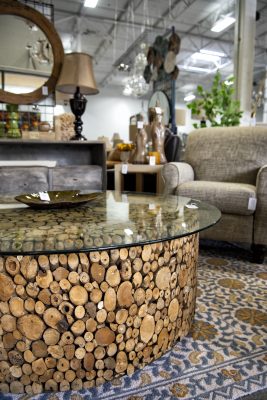 The team does their best to foster a comfortable shopping experience for everyone who comes through the door. "It's like shopping with your girlfriends here, and we get that a lot," she says. "We make it fun, there is no pressure. We just really want to help create what you want in your home."
With a selection of items to fit most everyone's style and budget, one question remains: How has C.C. Liquidations managed to fly under the radar for so long? "We've been told before that this is the best kept secret in Suwanee," Kim says. "It's kind of cute because I get that a lot. People will walk in here and say, 'Wow, I just ordered that online and it's 40% off here. Why didn't I know about it before?'"
Considering that C.C. Liquidations carries just about anything you could ever need for your home, and the selection stays fresh with new stock delivered weekly, it's only a matter of time before word-of-mouth spreads. "I just had a woman come in and buy seven area rugs for her home," Kim says. "Her friend brought her here because it is known that the prices are going to be phenomenal and the quality of what you're looking for is unbelievable."
So, if you're looking to decorate a new home, freshen up an existing one, or maybe just add a little pizazz to your favorite room — run, don't walk, to C.C. Liquidations. Suwanee's best kept secret won't stay a secret for much longer.
C.C. Liquidations Home Furnishings and More is located at 105 Satellite Blvd. N.W., Suite A, in Suwanee. The hours are Tuesday-Saturday, 10 a.m.-6 p.m. and Sunday, noon-4 p.m. They're closed on Monday. For more information call 678-541-5515 or visit CCLiquidations.com.