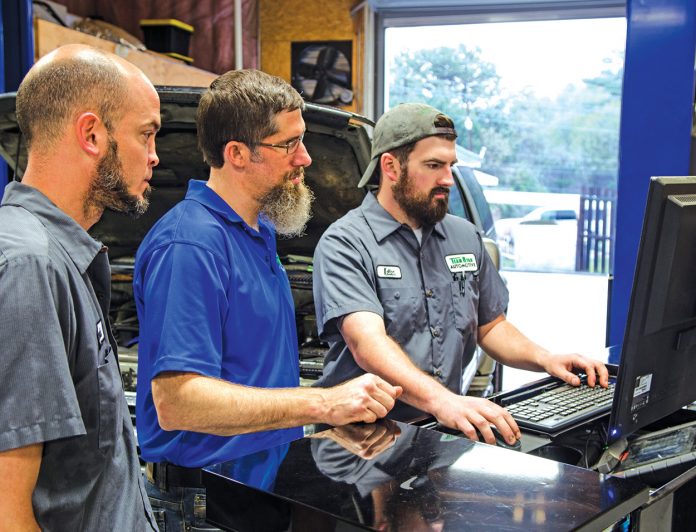 At Team Ryan Automotive Service & Repair one of the reasons you might feel at home is because the office and lobby are literally located inside a renovated home. The house was built in the 1940s and has been on Waterworks Road in Buford longer than almost anything else on the street. Located directly behind the historic home is a 5,000 square foot building that holds the pristine shop equipped with 6 service bays. Owned by husband-wife team, Dan and Shar Ryan, the shop opened in April of 2015. But, prior to being an owner, Dan Ryan was a mechanic for eighteen years. He continues to maintain his status as an ASE (Automotive Service Excellence) Certified Master Technician and Advanced Level Specialist. In fact, the shop is the only recognized ASE Blue Seal shop in Gwinnett and Hall County. What that means for customers is that they are receiving the highest level of service and standards in the automotive industry.
CUSTOMER-FACING MASTER TECHNICIAN
➽ One of the most unique aspects of Team Ryan Automotive is that customers speak directly to Dan, Owner and Master Technician. In many shops, if they do employ a Certified Master Technician, then that individual spends almost all of his time in the service area, whereas Dan is truly customer-facing. "There's nobody in between trying to translate what the technicians are saying – you are literally speaking to the Master Tech and he is able to explain everything in a way that the most car-savvy or car-naïve people can understand," explained Mrs. Ryan.
DIGITAL INSPECTION SHEETS
➽ Team Ryan takes it one step further in ensuring that people understand exactly what work is being done to their car with their "digital inspection sheets." For every routine oil change, they include a 25-point inspection outlined with photos, technician notes and a color-coded system: green for good health, yellow for things that need attention in the near future and red for safety concerns and priorities. "It's all about empowering the customer and making sure they aren't surprised by anything," explained Mrs. Ryan. "We're going to be trustworthy and honest. Our inspection sheets act as a mirror: a reflection of exactly what's going on with your car," she continued. The 25-point inspection and oil service also comes with a tire rotation and complete brake inspection. Some places will say they're doing a brake inspection, but if they aren't rotating the tires as well, then they can't truly do a full inspection.
STRATEGY-BASED DIAGNOSTICS
➽ Team Ryan's technicians apply what they call, "Strategy-Based Diagnostics" every time a vehicle enters their shop. This provides a structured process for diagnosing and repairing vehicles in the most efficient and cost-effective manner possible. Of course, they customize their approach to each individual situation, but the premise is the same: a 7-step plan from start-to-finish that is thoroughly communicated to the customer. At Team Ryan Automotive, communication is key and there will never be a change in cost without a conversation with the customer.
AWARD-WINNING SERVICE
➽ Team Ryan Automotive services all makes and models, including diesel, and has won countless awards and recognitions – which you will find decorating their lobby area. "I put a lot of thought into our lobby area to make it feel homey, based on my own previous experiences of going into shops that were dirty and intimidating," explained Mrs. Ryan. A full kitchen stocked with coffee, tea, hot chocolate and water, along with free WiFi and a convenient night key-drop, are just some of the other additional touches that set Team Ryan apart.
"We understand that car trouble and maintenance is not a fun thing to do, so we do our best to take all of the work and hassle out, making the process as smooth and painless as possible," said Mrs. Ryan. Based on Dan's experience as Master Technician at the Hendrick Collision Center, he knows how to work with insurance companies and with local tow truck drivers.
A CLEAN AND PRISTINE SHOP
➽ While Mrs. Ryan put a lot of thought into the pleasant atmosphere of the lobby and office area, Dan had a clear vision for what he wanted the shop itself to look like. Operating as a dealer alternative, all of the equipment is state-of-the-art and updated on a continuous basis. Dan ensures that everything they do is at the forefront of the ever-evolving auto industry and that they are able to offer the same mechanical services as a dealer. The shop is large, bright and clean – you won't find oil stains on the painted floors. "It's a space that we are proud of and that our employees are proud to work at," said Dan. The shop is also eco-friendly, in that there is a large emphasis on recycling and all of their waste oil is used to heat the facility during the colder months. They are dedicated to the environment and dedicated to providing exceptional service.
At Team Ryan Automotive, earning customers trust is their number one priority and they achieve that by being consistent, transparent, honest and highly skilled at their craft. The Ryans are here for the long haul. ■
---
TEAM RYAN AUTOMOTIVE SERVICE & REPAIR
2959 S Waterworks Rd
Buford, GA 30518
(678) 765-7926