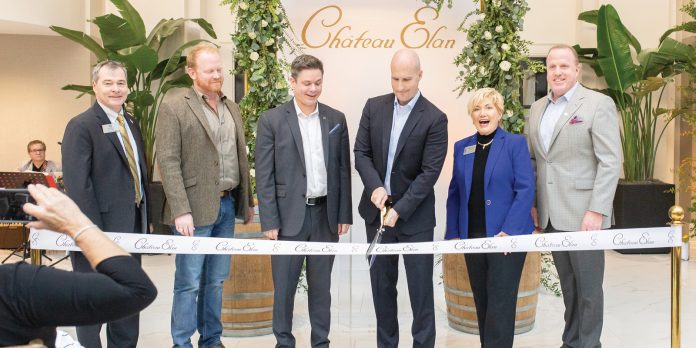 On January 14th, Château Élan Winery & Resort unveiled its $25 million comprehensive renovation. As the first major renovation since its inception in the mid-'80s, the full redesign ushers in the newest chapter in its storied history by introducing a fresh, yet timeless and modernized design, while still honoring the existing estate's 16th century-style charm. During the nine-month project, Atlanta-based interior and architectural design firm BLUR Workshop was tasked to lead the multi-million-dollar renovation, formulating a design concept representative of the resort's vast Southern locale and inspired by the surrounding rolling hills and lush vineyards. The transformation includes a complete overhaul of 251 guestrooms and 24 suites, four new food and beverage outlets, the winery, as well as the resort lobby, and a facelift to the existing pool terrace and immersive spa.
"As we complete this renovation, it is clear how every decision was made to positively impact our guest experience," said Neville Erasmus, Château Élan's general manager. "We're beyond proud to bring this vision to life and reintroduce the new Château Élan to our beloved repeat and new guests alike."
The 3,500 acre resort offers guests a unique destination experience accessorized by lush vineyards and marked by its unmatched luxury, distinguished offerings and amenities. Home to one of the most awarded wineries on the East Coast, 10 bars and restaurants, 40,000 square-feet of meeting space, a 35,000 square- foot European spa, 45 holes of championship golf and a golf club and tennis center, Château Élan invites guests of all preferences to explore and enjoy the property's picturesque land and architecture.
To learn more about Château Élan Winery & Resort or to make a reservation, visit ChateauElan.com or call 678-425-0900.