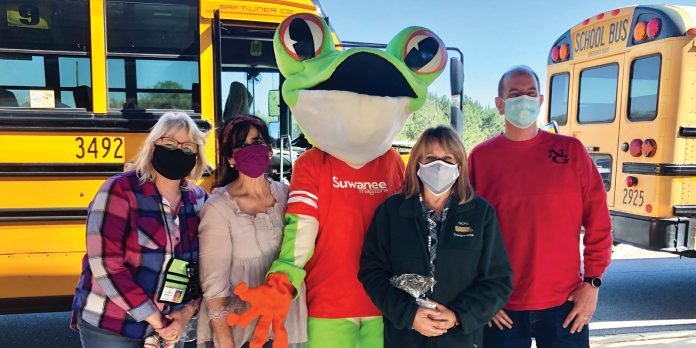 On April 1, 2021, the city of Suwanee and surrounding areas came together to celebrate Cheers Day in honor and memory of Adam Edge, who we sadly lost to cancer last year. Adam served as Suwanee's downtown development manager and was a beloved member of our community. The purpose of Cheers Day was to celebrate Adam's life by spreading random acts of kindness on what would have been his 38th birthday. The community was asked to share and celebrate their acts of kindness on Facebook on April 1st with the hashtags #CheerstoAdam and #CheersDay21.
If you search the Cheers Day hashtags on Facebook it brings up loving posts dedicated to the person Adam was — kind, compassionate, fun and so incredibly giving. "After a year of you leaving us on this earth, I can honestly say that not a day goes by that SOMEONE doesn't mention your name. You had that kind of impact on so many people. I love to hear how people remember you," wrote Amy Knight Doherty, the City of Suwanee's Events & Outreach Manager. "There is never a story that doesn't end with your big laugh. You were bigger than life and even though you are not here, you STILL figure out how to make us laugh and want to be like you — working to make this world better."
Some of Cheers Day's random acts of kindness included City of Suwanee employees making 25 taco dinner kits for the North Gwinnett Co-op families in honor of Adam. Suwanee Beer Fest Event Coordinator Tiffany Belflower surprised friends with coffee. Suwanee Kiwanis delivered snacks and bottled water to essential workers, including bank workers, police, firefighters and more. The list goes on.
Suwanee Magazine partnered with Chick-fil-A Moore Road and Planet Smoothie in Town Center Park to do our part. On April 1st, Suwanee Magazine team members visited North Gwinnett Middle School to hand out goodies to some of Suwanee's unsung heroes: bus drivers! Sammy the Frog also made an appearance, posing with North Gwinnett Middle School staff and bus drivers while passing out goodies.
Overall, Cheers Day was a success. Not only because of the random acts of kindness on display, but also because they were done so in memory of one of Suwanee's finest. Let's make every day a day to celebrate kindness.