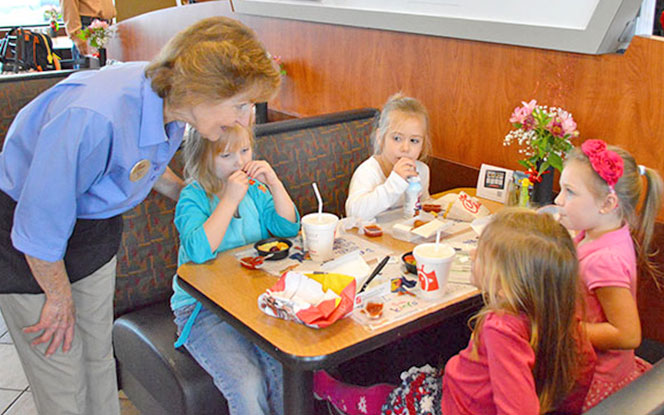 BY: Rachel Fasig
When envisioning the back kitchen of a typical fast food restaurant, you might expect a chaotic scene, with: chicken flying, sauces splattered on the counters, employees yelling orders, slippery floors, disorganized shelves…and the defrosting of frozen concoctions. But, Chick-fil-A is not a typical fast food restaurant, nor is it chaotic, and you most certainly will never see anything frozen.
I had the pleasure of meeting Mary Warren, the Marketing Director for Chick-fil-A at Moore Rd in Suwanee and her friendly, hard-working staff during a back kitchen tour that surprised me at every turn.
What is not surprising is that Chick-fil-A whips up some of the nation's most loved fried chicken biscuits and sandwiches, and has amassed an increasingly large following in the South and beyond. To many, Chick-fil-A embodies comfort food, but it also embodies much more than that.
As soon as I walked into the Chick-fil-A on Moore Road I was greeted by Ms. AJ and immediately felt at ease and embraced by her kind spirit. Ms. AJ is the hostess who makes sure every customer feels at home. According to Warren, Ms. AJ has been touted as "the community Meemaw" – she is a gentle, warm and welcoming woman who dotes on anyone that steps foot in the restaurant. At any given time of day you'll find her giving hugs, asking high-school athletes how they played at their game, kneeling down and helping children open their complimentary kids meal toys, refilling drinks, wiping tables, giving extra sauces, extra smiles and extra hugs on the side! And, Moore Road's Ms. AJ is not an anomaly for a Chick-fil-A restaurant.
Neither is their back kitchen!
The company prides themselves on freshness, and fresh is exactly what I saw. I witnessed a woman washing and chopping lettuce for handmade salads, a man hand-fileting fresh chicken breasts, dousing them in an egg and milk bath, and covering them with "top-secret seasoning" and batter. I saw sandwiches made to order, whole tomatoes being sliced, buns toasted to perfection, a few hundred fresh lemons being squeezed and made into lemonade, and fruit cups being individually washed, chopped and prepared. It was a meticulous system: completely organized, clean and fresh! There was a hand-written sign on a whiteboard in the kitchen that said, "FRESH food is the BEST food! Let's have a GREAT day today!!!"
I think Warren noticed my mouth wide open in awe, and she reminded me that, "Yes, absolutely everything is fresh here. The produce is from a local distributor and dropped off every morning. We wash, dry and chop it all ourselves. And, you just missed the breakfast shift, but in the morning this table is absolutely covered in flour [because] our biscuits are hand-rolled and baked right here in our kitchen!" That was news to me! No wonder they taste so great!
But, then came the best part…
"Do you want to make your own hand-spun milkshake?" Warren asked.
Umm, of course I did! And the seasonal peppermint chocolate chip milkshake at that, please! After all, it is okay to indulge every once in awhile. Chick-fil-A has many healthy food options and, in fact, received the highest nutritional score in the Quick-Service Industry according to the book "Eat this, Not that!" And, with all fresh ingredients, they have nothing to hide. If you ask any cashier for a complete detailed nutritional report on your order, they can print it out on the receipt. However, a healthy lifestyle is all about moderation, balance…and, yes, occasional milkshakes.
I was led to the drive-thru window area, where the ice cream and milkshake machines are located, along with the sweetest drive-thru employees I've ever encountered.
Before I got to work hand-spinning my very own milkshake, I talked to a few of the young girls who are always smiling at the drive-thru window. What they said pretty much summed up my entire visit and the values that Chick-fil-A personifies. They told me that they have "the best customers in the world…we love seeing our regulars and we all take care of each other."
Chick-fil-A stands true to its values, the values that the company was founded on with Truett Cathy – and that goes beyond good, clean and fresh food; it is about giving people the ability to lead healthy and fulfilling lives; it is about demonstrating heart, community and a culture of love.
As I drove away from the Chick-fil-A on Moore Road, sipping my peppermint milkshake (which I did an awesome job at making by the way), I had a newfound appreciation for Chick-fil-A and the integrity that they continue to show in all aspects of their business. ■