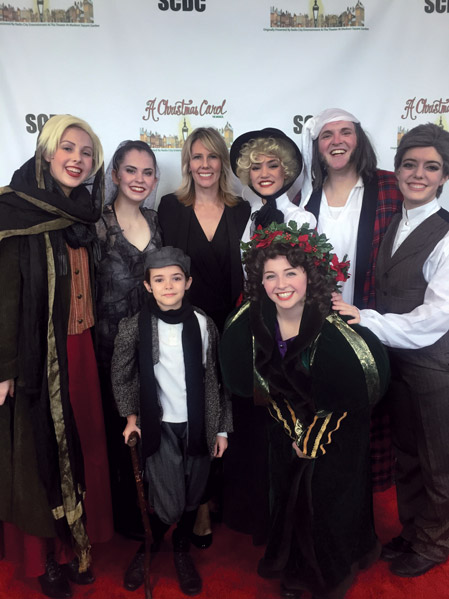 Former Broadway Performer Brings Holiday Classic to Infinite Energy Center
A Christmas Carol: The Musical holds a special place in Paige Chambers' heart as it is the creation of famed Tony award winners and husband-wife team the late Mike Ockrent and Susan Stroman, who gave Chambers her start on Broadway and became her mentors.
"It is such an honor to bring this particular Broadway show to Atlanta this holiday season," said Chambers. "Mike Ockrent, the co-writer and director of the original production of A Christmas Carol: The Musical hired me for my first show at 17 years old. During my 10-year career on Broadway, I had the privilege of working with both Mike Ockrent and original choreographer, Susan Stroman, many times, and I am proud to represent these Broadway greats by bringing their vision of the show to Atlanta audiences. I know that my personal connection to them will shine through, pushing our performance to outstanding levels."
Susan Chambers Dance Company will perform the show on November 22nd at the Infinite Energy Center for the second consecutive season. Paige Chambers, who serves as co-director and instructor, will choreograph and co-direct a cast of over 60 actors, singers, and dancers performing alongside a live orchestra.
A Christmas Carol: The Musical is a full-length Broadway musical with huge dance numbers, beautiful music, hundreds of costumes, exceptional sets, and a live orchestra. The audience will feel as if they have been to Madison Square Garden, where this musical has delighted holiday audiences for 12 years," said Susan Chambers, who founded the dance company in 1980.
A Christmas Carol: The Musical will be performed at the Infinite Energy Center (Formerly Gwinnett Performing Arts Center) on Nov. 22 with two shows at 11am and 7pm. Last year both shows sold out so get your tickets early! To order tickets go to axs.com and search "Chambers."