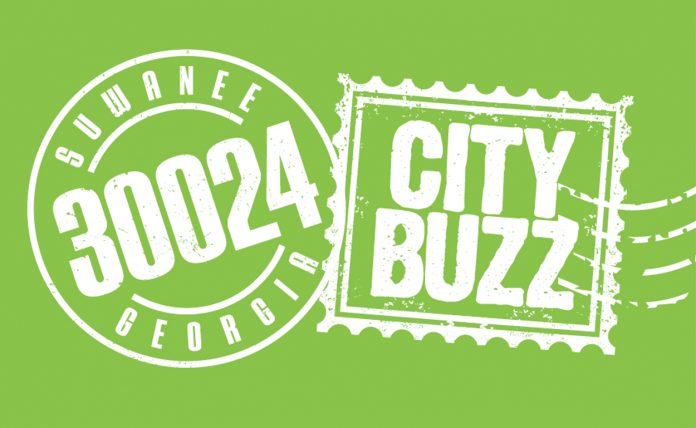 Snap Suwanee Winning Photos Now on Display
The 2013 Snap Suwanee winning photographs are now on exhibit at Suwanee City Hall, 330 Town Center Avenue. Ten winning photographs were selected from among 66 entries received from 18 photographers.
The annual exhibit includes photographs of Suwanee-related people, places, and scenes. The 2013 Snap Suwanee exhibit will remain on display at least through the end of the year.
Suwanee's Super Incredibly Fun Race Returns to Town Center Park

The City of Suwanee brought back its award-winning, super incredibly fun Super Incredible Race on April 20. The race is a scavenger-like hunt, a la Amazing Race meets small-town America in which teams of two or teams of family members receive a series of clues that require them to complete a variety of high-energy mental and physical challenges. During last year's event, contestants slurped spaghetti noodles, danced, raced on hippity-hops, solved a multi-step math equation for which the answer was 30024, and told a joke, among other activities.
The city extended the fun this year by presenting its spring concert immediately following the race. Departure, a Journey tribute band, performed at Town Center. The concert was free and open to the public.
Fourth Annual Blue Jean White T-Shirt Benefit
2013 Miss Suwanee benefit pageant hosted It's Fourth Annual Blue Jean White T-Shirt Benefit Pageant for RELAY FOR LIFE, Saturday, March 30th at North Gwinnett High School.
Over 100 contestants brought in $20,000 to compete for the coveted titles of Miss HEART and SWEETHEART of Suwanee.
The  Sweetheart titles are distributed in
3 different divisions:
• DIVISION #1 AGES UP TO 5YRS.:
Addison Hayes of Sugar Hill with $500
• DIVISION #2 AGES 6 TO 11 YRS.:
Grace Shugart of Suwanee  with $2,500
• Division #3 ages 12 and up:
Christine Albright of Suwanee
with $2,000
Miss Heart of Suwanee goes to the girl with the highest
amount of sponsorship money and that title now belongs to Kailey Landress of Suwanee who raised $3,000 for RELAY FOR LIFE. The Miss Heart of Suwanee title (the competition's highest title)  goes to the girl who has gone above and beyond and exemplifies what a true beauty queen is. Kailey has already started her journey and taken the first steps with her actions and shows commitment and dedication.
These title holders will be busy this next year going places they've probably never been before as they represent our great community of Suwanee. They will reach out beyond Suwanee into organizations like Special Olympics, Feed My Starving Children, Operation Christmas Child, Gwinnett County Food Bank, Toys for Tots and many other charitable groups.  They will even meet the Mayor of Suwanee and Governor of our great state of Georgia!
Hundreds Join the Herd

On Tuesday, April 16, Chick-fil-a Race Series attended the Tuesday Night Big Peach run where it promoted their "Run with The Herd" Gwinnett Life Run benefitting the Pregnancy Resource Center of Gwinnett. After the run, they served 200-plus runners chicken nuggets, gave out coupons for CFA sandwiches, and mini-moos (miniature cow toys). The race will be held on Saturday, May, 25 at 8:00 AM. For more information or to register, please visit their website at www.cfaraceseries.com.
Father & Daughter Cross Finish Line Together
The morning of March 5, 2013 was a special morning for Cindi Porter and her father, Bill Porter.
Cindi Porter received official notification that she had been awarded the professional designation of Certified Financial Planner, and a few hours later, her father, Bill Porter, successfully defended his doctoral dissertation at The George Washington University and officially became Dr. Bill Porter, CLU, ChFC. Cindi's daughter Alexis, who was with her grandfather in Washington DC, received the good news from her mother in a text as they walked to the GWU campus for Bill's dissertation defense.
This father/daughter team of financial planners have worked as a team for the past 12 years at Aileron Investment Advisors, in Suwanee, Georgia, and they have also co-authored two books together: The New Rules and Tools for a Secure Retirement and 24 Investment Strategies.
Superheros Converge on "Hall of Justice"

On Saturday, March 23rd, a number of Suwanee's own superhero's braved the weather for a photo shoot in front of The Hall of Justice (Suwanee City Hall). The photos are being used in the City's new ad campaign, "100 Reasons to Love Suwanee". The full list can be found on www.suwanee.com. One of the reasons is "Our City Hall really does look like the Hall of Justice".
Local Group Brings Easter Joy to Children in Need
Members of the Buford/North Gwinnett Rotary Club donated personal care items and candy (of course) for 24 Easter baskets to be given to youth currently residing at the Gwinnett Children's Shelter. The shelter is a residential care facility that provides both long- and short-term services to youth ages 12 to 21 who have experienced abuse, neglect, violence, abandonment, or are in need of supervised care. A global community service organization, the Buford/North Gwinnett Rotary Club meets weekly at noon on Wednesdays at the Buford Community Center, 2200 Buford Highway.
City Purchases Gateway Property
As part of its ongoing, long-term efforts to improve the Suwanee Gateway, the City of Suwanee closed recently on a 3.4-acre tract at 2955 Lawrenceville-Suwanee Road. The property currently houses the former May Queen Hotel, which has been closed for approximately a year for safety reasons.
The city purchased the property from First Intercontinental Bank for $1.25 million with immediate plans to demolish the dilapidated buildings, clean up the site, and land bank the property for the future.
One of the top community goals identified through Suwanee's 2020 Vision strategic plan, in which some 800 community members participated last year, is improving the Suwanee Gateway, the city's oldest commercial area, developed largely in the 1960s and 1970s after I-85 was extended to Suwanee.
Recent improvements in the Gateway include the opening of the new Suwanee police training facility, extension of McGinnis Ferry Road, the recently completed streetscaping project around the interstate interchange, opening of Movie Tavern, QT, and other businesses, development of Northolt Parkway, and construction of 335 apartment units.
Suwanee Author Asks "One Question"
On April 2nd, Suwanee resident and radio personality Ken Coleman hosted a book release party at Chateau Elan Winery & Resort. His Book, "One Question", features a series of interview questions asked by Coleman. The book features "Life-changing answers from today's leading voices." Mark Burnett, creator of The Voice, Survivor and The Apprentice reviews the book, saying "Ken Coleman has a gift of asking the questions we should all be asking. One Question gets to the heart of the most important issues in our lives and taps into the wisdom of some of today's most admired achievers." Coleman can be heard on The Ken Coleman Show weekdays at 5-7pm on WDUN – AM 550/102.9 FM out of Gainesville.