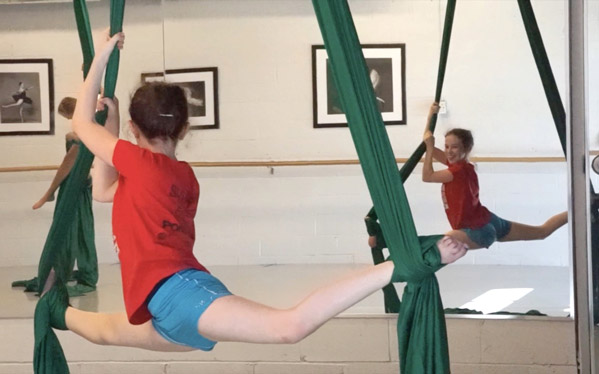 Community Art Players of Suwanee (CAPS), a performance group under the umbrella of Suwanee Performing Arts, is excited to present Tarzan: The Stage Musical. The show will take place at the gorgeous Carlos and Sandra Cervantes Theatre for the Arts at Riverside Military Academy in Gainesville, GA on November 12th and 13th, 2016.
Based on Disney's epic animated musical adventure and Edgar Rice Burrough's Tarzan of the Apes, Tarzan features heartpumping music by rock legend, Phil Collins.
The production requiresthe majority of the actors to move gracefully across the stage, swinging through the trees and vines. Cirque performer Gina Hermansen was recruited by CAPS Director Rebecca J. Martell and Choreographer Melissa Joy to work with the actors. Hermansen, in collaboration with Akrosphere Aerial Dance and Circus Arts, trained the actors in the circus art of Aerial Silks; the gorillas will literally be swinging across the stage. All of the actors are middle and high school students that have no experience in acrobatic arts. Molly Day – who plays the part of a gorilla – said "I don't take dance classes, so Silks has allowed me to explore another side of the fine arts. It's given me an outlet for physical expression other than dance. I'm even using it for a physics project!"
Tarzan the Stage Musical will take the stage on Saturday November 12th at 2:30 pm and 7:30 pm and on Sunday, November 13th at 2:30 pm. Tickets are available for purchase at SuwaneePerformingArts.org or by calling 678-482-6333.