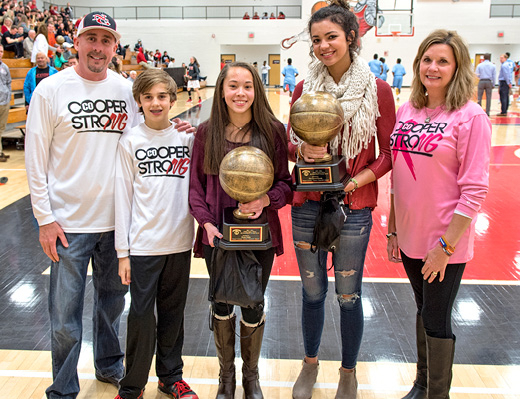 L to R: Kevin and Parker O'Brien, Trinity Fields, Logan Caymol and Donna O'Brien
The Copper O'Brien Sportsmanship and Courage Award was created in memory of North Gwinnett Middle School student and basketball player, Cooper O'Brien, who lost his battle to a rare form of cancer called Clear Cell Sarcoma, on July 5th, 2014 at the young age of 14. Throughout his fight, Cooper faced each day with a strong and positive attitude that inspired everyone around him. Today, his light and memory still shine bright in our community in many ways. One way is by honoring North Gwinnett Middle and North Gwinnett High School students that have overcome unique hardships. Sponsored by Dick's Sporting Goods, Clayton Dental and State Farm Agent – Larry Kirchner, The 2nd annual Cooper O'Brien Sportsmanship and Courage Award was presented on January 5th, 2016. The recipients included:
Trinity Fields: She is an 8th grader at North Gwinnett Middle School and was selected for this award for demonstrating great character, sportsmanship, respect towards opponents, leadership and teamwork while on the court. Her parents said this award meant so much to her as lately she had felt down due to not being selected for the NGMS 8th grade team. She still showed great resolve by the way she handled herself on the court.
Colby Leifson: He is a Senior at North Gwinnett High School and has exemplified everything that Cooper stood for such as great leadership, sportsmanship and respect towards opponents. He has worked as a scorekeeper with the North Gwinnett Basketball Association for the past 4 years and always excels on and off the court. He is also NGHS Basketball's all-time leading 3-point shooter in points and field goal percentage. Cooper would have stayed right by him if he were with us, as he would have admired Colby's character.
The Caymol Family: Tragically, in December 2015, they lost a child in an accident and have been part of the North Gwinnett Basketball Association for 9 years. All the Caymol kids played in the NGBA and Drew, who lost his life in the car accident, was a 5th grader on the Gwinnett Basketball League team in which his father, Mateo, was a Coach. Mateo has been a coach for his kids throughout their tenure with the NGBA. The family is very respected and their faith has continued to show during this difficult time. The older brother and father who were both hospitalized due to the car accident are now thankfully on the road to recovery. Cooper would have loved the spirit that Drew had, as well as his passion for basketball. The Caymol family continues to impact others through their faith, and we know that Cooper has been right there with them throughout this entire situation.