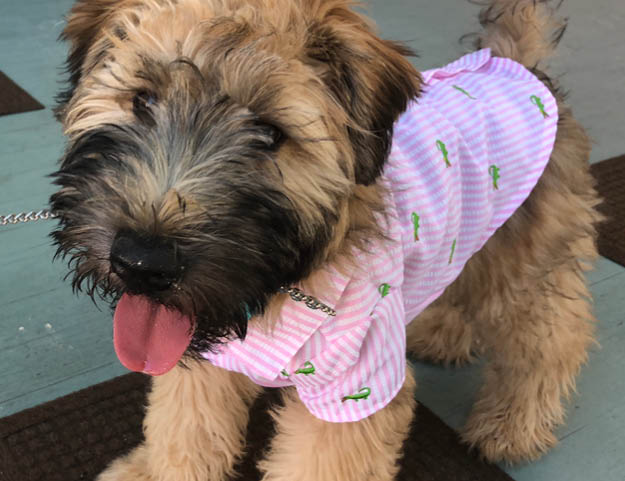 … AND THE WINNER IS: HASH BROWN!
With over 120 entries, this year's Suwanee Magazine Cutest Pup contest was the largest yet. There were lots of adorable pups, but when it was all said and done, Hash Brown came out on top. Congratulations and thank you to everyone who participated!
Hash Brown is a Soft Coated Wheaten Terrier puppy. He was born on October 20, 2017. He is already a big supporter of Suwanee's Georgia SPCA. His family plans to donate his winning gift basket from Pooch N Paws to the animal shelter. Hash Brown's parents are Al & Sandy Thompson.
The Thompson family supports No Kill Rescue Groups and have travelled all over the United States with their older dogs, French Fry & Tater Tot. They have participated in numerous fashion shows to help raise money for various rescue organizations. When Hash Brown is older, they are confident he will also be a star on the red carpet.
According to his owners, Hash Brown is proud to represent Suwanee Magazine's Cutest Pup contest and carry on the Spud Nick tradition. Tater Tot won the contest in 2014 and French Fry won in 2016. Hash Brown has fans that voted for him from all over the world, many of which never missed a day voting. The Thompson family would like to thank everyone that was on board for #TeamHashBrown!
2ND PLACE: Oliver, the Goldendoodle is a fluffy stick enthusiast. He loves treats, adventures and peanut butter. Oliver can be seen trotting around Suwanee Town Center smiling at all the new people he meets. To see more of Oliver you can check out his Instagram @mydoodollie.
3RD PLACE: Cooper, the Labrador Retriever loves everyone he meets! He also loves to play in the leaves, watch TV, and play with his toys!