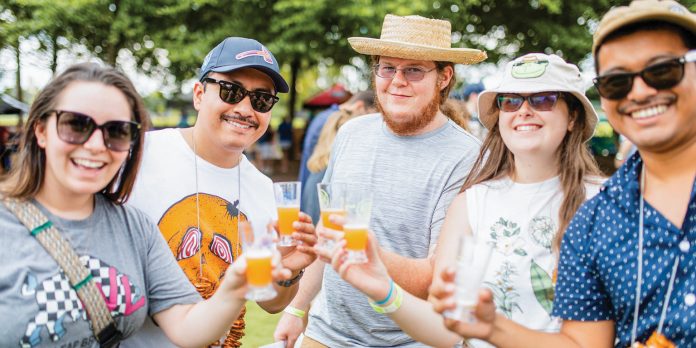 Big South Productions, the company behind Suwanee Beer Fest and its sister events, gives back to our community in big, long-lasting ways.
By Alicia Carter | Photos by Baylee Vidal
Heralded as one of the best craft beer events in the Southeast, the Suwanee American Craft Beer Fest returns to its roots this year. After an unexpected sabbatical in 2020, followed by a postponement to a summertime date and new theme in 2021, Suwanee Beer Fest makes its way back to Town Center Park on March 19, 2022, to reclaim its title as the biggest St. Patrick's Day weekend party in Gwinnett.
In 2020, USA Today named Suwanee Beer Fest as one of the 10 Best Beer Festivals in the U.S., and rightly so. The festival draws more than 6,000 attendees looking to partake in the ultimate selection of more than 350 craft beers from around the country. Festival-goers can choose to stake out the best beers from throughout the nation, or make a beeline to the Georgia Beer Garden for all of the best homegrown craft beers the Peach State has to offer. In addition, event organizers outdo themselves each year with an amazing lineup of musical entertainment, festival games, shopping, and food vendors. The event, however, is more than just a beer festival. Sure, there's plenty of amazing craft beer to drink, but it's also a communal experience where like-minded people gather together to enjoy an afternoon exploring and learning about beer. Plus, it's a great opportunity for local businesses to get in front of a large group of people. It's a win-win for all involved.
"We are excited to leave the heat of summer behind and to paint Suwanee Town Center green again this year," says Tiffany Belflower, Suwanee Beer Fest's event coordinator. "In 2021, we expanded our Georgia beer section by bringing in more local breweries than in past events. Our goal is to top those numbers again this year. We not only bring a large number of local breweries to the event, but the owners and brewers as well. It provides attendees a chance to actually meet and chat with the people behind some of the best beers in Georgia.
Giving Back to the Community
While Suwanee Beer Fest may make headlines as a highly anticipated annual celebration of craft beer, event organizers put just as much thought behind their philanthropic deeds as their party planning. Big South Productions, the metro Atlanta- based event production company behind Suwanee Beer Fest and its sister events, including Suwanee Wine Fest, the Beer Chaser 5K and the Spooky Spirits 5K, tends to fly under the radar for the substantial way it gives back to our community. To date, Big South Productions has raised more than $140,000 for local charities and organizations through proceeds raised from its events. Benefiting charities include Cooper's Crew, Annandale Village, Our Friend Christopher, North Gwinnett Co-Op, Home First Gwinnett and the City of Suwanee's Sculptour.
"When we began our festivals, it was something fun to do for the community. At the time, we had no idea how much the community would embrace our events. They have become annual outings for many — friends, spouses, and co-workers all come together to celebrate," Belflower says. "We saw this as an opportunity to give back in a way few in our area did. People want to get outside and play. Why not use our festivals as a way to create a fun atmosphere and bring awareness to our selected charities? By making a donation from every ticket sold, it is truly the entire festival community contributing to these important organizations."
This year's benefiting charity is Cooper's Crew, an organization that is dedicated to finding a cure for Sarcoma. Cooper's Crew was formed in the memory of Cooper O'Brien, who passed away in 2014 after a long-fought battle against the disease. Diagnosed at the young age of 13, Cooper was an inspiration to all who knew him, and his parents aim to honor his memory by helping to give other kids, just like Cooper, the opportunity to live their lives to the fullest. Cooper's Crew works to bridge the childhood cancer research funding gap and also makes a huge impact here at home, granting scholarships to North Gwinnett High School students who have overcome unique adversities or hardships.
"Suwanee Beer Fest has provided us the opportunity to continue to grow our college scholarship program at North Gwinnett High School," says Kevin O'Brien, Cooper's father and co-founder of Cooper's Crew. "In addition, we are able to give to specific research that involves pediatric cancers."
Community is at the heart of everything Big South Productions does. From creating community-focused events that bring people together for a shared love of beer and wine to paying it forward to local nonprofits who are making a difference right here in our community, the company is making a long-lasting impact here at home.
"Our staff all live in Suwanee and the surrounding areas. Our children go to school here. We shop at local stores. We attend local churches," Belflower says. "The people impacted the most through our charities are our friends, neighbors and co-workers. Their stories have become a part of the Big South Productions story. Their causes are always in need of support and we want to be that support."
---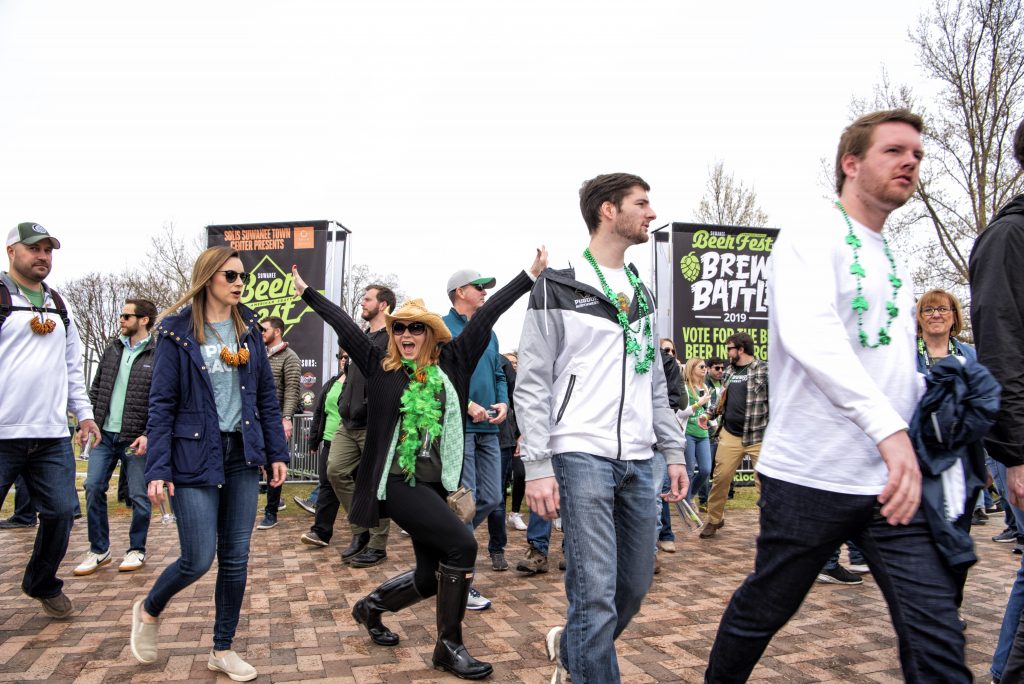 5 Things to Look Forward to at this Year's Suwanee Beer Fest
1. LOCAL BEERS IN THE GEORGIA BEER GARDEN
The Georgia Beer Garden shows our home state some love and features more than 50 local breweries offering samples of their homegrown beers. Each year event organizers add new local breweries to the lineup and this year is no exception. New breweries for 2022 include 6S Brewing Company, Outrun Brewing Company, and Bold Monk Brewing Co.
2. LIVE MUSIC FROM JOURNEY COVER BAND DEPARTURE
After playing the inaugural Suwanee Beer Fest in 2011, the popular band DEPARTURE is set to return to the festival's main stage this year. DEPARTURE is the most respected Journey tribute band in the nation, replicating the look, sound and feel of the original '80s rock supergroup. Their high-energy stage show is sure to have Beer Fest patrons up on their feet dancing!
3. GEORGIA BREW BATTLE
Each year, Suwanee Beer Fest asks festival attendees to vote on their favorite Georgie brewery to help crown a winner in the annual Georgia Brew Battle! Local breweries will offer up their most popular brews and compete for the title of Georgia's Best Beer. Festival attendees will receive a voting token when entering the festival that they can use to cast their vote with their favorite brewery after sampling their beers in the Georgia Beer Garden. Last year Suwanee's StillFire Brewing took home the coveted Golden Cup Trophy. Who will win this year?!
4. FESTIVAL FUN & GAMES
Everyone's favorite beer-drinking activities make their return, including Giant Jenga and Peach State Cornhole. After making their debut at the 2021 festival, organizers are also bringing back giant beer pong and mobile axe throwing! Axecessive Force will be on site with their mobile axe throwing cages, giving attendees a chance to (safely) test out their axe throwing skills.
5. NON-BEER BEVERAGES TOO!
While beer is the name of the game, there will also be non- beer options available at the festival for those searching for something different. In addition to samples of more than 350 craft beers from across the country, attendees can also quench their thirst with samples of seltzers, wines, and ready-to-drink cocktails. In addition, Sugar Hill Distillery will be on hand with an assortment of their liquors.