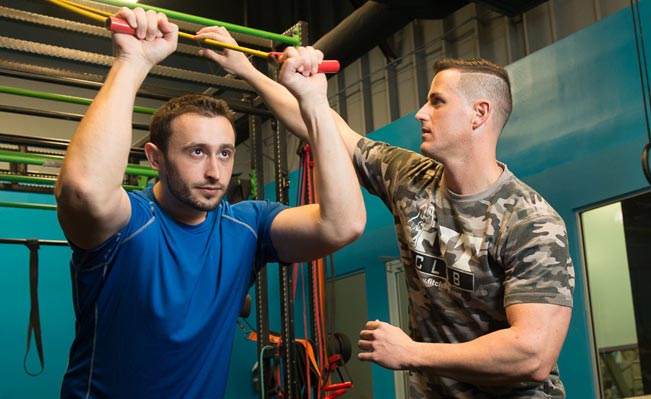 Showing clients what they are truly capable of is one of personal trainer's greatest joys
By: Rachel Fasig
Scott Andrews, owner and founder of Fit Club Inc. has been a Certified Trainer for fifteen years and has helped many people, like Ned Jasarevic tackle their personal fitness goals.
Jasarevic began working out six months ago, for the first time in his life. "When Scott started the Boot Camp class at the City of Sugar Hill, I got inspired to start working out," he said. Prior to that, fitness was something he thought about, but like many others, just "never got up to do it because something always sidetracked me," he admitted. Andrews' outdoor boot camp classes are designed to be scalable – depending on each individual's age and/or fitness level. The fun, high energy and positive team environment helped Jasarevic lose over 40 pounds within months of joining!
"I am so proud of Ned! Most people will never know what they are truly capable of feeling, or looking like. Bridging this gap with clients through knowledge and discipline is one of my greatest joys," Andrews said.
Nationally certified through the International Sports Science Association and the International Fitness Professional Association, Andrews has the knowledge base and expertise that is necessary to customize each client's fitness routines and meal plans. He also gives clients the option to train from the comfort of their own homes or at a gym of their choice, like Georgia Fitness in Sugar Hill.
For Jasarevic, training with Andrews has done more for his life than he could have imagined. "Losing weight has helped me both physically and emotionally. It has given me more confidence, energy, and strength. It has given me a new perspective on my diet and my health; I am now more conscious and aware of the content and health benefits of the food I eat. It has also strengthened my willpower and dedication; therefore, I can now finish anything I put my mind to much quicker," he said.
Less than a year ago, Jasarevic never set foot in a gym. Now, exercise and health are part of who he is. "I want to start helping train others that have been in my situation and encourage them to do the same," he said.
Andrews' Boot Camp takes place behind Sugar Hill City Hall; the outdoor classes are on hiatus for the winter, but kick off again on February 26th, 2015. For more information on Fit Club and the services offered, visit fitclubinc.com.