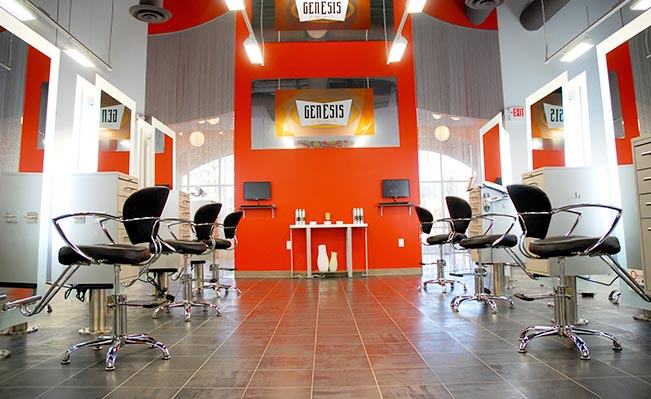 The Heart & Soul of a Metro Atlanta Hair Empire
BY: Rachel Fasig
When Brian Perdue, Founder and Owner of The 124 Group, went to Georgia Southwestern College to study Modern Marketing, he never dreamt that it would lead him to the creation of an award-winning Metro Atlanta hair empire, consisting of a Cosmetology School and seven salons, including Genesis Salon in Suwanee – the busiest within his company. But after getting his hair cut by now-wife Karen during his senior year of college, his career path and mindset shifted.
Brian and Karen moved to Gwinnett County in 1987, where Karen continued her career as a hairstylist at a small four-chair salon off of Highway 124 in Snellville. Watching Karen at work is what truly led Brian to a change of heart. She grew a very strong following of loyal clients, and quickly started making more money than him. "As an entrepreneur, I was intrigued," Perdue stated. And it was at that point he started studying the business of salons and noticed a trend, "I found a lack of consistency in the business and the standards and training. A lot of the clients were fearful of a bad hair experience," he admitted. Although Karen had many trusting clients, the overall salon experience proved inconsistent.
Perdue was searching for an upscale hair franchise that he could emulate as a business model, but there literally were none. "So, at the age of 26 years old, I made the crazy decision to go to cosmetology school!" he laughed. After obtaining a cosmetology license, Perdue worked at a high-end salon in Buckhead directly beneath the owner, and learned the business from the inside out. And, in 1991 he purchased the salon off of Highway 124 where his wife worked – hence the name, Salon 124.
Perdue discovered that education is the key to success in the upscale hair industry and founded The 124 Group based on that principle. "We want to train them consistently for the customer," he said. Salon 124 soon became known as a leading salon for training opportunities and advancement among hairstylists.
"The school was a byproduct of the education being in high demand," Perdue said, referring to Salon 124's Process Institute of Cosmetology in Lawrenceville. Because few schools are actually owned by a salon owner, this gives them a unique vantage point. They have an extremely high rate of job placement after graduation, and many of their stylists begin their career path in the Genesis Salons by 124.
While Salon 124 in Grayson is The 124 Group's flagship store – representing the highest level of hair care experience and service anywhere, the Genesis Salons by 124, "represent the fun, trendy and affordable experience within The 124 Group," but with the same emphasis on personalized attention and customer service, according to their website.
"Most people are working towards promotions and that was one of the things missing for stylists – they didn't have a traditional career path and we are trying to establish that for them," Perdue said. The pricing structure within their salons is based on experience of their stylists. "Measurements are based on things they do that make them in more demand with their clients," Perdue explained. "We don't grow just to grow. As we develop stylists and run out of room in our existing salons, we will open up more opportunities for them," he continued.
Genesis Salon Suwanee is currently The 124 Group's busiest salon and they are passionate about giving back to the communities that support them through involvement in various events, including sponsoring the upcoming Suwanee Performing Art's "Broadway in the Park". Supporting an art production was a natural fit, said David Sitz, Chief Marketing Officer of The 124 Group, "of all the cities that we have salons in, Suwanee is the most culturally-evolved," he continued.
Perdue said they chose Suwanee for a salon location because, "It is a dynamic city with great neighborhoods and a great community environment…we wanted to be part of the heart and soul of Suwanee." It is Perdue's personal mission and the goal of The 124 Group to use the talents they've been given to influence people's lives and help build better communities. "I can't believe where this journey has taken me!" Perdue said. And we're excited to see where it will lead him next. ■