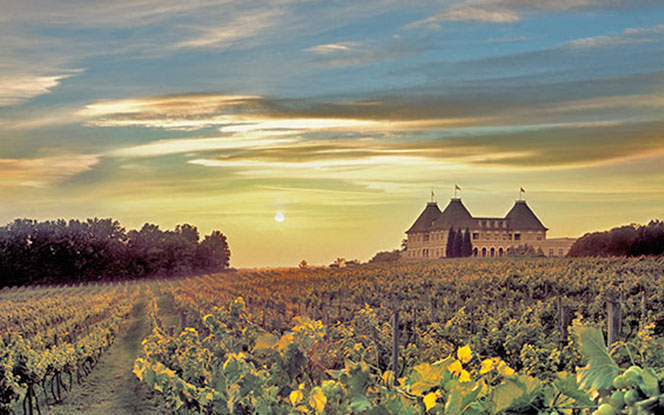 BY: Sean Wilborn, Tasting Room Manager, Château Élan
By now it's well known that our state is one of notable wine production. With nearly 60 wineries in the state, it's easier to get to a tasting room than ever before. From Suwanee it's a short drive up 85 to the closest and largest winery in the state, Chateau Élan, or bear left up 985 and have the mountainous wine growing regions of Helen and Dahlonega in which to delight.
Legacy entrepreneurs have stepped out of the box and into wine production and thanks be to them, for it's as much Georgia pride as it is our love for wine that keeps us wearing out troughs in the wine highway to satiate our palate for local artisan wine crafts. But as romantic as the notion may be, Georgia wine growing has its challenges. Just as the early Europeans discovered, producers in our state face a cadre of obstacles before getting the first ounce of wine into the barrel.
As our recent 2013 growing season displayed, we get a lot of rain and with rain comes a host of molds and mildews that if left unchecked, will annihilate a vineyard. With the warmer winters we've been experiencing, a new and more serious challenge known as Pierce's Disease, a disease caused by the bacterium Xylellafastidiosa. And if that doesn't sound scary enough, grape growers are now faced with a new arrival, the spotted winged fruit fly.
As Doug Paul of Three Sisters Winery in Dahlonega recently reported, "Vintage 2013 was a roller coaster ride. It rained everyday in July and just about everyday in August. That lack of sunshine pushed Three Sisters into the latest harvest ever. We picked our last grapes on Oct 16th. Normally we've harvested by October 1st."
Georgia will always be, well Georgia. Warm, muggy, and downright charming, but the wine movement is here to stay as growers find new ways to work with nature to produce a quality wine.
As Doug Paul states, "Extra sprays will be on the agenda from now on. The good news is Three Sisters Vineyards' 2013 yields were on par and because of the cooler temps in summer and fall, the flavor development of the fruit was outstanding. We made a super Cuvee for our natural sparkling wine which debuts in February."
Simone Bergese, Chief Wine Maker at Chateau Élan took a different approach this year by replanting the entire 30-acre vineyard with resilient varieties that can be grown organically with little drama caused by Georgia's crazy weather. "We are working with native varieties and making them in a classic European style. In doing so, we are producing award winning wines from grapes that are often overlooked as a serious contender for premium wine production."
Simone's meticulous process has resulted in some lean, crisp and surprisingly dry wines from the muscadine variety that will make you forget you're drinking muscadine wine. "Though I'm also committed to the classic European varieties such as Chardonnay and Cabernet Sauvignon, we are also doing exciting things with muscadine and proving that you can make a premium dry style with this variety, and we have even more exciting plans with it in 2014 and 2015."
We're moving into a new phase of Georgia wine as growers become firmly positioned for the long haul, they are also discovering how to refine their practices and to adjust to the kind of growing seasons like 2013. Look for even more exciting wines from your favorite producers and keep your eye out for new entries into the market as new entrepreneurs choose the tough profession of winemaking. And as always get out and support your local winery. Cheers!