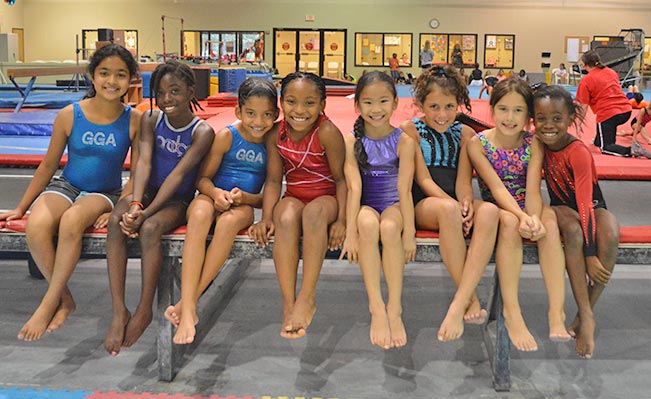 Creating Lifelong Memories
BY: Mackenzie Stephenson
Photos: Rachel Fasig
Parents want the best for their children. When choosing activities for them, there is a great deal of care put into finding a safe, fun, learning environment, full of people who will care for their child.
Many parents looking for a fun and active place to take their children have found a home at Georgia Gymnastics Academy (GGA). GGA started in Lawrenceville in 1987 and opened its second branch in Suwanee a year later. There were no gyms in the Suwanee area and it seemed like the ideal location.
Meg Moreno, the Class Instructor, Pre-Team Instructor and Special Events Coordinator, told us about her family at GGA. The three owners, Jenette Samoray, John McNair and Jeannie Samoray, "were parents of gymnasts and that's how they came about opening the gym. They decided to see if they could delve into that business and open their own gym," Meg said.
GGA is home to almost 1000 students at the Suwanee gym alone. They offer boy and girl classes for all ages, from 16 months to 18 years old. There are also competition teams for boys and girls from 6 to 18 years old. "It is the goal of all team kids to hopefully one day get a college scholarship," Meg said, and GGA's goal is to help them reach that.
When asked about competitions, Meg told us a lot of girls on their team program have made it to Regionals and then Nationals. Their boy's program just recently competed in the Boys Jr Olympic National Competition and there were several boys who placed in the finals. They've also had many State champions over the years.
One of the girls who trained at GGA and now works there during the camps, Marie Priest, got a full athletic scholarship to Illinois State University— a Division I school. "I started doing gymnastics at GGA in 7th grade and I've worked here for the past two years…I love that we're a big family and that no matter what, you can talk to coaches and they treat you like you're their own." Marie said. Other schools that some of her teammates have received scholarships for in the past are: North Carolina State University, West Virginia University, Southern Connecticut State University, Southern Utah University, Bowling Green State University, Central Michigan University, Texas Women's University, and Iowa State University.
During St. Patrick's Day and Suwanee Day, GGA holds lock-in slumber parties. Meg said, "We do one every Suwanee Day and it's open to the public." They also participate in the Suwanee Day parade every year along with holding stage performances. "Our kids have won awards several times at Suwanee Day for the themes they do during the parade," Meg added. She also spoke of "Kid's Night Out" which is open to the gym and the public. It occurs once a month, costing $25 per kid for the general public and $20 for members. Kid's Night Out is a 4 hour activity where the parents can drop their kids off in a fun and safe environment and then have a date night of their own.
"Every year at the end of the year we throw a giant fun meet competition for our class students," Meg said. "We start the year by teaching them skills and at the end of the school year, we teach them how to put that into a routine." The kids are able to show their parents and friends what they have learned during the year without the pressures of competition. Instead, they are able to showcase their skills while having fun and enjoying the routines.
Meg talked about how they have some kids that come in and use gymnastics as a form of physical therapy. Jeff Donahoe with Children's Healthcare of Atlanta started bringing some of his patients who might be struggling with different issues, such as sensory stimulation, and they make tremendous progress at GGA. "He's a physical therapist and then when he saw some of our gymnasts go to him with injuries, he wanted to check out what was going on for himself and decided it'd be a great thing for some of his other patients with different disabilities to experience." Meg explained.
GGA is a place where the teachers feel like a part of the kids' lives. "One of my favorite things about the gym is that we watch them grow up in the gym and then they end up working with us." Meg told us. Everyone, coaches and gymnasts alike, are a big family at GGA. They work together roughly three times a week and the coaches really invest in these children's lives. It's more than just a fun place to get your children more active; GGA is a second home.
Meg explained that one of the most rewarding things about teaching at the gym is that she has had the opportunity to get to know these kids from age 2 – 18. She's really seen these kids grow up. "Even the kids that compete for a couple years and then go on to other things…we'll still get letters from them in college and after saying 'Thank you! Gymnastics has really helped me in other areas of my life,'" she said, getting choked up. She, along with all the other instructors at GGA, genuinely care about the children participating in the activities at GGA. Many parents in Suwanee and surrounding communities have found GGA to provide a fun, caring environment for their children where they have made lasting friendships and memories.
For more information on the classes they offer and the other special events they have, visit their website at ggacademy.com.