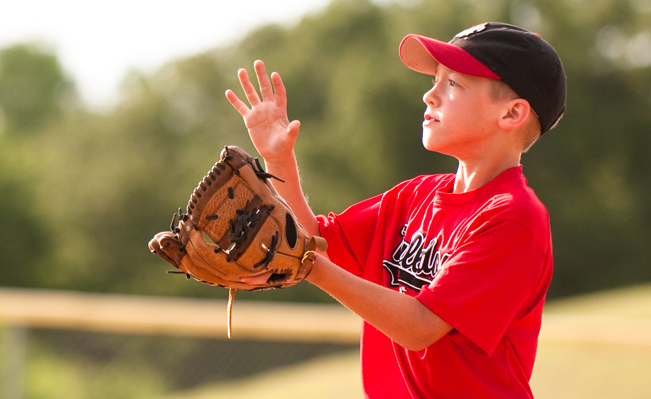 Activities that your kids might take for granted, could be a life-changing experience for a kid who has no dad, no mom, or support system. 
BY: Chris Singleton
I was only in kindergarten when I had my first run-in with the "law". I had walked about a half mile home after school one afternoon and climbed through one of the small windows beside the front door of our house. Once inside, I would keep things simple. Don't turn on any burners and just play with some toys or watch an episode of "Leave it to Beaver" or "The Andy Griffith Show" until mom got home from work. I know, a five year old shouldn't be looking after himself for a few hours until an adult gets home, but that's what I had to do. At least, until I heard the knock at the door…
On the porch stood two men dressed in suits. They asked to speak to one of my parents. I told them my mom wasn't home from work yet. They told me that I was too young to be at home alone and they would have to take me into custody. They were either truant officers or undercover cops. Sitting at the Richmond Police Station was surreal but not scary. I knew I hadn't done anything wrong. I had just done what I was told. My mother, upon receiving the phone call, left work early to come pick me up. She received a strong warning from the authorities and that was the last day I went home after school to an empty house.
I'm so grateful to my mother. She raised me as a single mom. She worked a man's job at an oil refinery and did so much more than she had signed up for when she said "I do" to my father years earlier. She fought migraine headaches to keep a roof over my head, food in my stomach, and clothes on my back. She was rarely able to take me to a soccer or baseball practice and she definitely didn't get to see all my games. Every day was "gameday" for Emma as she was grinding it out at Union Oil Company trying to give me and two other siblings the essentials to life and some of the "wants" as well.
Spring is a time when the weather starts to get us back outside with all kinds of sports activities, festivals, and even camps leading up to the summer. As a former Major League Baseball player, many people assume that I was able to develop my skills at camps in the spring or summer when I was a kid. That wasn't the case. My family didn't have the resources for me to do that. In fact, I can only remember having one brief batting lesson throughout my entire youth. So where am I going with this? Well, as I often look back on my life and reflect on the journey, I can't help but think of some of the key people that unselfishly and unknowingly helped my mom and me.
They were men and women in my neighborhood. Some were my coaches and others were just parents of my friends. They invested in me during a time when it wasn't assumed that every other kid in the neighborhood would get a college scholarship or become a professional athlete. They drove me to practice or brought me home. They took me out for pizza or let me sit at their dinner table and enjoy a meal with them when my mom had to work late. Without these caring individuals and families, I probably would not be writing to you today. Things would have turned out much differently for me!
So here's my point… Please take a careful look around you. Some of you might have to look a little farther and strain your eyes to see it, but… is there a young kid in your area who doesn't have much opportunity or the resources to do things like sports camps or summer camps this year? Activities that perhaps your kids might take for granted, could be a life-changing experience for a kid who has no Dad, Mom, or support system.
Studies show that kids who go to camp build more self-confidence, gain healthy independence, and develop lifelong skills. Maybe you could just help a kid or family who truly can't afford to play baseball or soccer this spring. Never underestimate how impactful it could be just to give a kid a ride to a practice or game who wouldn't be able to get there otherwise. Every "little" bit helps and together as a community…WE DO GOOD.
Will you do me a favor? Please write me and tell me about an opportunity you have had to impact a young person's life, how it affected you, and how you think it affected the kid. I would really like to hear from you. These stories serve as an inspiration and encouragement for me personally to continue giving back.