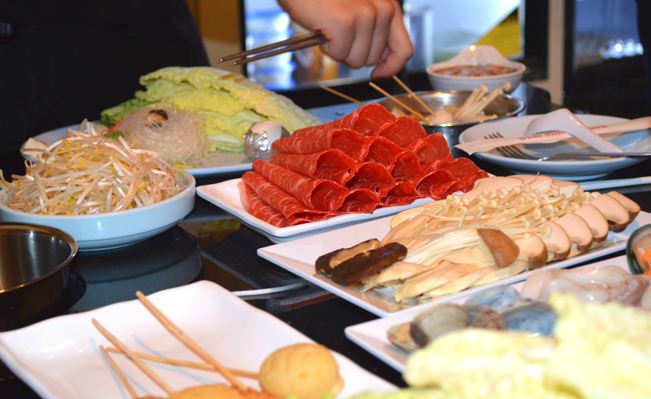 BY: Mackenzie Stephenson
One of the newer restaurants to open in Suwanee is a place called Gom Shabu Shabu, open for a little over a month on Lawrenceville Suwanee Road. The restaurant chain originally started eight years ago in Duluth, one of the first Shabu Shabu restaurants to open. But, with many of their customers also coming from Suwanee, owners Ms. Mun and Mr. Tay Kim, along with their son Jason Kim, decided to open a location in Suwanee. Originally from Korea, their goal isto give others, including families and customers who aren't Korean, a new experience and way to dine.
We were able to speak with Jason Kim on our visit to Gom Shabu Shabu and he told us his family moved from Queens, New York 10 years ago. His mom had previous restaurant experience in New York; she owned several sushi restaurants and a few bars. "As we stepped into this, my dad took over the kitchen aspect and ordering while my mom runs restaurant operations." Jason said. Jason acts as General Manager; he circles the floor to make sure customers are satisfied and to see if they need any help making their food.
The name Gom Shabu Shabu comes from the dish Shabu Shabu and Jason told us "Gom" was his mother's nickname. It means bear in Korean.
The food at Gom Shabu Shabu is a blend of Korean and Japanese styles. Shabu Shabu is originally a Japanese dish featuring thinly sliced beef boiled in water, but at Gom Shabu Shabu they have put a Korean twist on the traditional Japanese style. All of their broths and sauces are made in house and have five levels of spiciness to choose from. When asked about the most popular item on the menu, Jason said it is their premium and regular beefs along with seafood options.
Jason continued to say his favorite thing to do is cook everything fully in the broth and then add noodles at the end to eat as a soup. "You can take your time and enjoy the experience over the course of an hour." He told us, adding that this style of dining is perfect for long lunch meetings or even dates. Regular customer Tony Hahn was there with his family and out-of-town guests. He said, "The food is exceptional because its both delicious and a very healthy way to eat. It is good for both vegetarians and and meat lovers." Gom Shabu Shabu is a restaurant that takes great care to provide a healthy style of eating for their
customers. Everything is all natural and fresh, with over ten veggies that go into the making of the broth alone. Shabu Shabu is a meal where customers are able to cook their own food right at the table in a hot-pot. At first some people might be a little intimidated to cook their own food, but Jason says they learn to love the experience. Gom Shabu Shabu does have a "non hot-pot menu" for children in case parents are worried about the hot broth provided for each customer.
They do recommend reservations for parties of 6 or more and have a private dining room that can be reserved as well. Right now, Gom Shabu Shabu is running an alcohol special: sake is going for $1.99 for a small bottle and $3.99 for a large. If sake is something you enjoy or want to try, now would be the best time to purchase some! 
For more information, check out their website at gomshabushabu.com and be sure to visit their restaurant on Lawrenceville Suwanee Road.