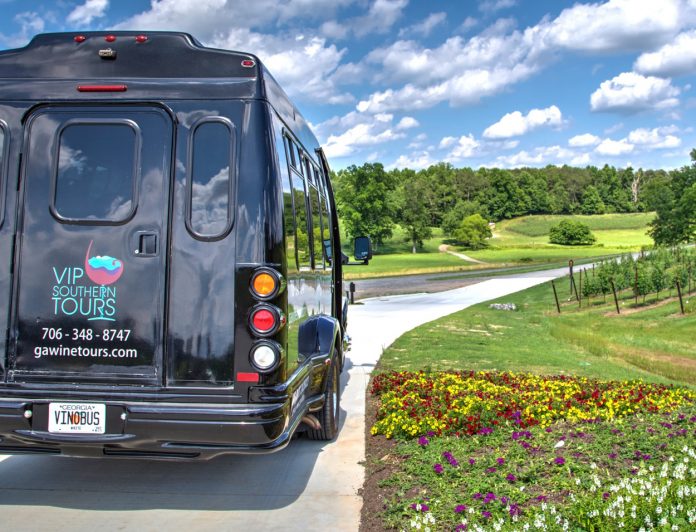 A Day on the Unicoi Wine Trail with VIP Southern Tours
By: Rachel Pillow | Photos by: Charles Ernst
On a beautiful spring morning, some of the women on our staff met at our office in Gwinnett and climbed aboard the VIP Southern Tours luxury bus. From there, the entire day was truly a VIP experience. VIP Southern Tours was formed three years ago and is owned by husband-wife team, Charles and Chistina Ernst. Their mission: "to provide the finest wine tour experience on the East Coast." VIP Southern Tours offers wine tasting adventures at a variety of wineries along the Unicoi Wine Trail: a wine lovers destination located in White County, Georgia. Their partner wineries include: Habersham, Sylvan Valley, Serenity Cellars, Yonah Mountain and Cottage Vineyards.
A WINE-FILLED, FUN-FILLED DAY
Tours include four wineries, tastings at each and a gourmet picnic lunch; although they can customize the experience based on individual needs or preferences. On Sunday tours, you will visit three wineries as opposed to four since wineries open later. We went on a Sunday, but still had the most wine-filled, fun-filled day we could hope for!
We had the luxury of Charles being our tour guide and driver for the day. Charles and his wife, Christina, are passionate about the North Georgia culture and specifically about supporting the local wine community. He was extremely knowledgeable, friendly, accommodating and fun!
Personally, I'm a bit wary of guided tours and especially tour buses, but this was truly a VIP experience, with the added benefit of no one having to worry about driving to and from each winery. Charles and Christina pay great attention to detail, ensuring an unforgettable day. Each tour will vary slightly and they can even accommodate tours in other regions including the Dahlonega Wine Trail or Rabun County Wine Trail.
OUR UNICOI WINE TRAIL ADVENTURE LINE-UP:
---
Serenity Cellars – CLEVELAND, GA
Our first stop was Serenity Cellars, a beautiful, family-owned boutique winery inspired by the Italian lifestyle. Owned by award-winning winemaker, Joe Smith, Serenity Cellars specializes in combining Old World-style artisanship with modern techniques to craft exceptional wines with unique character. Our tasting lineup included: September Oaks Sauvignon Blanc, Pinot Grigio, Chardonnay, Traminette, La Famiglia Rosso and Contentment Red Blend.
Smith makes wines for about 14 different wineries, from Florida to Maine, and captures the essence of what each climate has to offer. In the San Francisco Chronicle Wine Competition, his Traminette has won double gold, best in class and best white in the US. "But to me, a gold medal is when the customer comes in and is very happy, loves the wine and leaves with the bottle. We make wines that you will only taste here and nowhere else," said Smith.
Joe and his wife started the winery in 2005 with the goal of making it a community-oriented, family-style destination. They have an outdoor brick pizza oven and invite families to bring their own dough, sauce and toppings and have a chef that will cook it for you at no charge. "The community comes out, shares pizza and wine, and we have live music going – it really is an extension of our home," said Smith.
---
Yonah Mountain Vineyards – CLEVELAND, GA
Next up was Yonah Mountain Vineyards, which boasts the only wine caves in the state of Georgia. The winery overlooks the breathtaking scenery of Yonah Mountain. Owned by husband and wife, Bob and Jane Miller, Yonah Mountain Vineyards has similar characteristics to many Napa Valley wineries. Of course, the North Georgia climate is much different than the California coast and produces different grapes, but that is something that the winemakers celebrate, not fight against.
We had the opportunity to taste Yonah's Genesis 8: a Cabernet Sauvignon married with complex notes of Merlot, Malbec, Petit Verdot and Cabernet Franc. Genesis is their flagship wine and this is the eighth time it has been produced. "Each year we leave a little wine from the previous vintage in the barrel during the aging process," explained Miller.
The largest of the wineries we visited, Yonah Mountain Vineyard's 200-acre winery plays host to many special events, weddings and unique experiences such as the "Wine Club Cave Dinner" – a gourmet, wine-pairing, tasting dinner with their most premium bottles.
---
The Cottage Vineyard & Winery – CLEVELAND, GA
Owned by Jim and Sandra Penner, Cottage Vineyard & Winery's tasting room and patio offers gorgeous views of the North Georgia Mountains. They seek to make the finest vinifera-based wines in the Southeast. Vitis Vinifera grapes are native to the Mediterranean region, Central Europe and Southwestern Asia, but thrive in the South's humid air.
When Jim's Air Force assignment took him to Germany with travels throughout France and Italy, his love and appreciation for wine blossomed. After retiring and moving to North Georgia, he took up winemaking as a hobby, which then led to a passion and ultimate career when he and his wife opened The Cottage Vineyard in 2012.
At this winery, they gave our group a list of all wines available in the tasting room that day, described them to us and then let us select the five we wanted to try, based on our individual tastes and preferences. The Penners are focused on crafting delicious wines, but are also intensely focused on creating memorable experiences. One such way is with their North Georgia Honor Wall that memorializes and honors US veterans. This monument has become a destination that North Georgia residents and visitors alike are proud of.
---
VIP Southern Tours gave us a day filled with memories we will always cherish, while providing us with newfound knowledge, love and appreciation for the Unicoi Wine Trail!
For more tour information, go to gawinetours.com. ■