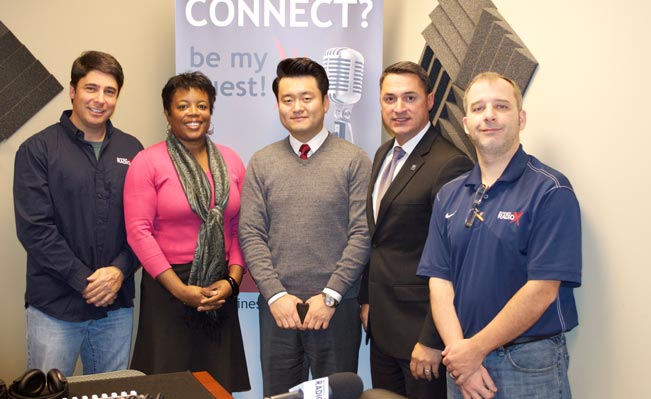 Business RadioX show gives local businesses opportunity to share their stories
By: Rachel Fasig
"Everyone has a story to tell," said Mike Sammond, Radio Host and Producer at Gwinnett Business Radio. "I'll never forget when my Studio Director said, 'There are 300,000 people in Columbus – so there are 300,000 stories to be told,'" he recalled. That was Sammond's first radio gig, fresh off a UGA Broadcasting Degree; but the notion stuck with him throughout his career and "now it has come full circle," he said.
Lee Kantor founded Business RadioX in 2007, out of Sandy Springs, Georgia with a simple "pro business" goal: give local businesses the opportunity to share their insights and experiences to an engaged audience, without the commercial interruption of traditional radio. "They started doing podcasts before podcasts were really "a thing" and now it's the future of radio broadcasting," Sammond said.
By providing local businesses the opportunity to share their work with thousands of potential customers, investors and decision-makers – Business RadioX has quickly become the fastest growing B2B online radio network in the nation.
Gwinnett Business Radio came to life two years ago when Kantor met with Sammond and recognized the need for such a platform within the thriving business economy of Gwinnett County. The Gwinnett Studio is one of seven Business RadioX network locations and marks the beginning of an aggressive national and international plan for growth.
"With thousands of businesses in Gwinnett County, everyone has a story to tell, whether its the CEO of a billion dollar business, a startup entrepreneur or a local nonprofit," Sammond explained. "What we do at its core and essence is give back to the business community by offering a voice for the businesses, and there's never a charge or cost for them to do so," he continued.
Mike Sammond's extensive background in radio and television is apparent as he effortlessly guides his guests through a 45-minute Q&A format show. His experience ranges from Television Reporter for the Olympic News Channel, Sports Anchor at CNN Headline News and Talkshow Host on Sports Radio 92.9 The Game. Many guests on Gwinnett Business Radio have minimal on-air experience and are a bit nervous at first, but Sammond's professional yet easygoing demeanor makes the experience conversational and enjoyable; with many asking to join the show again.
In two years, nearly 800 business leaders have shared their stories on Gwinnett Business Radio, to an audience of thousands of listeners. The shows are saved as podcasts and are available on iTunes and the Business RadioX website.
"We are providing a unique and out of the box way for them to market their business," Sammond said of his guests. "We always try to have variety on our show and not have competing industries on air at the same time," he continued.
For some, being a one-time guest of the show is just the beginning. There are currently five shows at the Gwinnet
t Studio, each one hosted by a local business professional looking to utilize a different marketing platform. Having their own show provides an unparalleled opportunity to connect with a local audience and a unique platform to invite clients to similarly share their stories, while reaching thousands.
As of December 2014, alexa.com ranked Business RadioX as the 98,357 most-visited website in the nation and at 267,131 worldwide. Just two years ago they were ranked in the 300,000s – evidence of their rapid growth and popularity. Already located in Metro Atlanta, Wilmington, Chicago and Metro Raleigh – Business RadioX is set to open studios in major cities across the nation. Sammond summed it up by saying, "Wherever business is being done, we want to have a Business RadioX studio."
If you are a Gwinnett business that is eager to share your story, or are interested in learning more about hosting your own show, please visit
gwinnettbusinessradio.businessradiox.com for additional information.