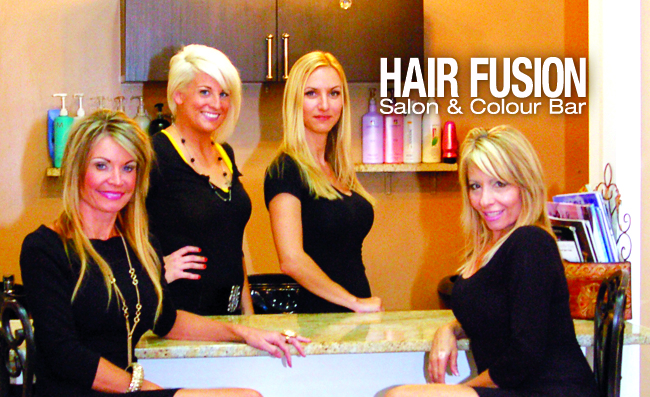 Hair Fusion Salon & Colour Bar opened in Suwanee January 2012. Located on Peachtree Industrial Boulevard, the salon features an array of services specializing in creative
coloring and precision cutting and has a diverse group of stylists from countries around the world such as Bulgaria, Ireland, and Spain. Even Joann Hossri, owner of the salon, adds her own Lebanese European flair, and it's the different backgrounds and cultures that Hossri said allows the stylists to offer creative ideas from around the world in keeping with newest styles and trends, all while offering a special overall salon experience to help clients reach the look they want.
Since the holidays are here with corporate parties and other "get togethers" with family and friends added to the social calendar, perhaps it's time to think of some fun ideas for holiday hair.
Hossri said this season's styles include adding a little flair to what you already have.
"If you normally wear it (your hair) straight, make it wavy with a touch of flair," she said. "And if you wear it curly, you can use a flat iron and add either some fun colored tinsels or brightly colored hair extensions."
Hossri also added that braids are really big this year, from the fishtail braids, the waterfall braids or just loose sexy braids – "they are all very popular."
Hossri owned a salon in a nearby community for about 12 years before relocating to Suwanee for its upscale flair. For more information about Hair Fusion Salon & Colour Bar, visit www.hairfusionsalon.com.
BY: Tana Christian Suggs
tana@suwaneemagazine.com