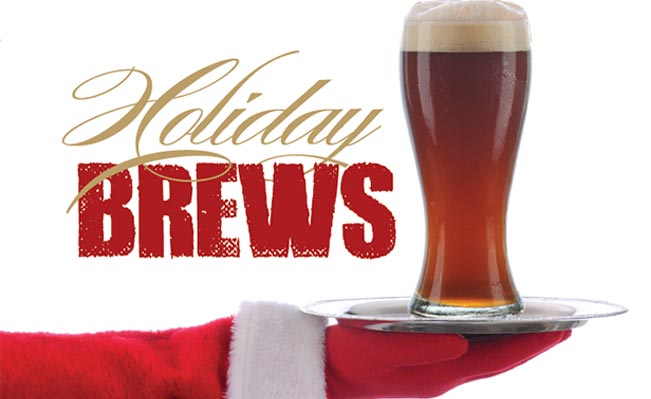 BY: Curtis Stockwell of The Beer Growler, Suwanee
It's amazing how time flies when you have good beer in your life! The holiday season has come upon us swiftly this year. It is time for cold weather, family gatherings, and, of course, satisfying seasonal beers for all to enjoy.
As previously mentioned, I am a huge fan of cooler weather and the beers that accompany it. There are several you should check off your list this holiday season.
I will begin with my favorite Winter Warmer style beers, with a flavor profile that varies widely. For the most part Winter Warmers have a recurring theme: smooth, strong malt presence, with touches of spice, and higher alcohol percentages.
There are three beers that immediately come to mind. Highland's Cold Mountain has to be number one on my list. It has a great spice profile that tends to vary year to year with hints of vanilla and hazelnut shining through the most. Breckenridge Brewery unleashes their Christmas Ale this time of year, and I have to say, it is an extremely close second.This brew has a nice sturdy malt backbone with flavors of caramel and chocolate that really bring the room together. The wonderful balance in this beer keeps this brew in my top 3 year after year. Last but centainly not least, would be Widmer Brothers Brewing Brrr Seasonal Ale. As I mentioned earlier, the flavors of Winter Warmers vary widely and this one deviates from the taste profile of the Highland's Cold Mountain and Breckenridge Brewery' s Christmas Ale. It is technically a red ale with some citrusy hop notes up front but then finishes slightly sweet with touches of chocolate and caramel. This brewery also ages a smaller portion of the Brrr Seasonal Ale in bourbon barrels to make Barrel Aged Brrrbon, a seasonal beer that is really elevated to the next level. It combines all the flavors already alive in the beer with a smooth oak, vanilla, and bourbon twist. It is a must try if you come across it.
Terrapin and Sweetwater both present some seasonal brews that should always be within arm's reach during this chilly season of the year. Sweetwater's Festive Ale is a winter time staple in Georgia. This strong ale, with a huge malt presence, brings well-balanced notes of cinnamon and nutmeg. If you come across it on tap, you should make sure that gets it into your hands (and mouth)! Terrapin's Wake 'N' Bake is a thick and rich coffee oatmeal imperial stout that delivers tons of coffee flavor. This beer encompasses the meaning of a coffee oatmeal stout through and through. It has a great mouth feel and progression of tastes and flavors as you enjoy each sip. Last season, Terrapin created a variation of this beer called the Cinnamon Roll Wake 'N' Bake which was amazing. If you were lucky enough to try it I believe you would agree with me. We'll see if Terrapin has anything interesting up their sleeve this year for Wake 'N' Bake!
As always, I have barely scratched the surface of the unique beers available during this time of year. I just wanted to let you in on what I am looking forward to most! Good luck on your beer endeavors and I hope you guys have a safe and wonderful holiday season!