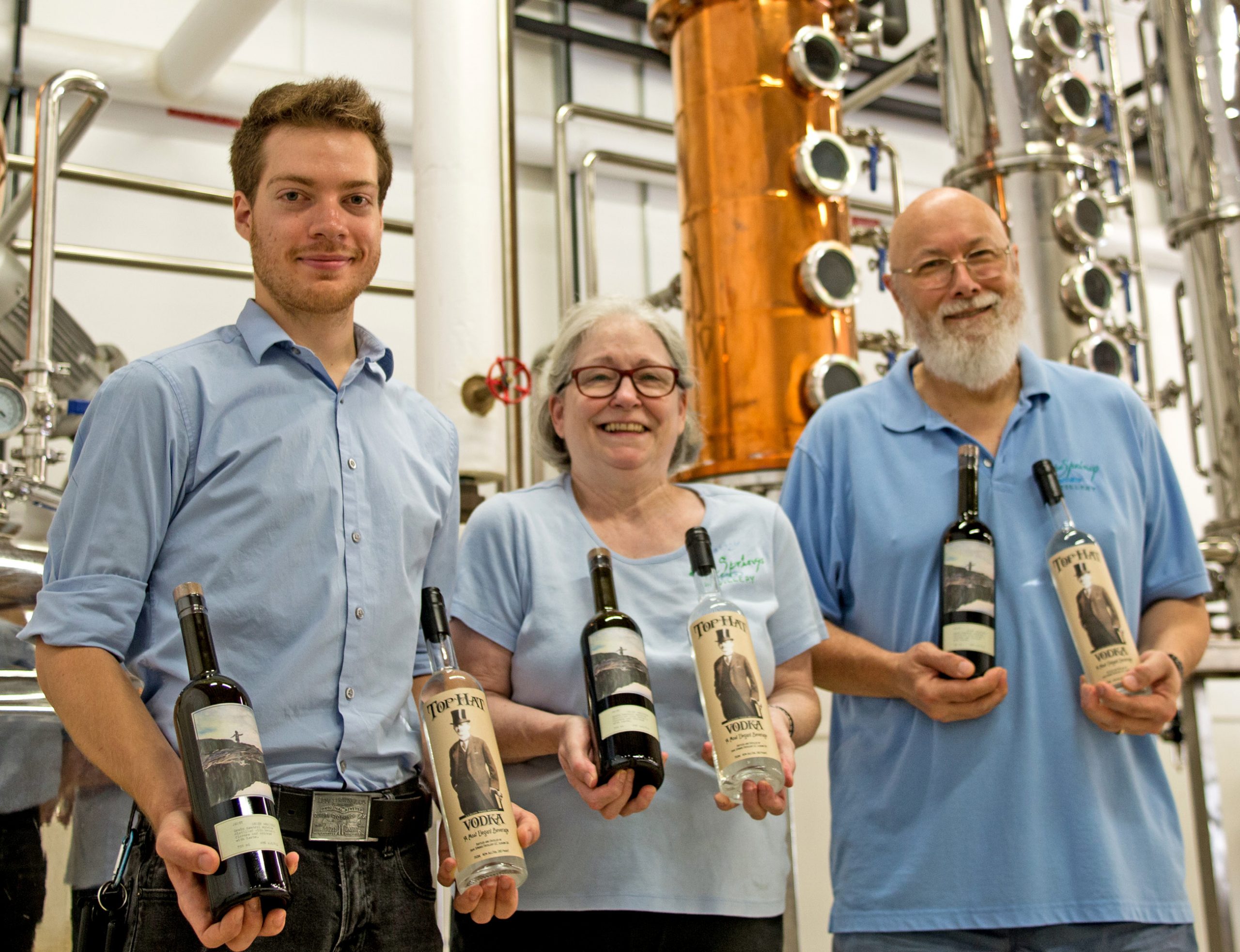 Hope Springs Distillery, Gwinnett County's first distillery since Prohibition, creates small- batch spirits with lots of love.
By: Alicia Carter
Hope Springs Distillery is a labor of love for Paul Allen and Betsey Dahlberg. After finding themselves unemployed later in life, they turned a 20-year hobby of brewing beer, wine, and mead into a career in distillation. Tucked away in downtown Lilburn, the small craft distillery — the first and only in Gwinnett County since Prohibition — has been turning out batches of vodka and gin since 2017. Jaz Jarzewiak joined the team a few months later and added absinthe to their curated list of products, which includes Top Hat vodka and Garner Creek gin. The names of the spirits they produce are nods to the local community, the inspiration behind much of what the Hope Springs team creates. "It's a tribute to this place," Betsey says. "The county has been great to us. The city has been great to us. It's so much better in a small town where everybody looks out for each other."
We recently had the chance to sit down with Betsey and Paul, who talked about the process of opening the distillery, their love for the history of their community, and why they don't plan to expand any time soon.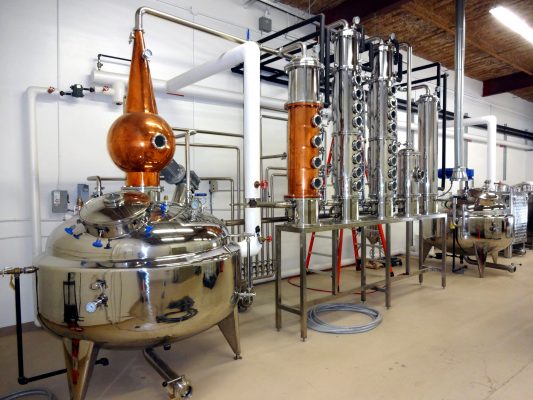 Why did you decide to open a distillery?
Betsey: Paul and I both found ourselves unemployed in our 60s during the Recession, and it became clear nobody was going to hire us, so we had to have a business so we could hire ourselves. We had made beer and wine at home for many years, and we started reading about all these craft distilleries popping up, and I said, "Paul, let's do that! We know how to do that!" So we decided that's what we would do. And then we got into it and we realized we didn't know how to do that. So we had to take some classes. But the more we learned about it, the more we decided it was going to be a fun thing to do, and our goal was to have a place to go every day to do things we would enjoy, and hopefully make enough money to support ourselves. We have done most of that. We are not yet to the point where we are making lots of money, but we're getting there.
When did Hope Springs Distillery officially open?
Betsey: It all runs together in your mind after a while, but we were incorporated in 2014. We've been in this building since 2015. We didn't actually start the build-out until the next year. We got our license in 2016, the still in 2017. We finally got product out in 2017. I can't tell you exactly when we "opened" because even when we had product on the market, we weren't open to the public until April of 2018 when we got the tasting room.
Paul: The process is incredible. You have to have a building ready to go. You have to have special locks. You have to have a layout of the equipment that you don't have yet. You have to have your still on order — lead time is, depending on the brand, one to two years. Then you start applying to see if you can use this pile of money that you just spent. You apply to the federal government to see if you if you can get a distilled spirits permit. They passed a law sometime during that period that allowed us to sell directly out of the tasting room.
Betsey: It was Senate Bill 85, and it went into effect September 1, 2017, which we all celebrated.
Why did you choose to open in Lilburn?
Betsey: We needed to be in one of the incorporated areas that allow liquor sales, because we knew all along the possibility would come up that we would be able to sell directly, so we needed to be in a place where that would be allowed. Plus, all of the places that we visited before we went into business — we went to a lot of different distilleries, and the best ones were all in a small town. And we thought, "That works for us." So we looked at several places in Gwinnett County, and Lilburn was the place that said, "Yes! We would love to have you here! Please come, we'll find you some space." So that's why we're in Lilburn.
Where did you get the Hope Springs name?
Betsey: My parents came to Atlanta in the early '40s. My father always wanted to be a farmer, and they bought 50 acres in Stone Mountain. My mother wasn't really sure they were going to be able to make a go of it, so she said, "Well hope springs eternal." And that's how the farm was named. When we decided to open the distillery, Paul asked what we should name it, and I said, "Hope Springs!"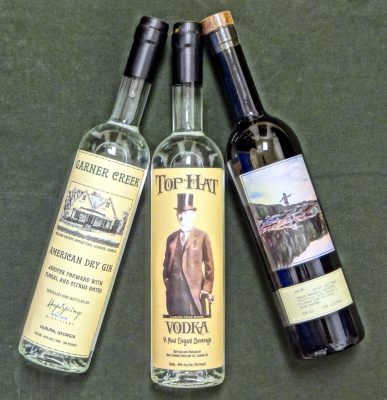 How did you come up with the name Top Hat vodka?
Betsey: We knew our first product was going to be vodka and we were looking for a name for it. We could've just named everything Hope Springs, but I really wanted to name things that would give a clue that it was local. So we were looking for something that had a connection to Lilburn. We saw a photograph [of Lilburn Trigg Myers, the city of Lilburn's namesake, in a top hat]. The gentleman at the antique store is kind of the unofficial Lilburn historian, and he had this scrapbook that had this picture in it and we thought, "We have to have it! That's got to be the label!" We had visited a liquor store a year before that and we were looking for another local distillery's products and it was hard to find because their labels are not — they don't jump out at you that this is a local product. The manager of the liquor store said to us, "You need to put a name on it that will tell people — you don't want to hit them over the head with it, but something that will tell them it was made here." So that's why we were looking for something with a local connection. When we saw that picture I said, "That would be perfect. We'll name it Top Hat vodka and we'll put this picture [of Lilburn Trigg Myers] on it."
What cocktail would you recommend creating with the vodka or gin that you produce?
Betsey: The vodka you could mix with just about anything, because it's supposed to have no taste. Our vodka does have a little bit of a taste. It's a clean and smooth taste. Here in the distillery and tasting room I can only make drinks that have alcohol I have produced, so most of my drinks here are made with some kind of fruit or vegetable and either the vodka or the gin. The absinthe we usually just dilute with water to serve it here.
Do you have plans to expand?
Betsey: We are going to create other spirits, but we don't ever intend to get really big. We want to keep this a small craft distillery. Another reason for that, people were asking me why we think our product is better than something produced on a larger scale, and I said, "Almost any of the spirits you buy from any craft distillery in the country are going to be better than anything commercially made because those people are making what they want to drink. So they're paying attention to what the taste is and not just trying to make it inoffensive to a large number of people. So that's one reason to stay small — we want to keep the quality of our products high.
Hope Springs Distillery is located at 4839 Railroad Ave. N.W. in Lilburn. Tours and the Tasting Room hours are Friday and Saturday, 2-5 p.m. or by appointment.