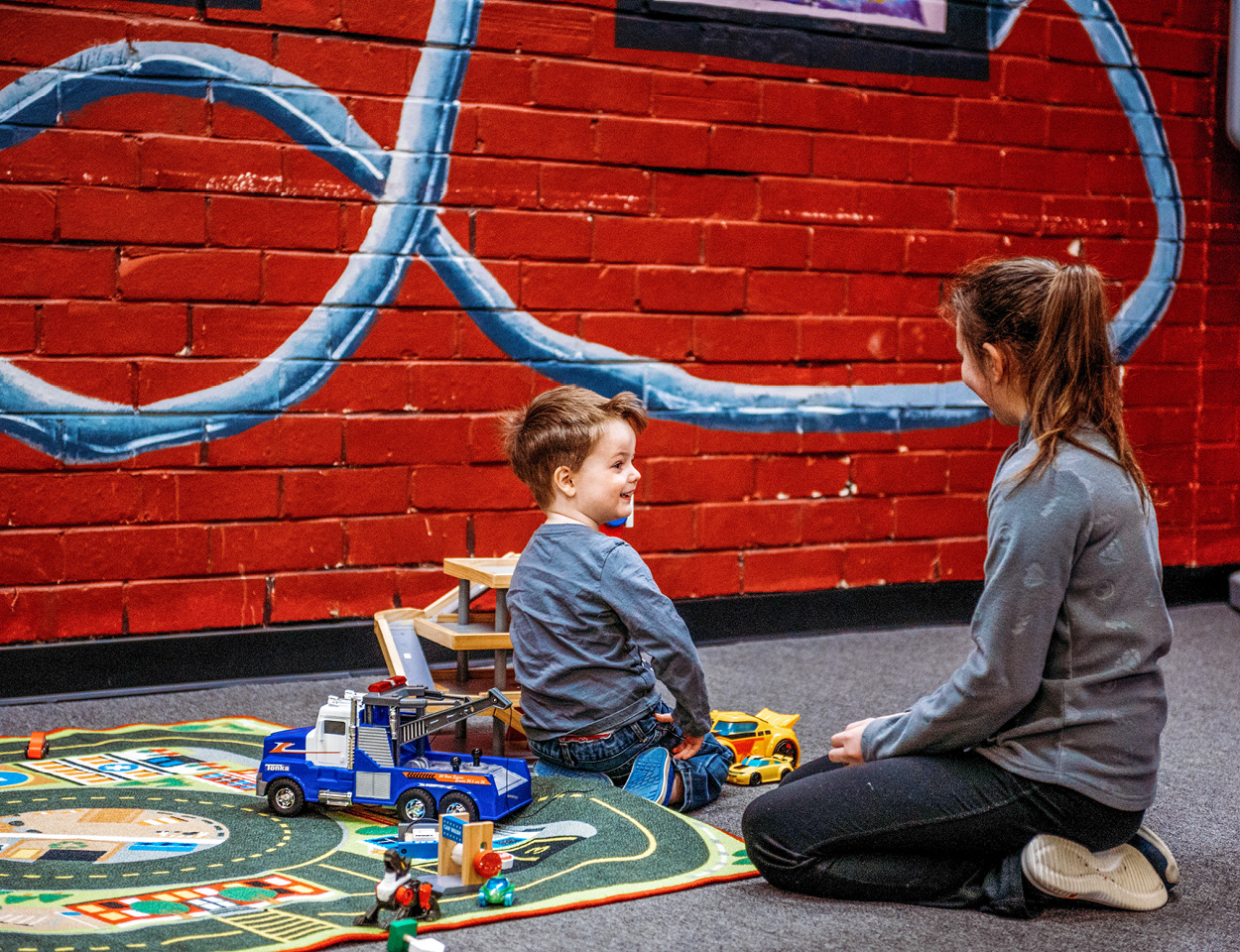 By: Alicia Carter | Photos by Ashleigh N. Croft and Alicia Carter
In a nondescript building off of Athens Highway in Gainesville, a little girl takes the stage dressed in a pink skirt, sparkly fairy wings, and a cowgirl hat reminiscent of the one Jessie wears in Toy Story. She's belting out a heartfelt rendition of "Happy Birthday to You" for an adoring audience. Her stage partner, dressed in a crown and holding a bright red toy guitar, cheers her on while dancing an impromptu jig.
In another room, a grandmother watches as a young boy collects an assortment of grocery store goodies in his mini shopping cart and then loads them onto the checkout line. A young girl enthusiastically rings up his purchases as an older gentlemen jokes, "How are you going to pay for all of that, bud?"
There are other children scattered around the building acting out similar scenes — a train conductor tips his hat to passers-by, a veterinarian cleans up her tools, a young girl reviews a food menu at a red-checkered table. During all these jubilant acts of play, however, the most glaring omission is just that: the glare of the omnipresent phone or tablet screen. All of the children are too busy playing and jumping, and exploring to notice the absence of their technological sidekicks — and honestly, it's a breath of fresh air.
These imaginative scenes are all playing out at Interactive Neighborhood for Kids (INK), a child-size museum in Gainesville that encourages children to explore and interact with mini-exhibits, which range from a beauty shop and retro diner to a bank vault and body shop. "We create a hands-on learning opportunity for kids to explore with their parents or caregivers in a scaled-down neighborhood environment," says Mandy Volpe, INK's Executive Director.
Before opening INK, founder Sheri Hooper hosted Bible studies in her home and set up stations where the kids would be entertained while the moms joined together in fellowship. The stations included a little kitchen and grocery store area. Later, during a visit to a children's museum in San Antonio with her family, Hooper had a vision. "She walked in and she knew that was her purpose — to create a similar experience in her community," Volpe says. Hooper hoped the child-friendly interactive museum would become a safe and educational place that encourages children's imaginations to run wild.
THE FLOOD
Since 2002, the nonprofit organization's mission has been to foster an environment that encourages kids of all ages to develop their full potential through hands-on learning. INK has been a popular destination for school field trips, mom groups, church groups, and birthday parties for nearly two decades thanks to its interactive exhibits that allow children and families to have fun while learning together.
Unfortunately, these acts of play nearly came to an end when a devastating flood took out the majority of the museum back in September, forcing it to immediately close down and rebuild. "The flood took out about 20,000 square feet of our museum. Keep in mind our entire museum is 25,000 square feet," Volpe says. "It took out carpet, flooring, exhibit pieces — we had 11 dumpsters worth of exhibits that had to be trashed."
The cleanup took five months to complete, but not without the support of the community, which rallied around INK in its time of need. "When the flood hit, so many people reached out to us to help rebuild what we are today," Volpe continues. "Everybody — not just from Gainesville, but from Suwanee, Sugar Hill, and Lilburn — they were coming in and raising money to fund new exhibits for us."
Numerous community volunteers and professional contractors joined the INK staff to complete the repairs and renovations, including restoring favorite exhibits along with creating freshly designed new exhibits. Since reopening in February, patrons have once again filled the museum with acts of play. Children are taking the INK stage, spending time in the beauty shop, climbing aboard the train, and playing in the jungle gym. A freshly painted sign on the wall encourages everyone to "Build. Create. Play." And the kids are doing just that.
A FRESH START
In addition to the restored exhibits, brand-new attractions have been generously donated by the community and many local businesses have stepped up to help fund renovations. Volpe tells the story of a 3-year-old girl who heard about the flood and wanted to help. With the support of her crafty parents, she painted the gas tank in the body shop exhibit near the entrance of the museum, complete with a life-size motorcycle and toolbox.
The new Atlanta section in the back of the museum is a full-on sensory experience. Kids can run through hanging foam noodles, watch themselves in full-size mirrors, build structures with large building block pieces in "Spaghetti Junction," partake in a puppet show, see themselves on TV in a room dedicated to Georgia's booming movie industry, and get ready for take-off in the travel area. Volpe says the Spaghetti Junction area is a crowd favorite since it's a space where parents can get down on the floor and help build things with their children. "It encourages parent interaction, which is important," she says.
While the flood in September destroyed many of the museum's physical possessions, it couldn't break INK's spirit. Perhaps the happiest part of the story isn't that the museum was able to rebuild, but that it was able to do so because of the kindness, generosity, and help of its community. When she talks about the ways in which the community rallied around INK, from those who spent their paid time off to volunteer to the 3-year-old girl who helped create an exhibit with her parents, she touches on the spirit of what it truly means to be a community, especially during a time of need. Perhaps Volpe says it best: "It's been incredible and beautiful all at the same time."
Interactive Neighborhood for Kids (INK) is located at 999 Chestnut St. S.E. in Gainesville. The museum is open Monday-Saturday, 10 a.m.-5 p.m. and Sunday, 1-5 p.m. Learn more at inkfun.org.